If you are on Twitter, you know that, like all social media tools, it can sometimes be useful and sometimes be awful.  If you are not on Twitter, you'll have to take my word on that. My new podcast is a result of one of the useful things. I follow an artist consultant over there on Twitter.  Not only is he tastefully named, he also routinely gives useful advice for independent musicians on his feed. One day his advice centered around remixes.  He said that if an artist has commissioned remixes for one of their songs, they should have a podcast conversation with the person who did the remix.  This provides a useful behind-the-scenes look at the artistic process, and is also valuable content.  You know, "#content".
It turns out, dear reader, that I have a single coming out on March 15th called "Hold the Wick".  If you are currently subscribed to my mailing list, well, you received an email this morning that gives you an early listen to the new single.  (If you are not currently subscribed to my mailing list, I warmly invite you to click the link earlier in this sentence and sign up. That way, you'll be the first to know what I'm working on.)  I commissioned seven remixes of "Hold the Wick".  They come in a variety of flavors. I decided to follow that free advice I picked up on Twitter, and interview the remixers for a podcast. Shortly after I decided to do that, I decided to not stop there.
You really don't want to listen to a podcast if the only thing that will happen is self-promotion, right? I figure that this is the case because I wouldn't listen to a podcast if that was the only thing happening, either.  Ok, my new podcast will definitely NOT be all about self-promotion. I have plenty of interests... sports, travel, languages, history, food, art (outside of music), science fiction, board games... these are just some of them.  There are plenty of people who share some or all of those interests, and I would enjoy talking to them.  I think you would enjoy listening to those conversations.  That's what my podcast is going to be about.  It's called the You Could Be My Aramis Podcast, which you might recognize as the name of my publishing company and LLC.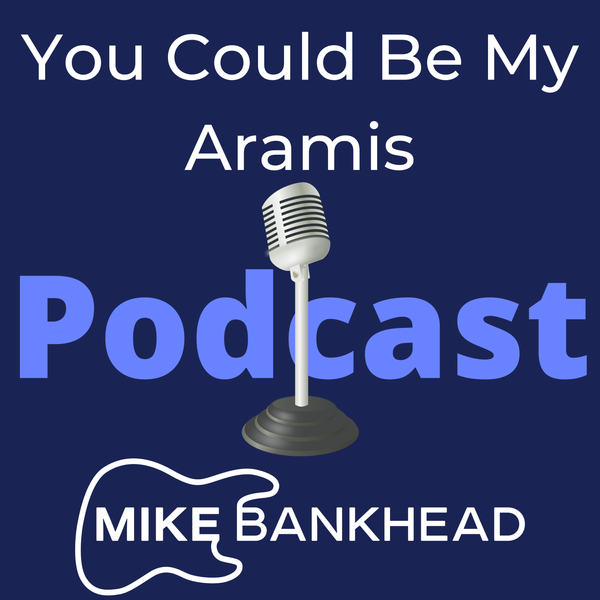 Those of you in Dayton might remember the Gem City Podcast. Those folks brought us entertaining and enlightening conversations for several years. They covered all sorts of topics, but my favorite episodes were the Wednesday episodes with Terry "IzzyRock" Martin.  If you were a Dayton artist and were releasing a new album or had an important show coming up, you went on Gem City Podcast to talk about the hard work you put into your art, the songwriting process, your gear (the rig rundown), what your childhood smelled like, and any other topic that came up in the conversation. Alas, that podcast is no longer with us. Obviously I do not have their experience or track record, but I would like to make a humble attempt to fill that void in Dayton podcasting. If you are a Dayton artist with a new album coming, and you'd like to talk about it with someone who is ready to listen, well, I'm ready to listen. I am certainly not saying that I can replace Terry and Libby and their fine work, but perhaps I can follow in their footsteps just a little.
What are some of the things you can expect to hear on my new podcast?  Well, it is true that I'll spend the occasional episode talking to the talented people who remixed "Hold the Wick"... we will learn about their approach to remixing, but we'll also learn about their creative process for their own music.  I talk to a musician from the Dallas area and a musician from Chicago during episodes that have absolutely zero to do with self-promotion.  I'll be promoting them. Episode 2 is a wide-ranging conversation with a local doer who has his hands in a few different businesses, and whose face should certainly be familiar to Dayton musicians. The above episodes are all scheduled for release in January.  The first episode to be released in February is a chat with a gentleman who was a fixture in our music community for over 25 years, who remains one of my favorite living songwriters, and who speaks as passionately and eloquently about music as anyone I have ever met.
You should be able to find the You Could Be My Aramis Podcast on whatever platform you normally use to listen to podcasts. Just so that you don't have to search, you can find it right here.  The show notes will live on my official site, just click the navigation menu at the top of the page where it says "Podcast".  That failing, the link is https://mikebankheadmusic.com/podcast. Feel free to subscribe on the platform of your choice.  Please listen.  If you enjoy what you hear, perhaps consider leaving a review?
Episode 1 is coming your way two days from now, on Wednesday January 5th, 2022.