I enjoyed getting to learn more about some talented folks this year via these written interviews.  I hope you enjoyed them as well, and I hope you found some new music to enjoy.  Below the picture is a review of the people we met this year.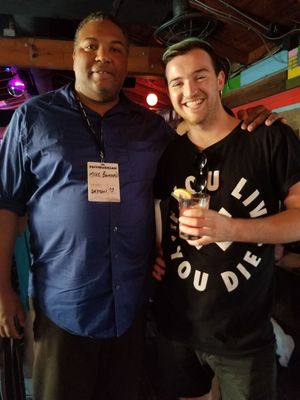 with Baby Molly in Austin before the pandemic
Riley Hall - Bass player and singer in Snarls, a band from Columbus that you really should check out.
Jenee Halstead - Artist, singer-songwriter. She released an album called Disposable Love this year.
Baby Molly - Songwriter who recently moved from Toronto to Vancouver. You'll be hearing more from him soon.  
Chris Keats - Artist name is stylized as KEATS.  He released an EP this year called When the Sails Collapse, As Live.
Elyssa Vulpes - Italian songwriter who has moved to New Zealand since we did our interview.
Emmrose - Songwriter and artist from New York City.
Kyleen Downes - A music professional from right here in the Dayton area.
If you missed any of these interviews, or would like to re-familiarize yourself with any of these fine people, feel free to visit the links.  Listen to their music, connect with them on social media, and if you find any of the songs particularly moving, maybe tell a friend?