Remember when I told you that you should listen to the Duet or Don't podcast, hosted by Baby Molly?  If perchance you took me up on that advice, you've already heard from Emmrose.  This talented young artist appeared on the episode that was released on March 15th, where she and Baby Molly created a song called "If I Knew When".  The interview was engaging, and while those of you who are my age would no doubt refer to Emmrose as "a kid", she sounds more mature than she is.  Is that a result of songwriting, or is her level of maturity what drives her to write songs?  I probably should have asked that question in the following interview.  I didn't.  Oops.  Hey, I'm a musician, not a journalist.
"The Imposter" is her latest single.  To listen on Spotify, click here.
After the photo, let's amplify the voice belonging to Emmrose.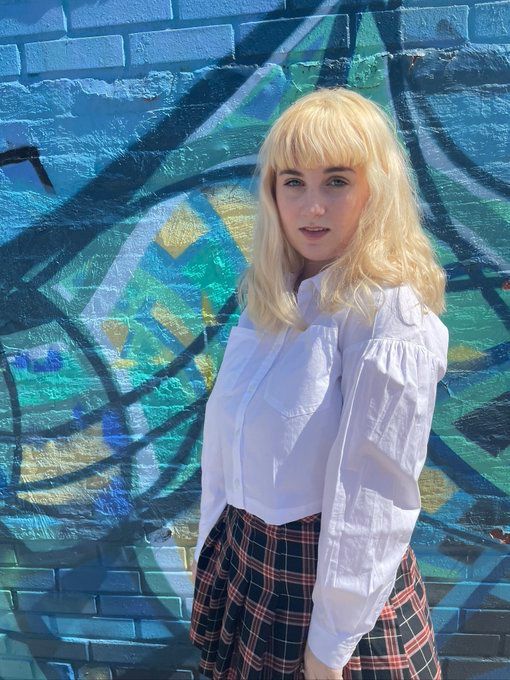 1.  "The Imposter" is the most recent single you have released.  That's a fully fleshed-out arrangement.  In addition to your vocals (including harmonies), I am hearing drums, an electric piano of some sort, bass, an acoustic guitar, and some things I can't identify, which probably means synth.  I'm a solo artist who writes for full band arrangements, so I'm curious to learn from YOUR process for this.  Are you writing and arranging all of the parts?  If so, how do you approach deciding which instruments will best bring the song to life?  If not, where do you start when you do a demo, and how does the arrangement get determined? 
I collaborate with my producer, Mike Abiuso, on all the arrangements for my songs. He's an amazing musician and composer, and it's really fun when I have some crazy idea I could never play on the guitar, and he can really just flesh it out. Other times he's full of ideas, and I pick the ones that fit in the song best. I think we work really well together when it comes to my overall sound!
2.  What was the first album you can remember buying with your own money? 
Oh gosh this is so embarrassing... but I don't think I've ever actually paid for music. I was born in 2003, and I kinda just grew up with streaming! I've never used cd's or cassettes, but I do own a lot of vinyl from my dads collection. I mainly just use his records when I want to play something at home. We have really similar music taste, so if it's something I want to buy, he probably has it already.
3.  Tell me about the last concert you saw. 
It was Clairo playing at the Brooklyn Steel! What a amazing concert. Hello Yello and Beabadoobee opened for her, and they were just amazing. Definitely a dream of mine to play there. I love the atmosphere of that venue. Clairo is one of my favorite artists, I think her music is amazing!
4.  This is going to be two related questions for the price of one.  When did you start learning how to play music?  When did you start writing songs? 
I've pretty much been singing forever. I've always been musical and creative. I would sing little songs around the house, coming up with stories in my head. I think I've always known I would be a songwriter. The few memories i have from growing up are all about my first experiences in songwriting and music, and how much it impacted me as a person.
5.  What artists do you consider to be your biggest influences? 
Vocally I would say Florence + the Machine and Lana del Rey. A lot of my songwriting inspiration definitely comes from Radiohead and Clairo. I love how they break the mold of traditional pop \ rock songs.
6.  What is your biggest challenge when it comes to making music? 
Finding inspiration can sometimes be a real struggle. I can't just make a song about nothing, ya know? I can't chug out song after song after song without any real feelings behind it. But when inspiration comes, It's honestly so easy to sit down and write a song. It's like the lyrics just come to me.
7.  How do you intend to keep growing as a musician and a songwriter?
I don't think I'll ever really stop writing songs and making music. I'll do it forever. I hope I can grow my career as an artist and a songwriter- but it's my love for music that really keeps me going.
***
You know that feeling of discovery you get from your friends, acquaintances, colleagues, classmates, or random other people recommending music to you that you aren't familiar with?  That, or when you discover what a musician you dig is into, and then you go investigate that music?  Well, this is me after reading these answers from Emmrose, then running to the Internet to find out who "Clairo", "Hello Yello", and "Beabadoobee" are.  There's clearly some generation gap here, but hey, I just found out about three artists that I didn't know anything about, and now I have some new stuff to listen to.  Maybe I'll like it, maybe I won't, but the discovery is the important thing here, yes?
Emmrose is releasing a new single called "Waitlisted" on May 7th.
In addition to her official website, you can catch up with Emmrose on Facebook, Instagram, and Twitter.