Baby Molly comes to us from Toronto, in the province of Ontario, in the nation of Canada.  I met him back in 2017 in Nashville at CD Baby's DIY Musician Conference, and we had interesting and useful conversations... and this happened again in Nashville in 2018... and again in Austin in 2019... and then the pandemic crushed conferences, music and otherwise.  
Baby Molly plays guitar, among other musical talents... but you know what?  Let's learn all of that in the interview after the picture... and let the record show that I left the Canadian spelling of some words as-is.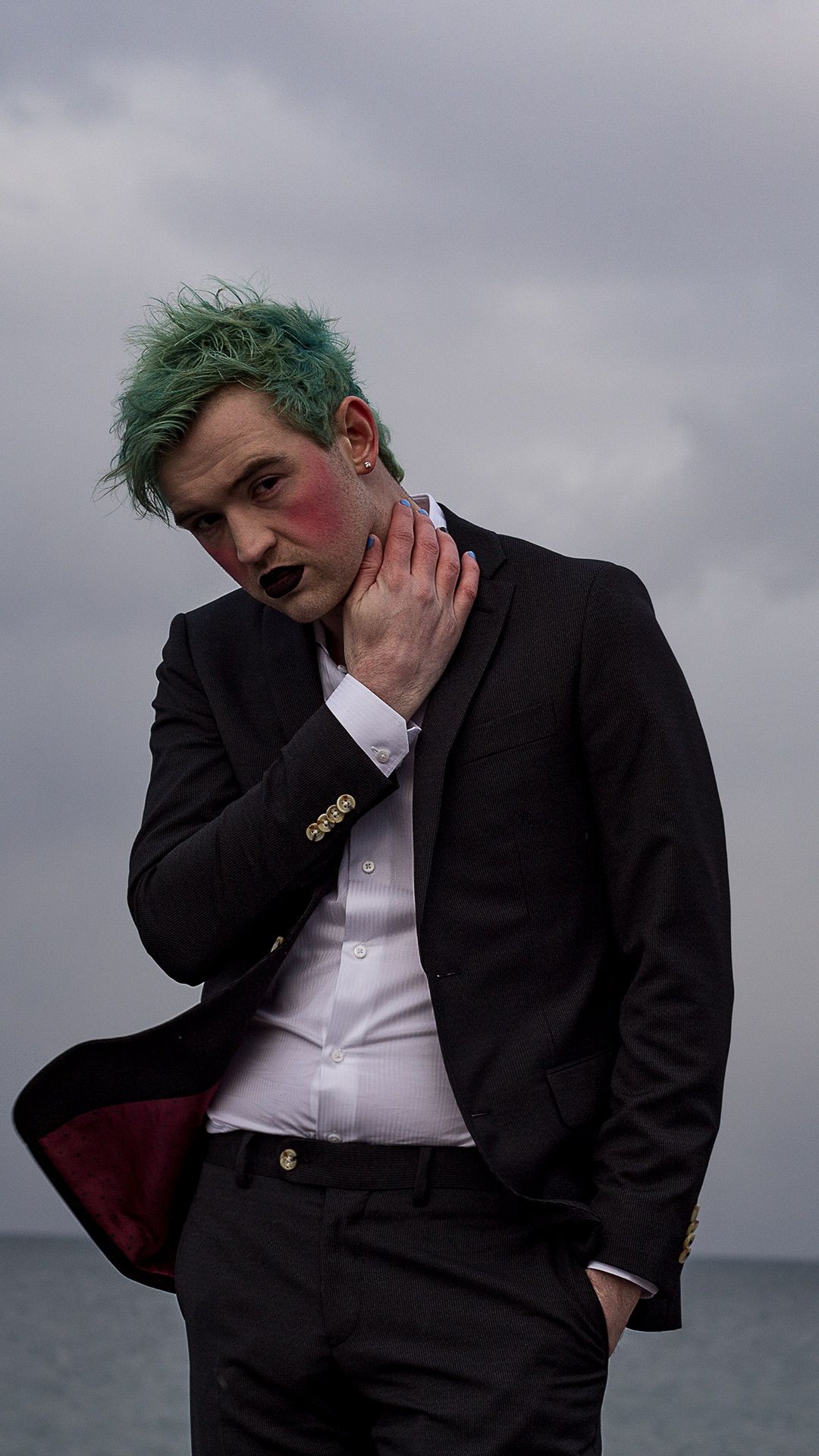 1.  Let's hear the elevator pitch for your skill set and genre. 
Baby Molly is just a typical millennial. Reminiscent of Beck, Say Anything, Front Bottoms or Green Day, I just make fun pop/rock music about the downfall of society and the paradox of being alive. We can't afford to live but we don't want to die either. With my tongue FIRMLY in cheek, it's just music to rock out to, make life a little more fun and a little less pointless. 
I don't have an "elevator pitch" really so I hope that makes sense. "LISTEN TO MY MUSIC PLEASE SO I CAN EAT!!!! Or Don't I guess?" is what I wish it could be. 
2.  You've had an official change in artist name since Belladonna, your last album release.  Does this change come with a new approach to making music?  If so, can you talk about that in detail? 
It does! Molitor is my middle name (Named after 1993 World Series MVP Paul Molitor, no joke) but I always found myself correcting pronunciation, explaining the name to confused faces, etc. So even though I no longer go by a REAL mononym, this music is 100% more me. I had been performing under the name Molitor since I was 17 years old when all the cares of the world, pressures of being cool/hip/stylish/attractive mattered so much. Even though I was being original and creative and enjoyed my music, it always felt like hard work. A stretch to fit into trends, remain cool. I wanted to be the hot, clever, sunglass & leather-jacket wearing frontman. The Julian Casablancas, Pete Doherty, etc. But that's not me! At least not anymore (I did kind of have that vibe when I was younger). So now I just write lyrics as honest as they come: literal journal/diary-style lyrics. Earlier in my life, I'd try to find clever ways to say things - I had cool lyrics like "Your effervescent efflorescence Belladonna brings me to tears". Now, I have a song where the title and chorus are just literally "I'm broke. I want to be happy but I need some damn money". I think it not only works out because I'm really excited, proud, happy with my new music for the first time in a while (I think 2014's #lonelypeople_Music EP by Molitor was the last time I felt this way) but it just flows out of me. I can grab a guitar and a song will come out that feels like Baby Molly. It doesn't need weeks of production, re-writing, editing, and borderline alcoholism to get it to be moody, cool and sad enough for a Molitor release. It's just me. I developed a little bit of a character around it so that it's still marketable in the 21st century, but you can't survive without doing that really. But the character is more me than my old character even, sarcastic, witty, sad but hopeful. My angst has dissipated and I wanted a clean slate to reflect that. 
3.  What was the first album you can remember buying with your own money? 
The first one I vividly remember is A Lesson in Romantics by Mayday Parade. I bought it in a mall in New Brunswick, Canada when I was living with a family there on this, like, exchange program thing through the YMCA. I spent some time there and then their child spent some time with my family in Niagara Falls. I remember it so well, it was pre-Covid and record stores used to have headphones hanging up at the end of each aisle where you could listen to some CDs before you bought them. (Note from Mike: I miss this era of music store goodness.) I just picked this one because it had a cool cover and it really changed my life forever. I listened to 4 or 5 songs in the store because I didn't want to take the headphones off. Then, because I was on this exchange trip, my parents had given me a little spending money for food and emergencies but I ended up spending like 60% of it on this CD. It remains one of my favourite albums to this day and is probably the direct lineage to how I write songs. Super emo, but still fun and well-crafted, plus dual lead singers and overlapping vocals has been a mainstay in my songwriting; nobody did two lead singers as well as Mayday Parade on this album, to me. 
4.  Tell me about the last concert you saw. 
Concert? One sec, let me search the dictionary for that term.... Oh, yes! I remember those. It was one of those things where multiple people were indoors and enjoying the music that they love together. According to my memory, the last one I saw was in November 2019 when I was living in LA. I got to see Max Bemis of my favourite band Say Anything perform a stripped down solo show with just an electric guitar. It was amazing. Everyone knew every word and it wasn't a full band show so it was more intimate than any other Say Anything show. It was great, the crowd was singing so loud that you could just barely hear Max over the crowd throughout. His wife and kids were there too and because it's such a small venue, when his wife Sherri was singing with him on stage, you could see their kids peeking out from the green room and waving at them. It was adorable. I miss concerts, but if it's the last one I ever see, that's one of the best I've been to. 
5.  What artists do you consider to be your biggest influences?  
Max Bemis/Say Anything and Mayday Parade as mentioned above are huge. I take notes from so many artists that it's really hard to say. There's a fairly obscure band called The Veils that have a song called "Begin Again" - that is probably my favourite song of all time. The originality and boundaries pushed by Childish Gambino and all of his music are always a guiding light. The Killers, Kanye West, The National, Taylor Swift, The Front Bottoms. Green Day was my favourite band growing up and I knew every word to every one of their albums so undoubtedly people would probably find a bit of them in my songwriting. 
6.  I totally took this question from someone who interviewed me previously.  You can't control the way other people hear your music, but if you could make someone aware of a specific thing that sets your songs apart, what would that be? 
This. Is. A. Tough. Question. I don't want anyone to be aware of a specific thing but I think songs speak differently to people depending on their mood, personality, the weather, their surroundings, what they ate that day, etc. SO my only wish if I could ask one thing of each listener it would be to actually listen. There are a lot of very talented musicians and artists that make background music for studying, reading, elevators, etc. I am not one of those artists. I am arguably the LEAST subtle artist that has ever lived so if I could ask something of a listener it would be to actually listen. If you love it, that's amazing, if you hate it that's great too. I appreciate that you took 3 minutes of your life, time is the most valuable thing in the world and I am endlessly grateful that you gave me a shot with some of yours. 
7. Your podcast DUET OR DON'T is about to be introduced to the world. What's the premise? 
DUET OR DON'T! The game show/just for fun show where each week I have a brand new songwriter, artist or musician on and after having a very brief chat about our lives and how we're feeling, we write and record a brand new song, from scratch, live on the podcast for anyone to listen to. There is a time limit, of course, no one wants to listen to a 3-week long podcast. But the rule is that we need to come up with a brand new song and present it, warts and all, after the timer is up. Then, together we decide, is it good or bad? Do we love it or hate it? DUET or DON'T? 
8.  What's next for Baby Molly? 
BABY MOLLY PRESENTS: I MISS MY FRIENDS - AN EP FOR THE AGES, OUT FEBRUARY 19, 2021.
*********
Right up there at the top of the post, I link to the Baby Molly web presence, but here's that link again. The new podcast will launch shortly, and the first guest songwriter might be someone you know.  (They call that "a tease" in the radio industry, kids.)  Here's the Baby Molly YouTube Channel.  You can also shake a rattle with Baby Molly on social media via Instagram, Twitter, or Facebook.