OriSoaring is a fascinating individual from Houston with clear passion for musical expression. I very much enjoyed these interview answers, and I think you will, too.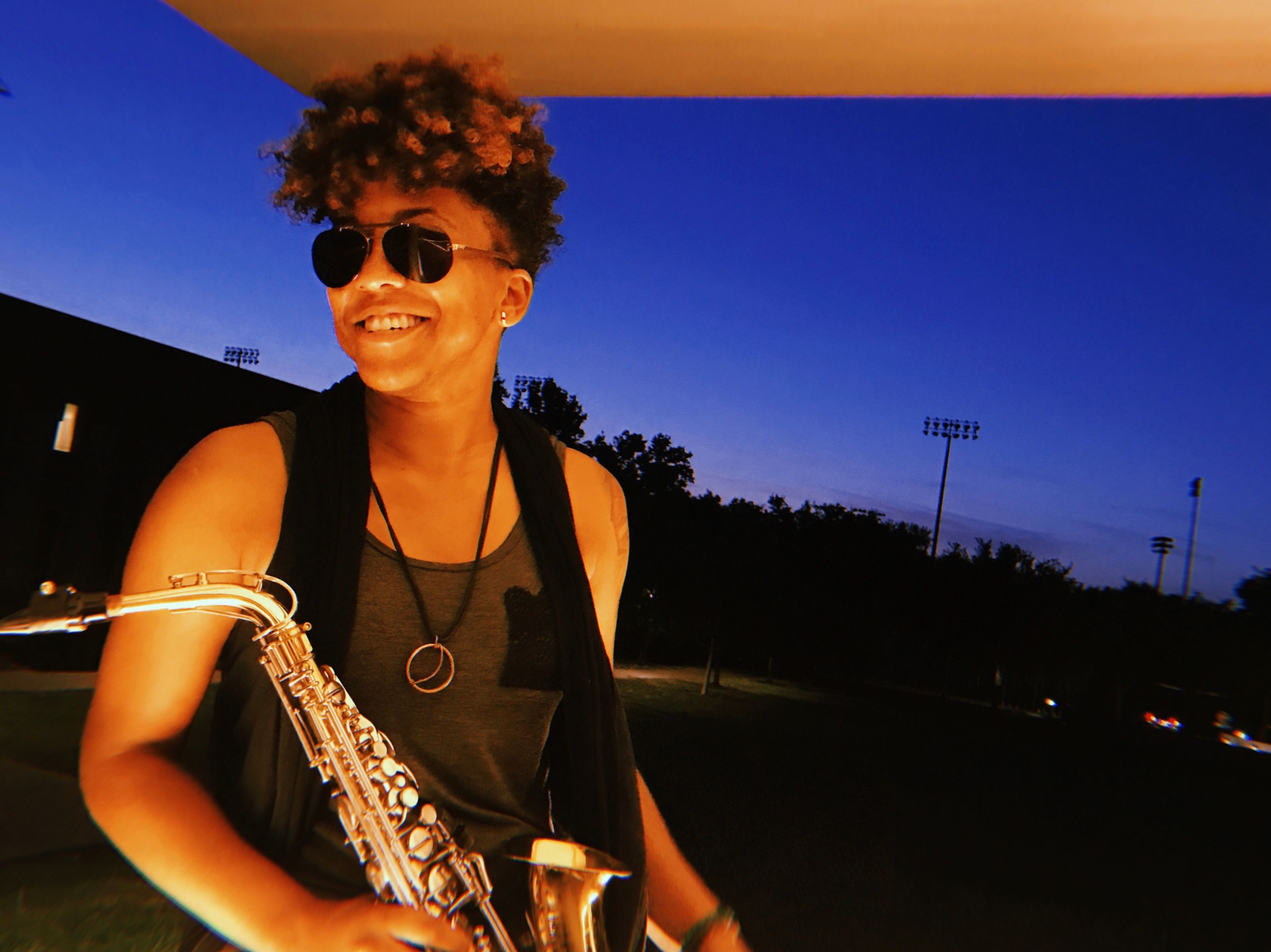 1.  Let's hear the elevator pitch for your skill set and genre. 
My name is OriSoaring. I'm a multi-instrumentalist who creates songs in multiple genres. I'm heavily influenced by all styles of music, from jazz, alternative rock, neo-soul, to classical, to 80s synth-pop. I'm a classically trained saxophonist, who also plays bass, guitar and keyboards. I write and record all my own music. Also I love playing/recording with other bands and musicians.  
2.  We met pre-pandemic, at a music conference in Austin, Texas.  How did attending the conference benefit you and your music career? 
The DIY Musician conference gave me three things. It gave me perspective, community and inspiration. I am better to understand WHAT I want to do with my music. I loved learning about different ways I plan to be involved in music. For me, the challenge can be having enough information to make a good decision. The conference provided me with the information I needed to be able to start formulating a goal and working towards it. Being around such an INCREDIBLY diverse group of musicians and people who work in the industry felt amazing. Sometimes, it can be a bummer creating music in what feels like a vacuum. Currently, I live in Houston and have not been able to catch a groove with the musical community here. But that's ok, conferences like this keep me going and inspired to keep creating.  
3.  What was the first album you can remember buying with your own money? 
TLC - OOOooooo On the TLC Tip! 
4.  Tell me about the last concert you saw. 
The last concert I saw was the Incubus - Make Yourself 20th Anniversary Tour  
It was really incredible and really packed.  
This is the album that really broke into the mainstream. They were super jazzy and funky before that. I've listened to that album for many years, so it was really cool to see them live. Except, we were all 20 years older. It made me wish I saw them back in the day- but whatever. It was still a great show.  
5.  What artists do you consider to be your biggest influences? 
Oh wow! An artists' influence on me is in flux based on where I am in life. For instance, I have been a Red Hot Chili Pepper for a long time. Watching and listening to Flea play bass inspired me to pick up and learn bass at 16. I would watch him for hours on VHS tapes I recorded from MTV and VH1. So, Flea just being Flea has had an enormous influence on my music and minimalist, intentional sound. Scooter from a Jacksonville Florida band called Cold has influenced my songwriting monumentally. I've put out the music to my songs, and there are words to many of them. I just haven't really figured out how I want to approach adding the lyrics. Part of me would like for a listener to READ the lyrics while listening to the song. I think that would be an interesting way to allow a listener to take a more active role in experiencing the song.  
Other huge influences are: 
The Gorillaz (The way they use sounds to create so many different universes is incredible to me.) 
Rick Rubin (Again, I love that he creates bangers in every genre) and  
Erykah Badu (Baudizm was the first time I FELT anything when listening to music. This was the first time I really heard and truly understood the connection between music. Music- this collection of sounds that I was drawn to and loved, but didn't quite understand how it all formed together. With words- another system of expression that I was drawn to (I've always been a huge reader, I loved to write stories, journal) etc. and was understanding the power and functions of language more and more each day. I was nine years old by the way. 
It's hard to call out specific artists, because I feel like I'm leaving so many out. Mr. Tanner, my 6th grade music teacher went above and beyond to make sure I had a saxophone in my hands and could play music. He was a huge influence too!  
6.  Has the current pandemic had impact on the music you make?  If so, what impact? 
I'm making more. I'm playing more. I'm listening more.  
The listening is a big thing, for a while I was deep in a jazz/chillhop groove. Since the pandemic, I've ventured out and learned about some new artists- and discovered older ones. I've been riding hard with jazz from Ethiopia from the early 70s lately and learning about more recent Alt Rock bands. 
I've also had the space and time to write and record more music. I've learned some great things in Logic X Pro as well, that's made a huge difference in my recordings. It seems as tho going into the office was leaving me more drained than I ever realized.  
7.  If you could choose for a listener to learn one thing about you from listening to your songs, what would that be? 
She most likely considered putting a saxophone solo in this song.  
Honestly, I would hope a listener sees that I'm truly all over the place when it comes to being open to creating music and experiencing life. My music can be super fun and get you ready to go running or dance. It can also be very meditative and speak directly to a specific subject or time. I don't limit myself to any genre and I approach life similarly. I'm like, bring it on! All of it. I'm here for all of it.  
8.  How do you intend to keep growing as a songwriter and musician? 
This is a lifelong journey for me. I wrote my first song at 13, before I really knew how far I'd go with music. Since then, a lot of life has happened -and with that, a lot of growing. As a musician and songwriter, I continue to seek out opportunities like the DIY Musicians Conference to advance my idea of what I could be doing with my music, and HOW I can go about that. For instance, I learned about composing for film scores, getting my music licensed, and in the hands of the right people. That's something I have been interested in for years, but just didn't know how to go about finding that path. Now that I know, I have shifted my focus more into creating songs that are extremely and concisely expressive. In writing with such specific purpose, I've had to grow as a musician and songwriter theory wise, proficiency wise, and also from a storytelling aspect. When I do have lyrics, I use them to compliment the overall song. The music is the main expression...the words are verbal anchors if you will.  
Before, I would write the song first, then add lyrics to the music. I still like using that technique, but with more structured 'verse-chorus'verse' songs. Again, in order to correctly convey some ideas...I had to stop and truly study song structure, phrasing, etc...more growing as a musician. Of course, sometimes I chuck the rules and create my own thing...but LEARNING those aspects of musicianship has helped me tremendously. Those are some more recent examples. I'm excited to learn more. 
***
Why not take a few minutes and listen to OriSoaring's music?  You can find it at her Soundcloud page.  You can also find OriSoaring on Instagram.