This song is on my upcoming album, Anxious Inventions & Fictions. It is the result of a songwriting exercise meant to combat writer's block... but strangely enough, I wasn't actually suffering from writer's block when I wrote this song. Let's set the scene... come to Nashville with me, to the CD Baby DIY Musician Conference in the summer of 2018.
One of the most useful sessions I attended was conducted by Shane Adams.  This gentleman is on the faculty at Berklee Online.  I had seen him speak the previous year, and he is humorous and engaging, energetic and open, and clearly quite knowledgeable.  This year, he was talking about a proven method of defeating writer's block.  At the time I sat through this seminar, I wasn't suffering from writer's block... I wasn't really trying to write songs at the conference... but in order to get the most out of the session, if there is an audience participation exercise, you need to participate.
I don't want to explain all of the things that were covered here, but let's briefly say that the method consisted of a series of letters.  No, not the twenty-six characters that make up the English alphabet, the method of communication before email, telephones, and telegraphs.  When I was much younger, I used to write letters often.  I would write to my friends both here in Ohio, in other parts of the United States, and overseas.  I couldn't even tell you how many scores of letters I've probably written.  That being the case, I took to this exercise rather well.
The phrase "she speaks in metaphor" came out of this exercise.  Wanna see?  Here it is: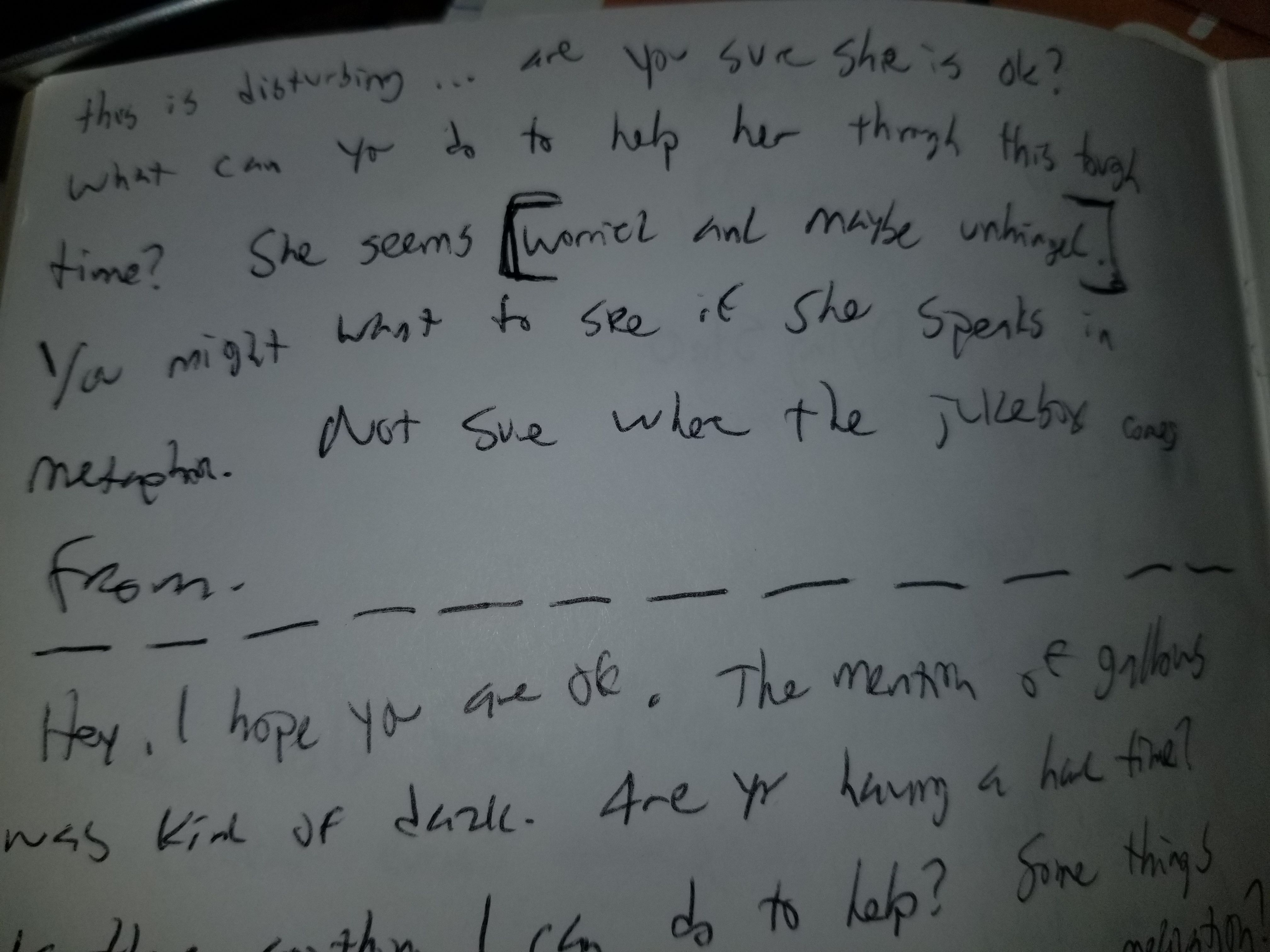 At some point, I thought this would make an excellent song title.  Once I decided that, I needed a musical approach.  I decided to write this one on my bass instead of on the piano.  Further, as the song title seemed to me at the time that it would lend itself to a rather complicated idea, I wanted to make the song simple, and I wanted the bass to carry it.  For that reason, the verses consist of only one chord.  A minor.  That's it.  The bass line that carries the verses is moving through several of the notes in the A minor scale.  There is a bit more motion in the chorus parts as far as the harmony is concerned.  That settled, I used the piano to help me pick out a melody.  After I had a melody, then came the work to write lyrics to fit the melody and the theme.
This needed to be a rock song.  Ok, not just rock.  RAWK.  To that end, I recruited one of the finest bass players in Dayton, Chirs Corn.  (He has other talents as well.)  He used to play in a very loud, chaotic, experimental, post-punk outfit called My Latex Brain... and in this band, he would surround himself and his bass with what seemed like a hundred different pedals, and make the bass sound like a legion of guitars.  That's the sound I wanted on this song.  I also recruited Thad Brittain for more high frequency guitar work.  For the percussion end, I asked Brian Hoeflich to do his best Jimmy Chamberlain impersonation, and he obliged.
I am extremely pleased with the result.  If my Kickstarter campaign is successful and we get vinyl pressed, you'll be able to find it as the first song on Side Two of the album.  I can't wait for you to hear it.