Straight talk, a few days before this conference, I really didn't want to go.  I was tired.  Mentally and emotionally tired.  However, I already made the plans, and had already taken vacation days from my corporate job, so yeah, I went.

This year's DIY Musician Conference sponsored by CD Baby was held in Austin, Texas.  The dates were 16 to 18 August.  This was my third conference, and by far the hottest... because it is crazy hot in Texas in August.  
I won't go on a lengthy description of the delicious brisket I had there, as that's another blog post.  I won't talk about the migas breakfast tacos, either.  I had a very interesting cultural experience watching people sing Russian karaoke, but maybe we'll save that for another blog post as well.  Let's keep this one focused on music stuff.
When I say "music stuff", I mean the work.  Writing music and lyrics is work of course, but that's enjoyable work.  Recording is work, but that's also enjoyable work.  There is a great deal of other business stuff that has to be done when you're an independent artist though... these are the things I was there to learn, and these are the things that make a very long to-do list for me going forward.
A nice benefit of this conference is being surrounded by a bunch of other musicians from all over the world.  Many genres.  Many languages.  Different points in their careers.  Making those personal connections is something that helps me get through the weekend without being wilted by social anxiety (as opposed to just being wilted by the Texas heat).  Now, I met dozens of interesting people over the weekend, and had many interesting conversations... but let me tell you about two specific people whose company I enjoyed.
First, Jessica.  She sat next to me during the first session on Friday morning.  That first day is tough, especially if you're like me and you don't like crowds.  In this case, my neighbor was even more anxious than me possibly, as this was her first conference.  It turns out that Jessica is a pianist from Los Angeles.  I would describe her as very much like a shorter version of Fiona Apple... well, that was until I looked up Fiona Apple's height, and they're probably about the same stature-wise.  At any rate, think piano-based pop music with interesting lyrics, and a beautiful voice.  Jessica performs as Bellorage.  You can listen to her music here. 
We were treated to a Bellorage performance at the post-show music shindig.  It was great. That part at 3:19 of "Terribly Lovely" gave me goosebumps when I saw it live.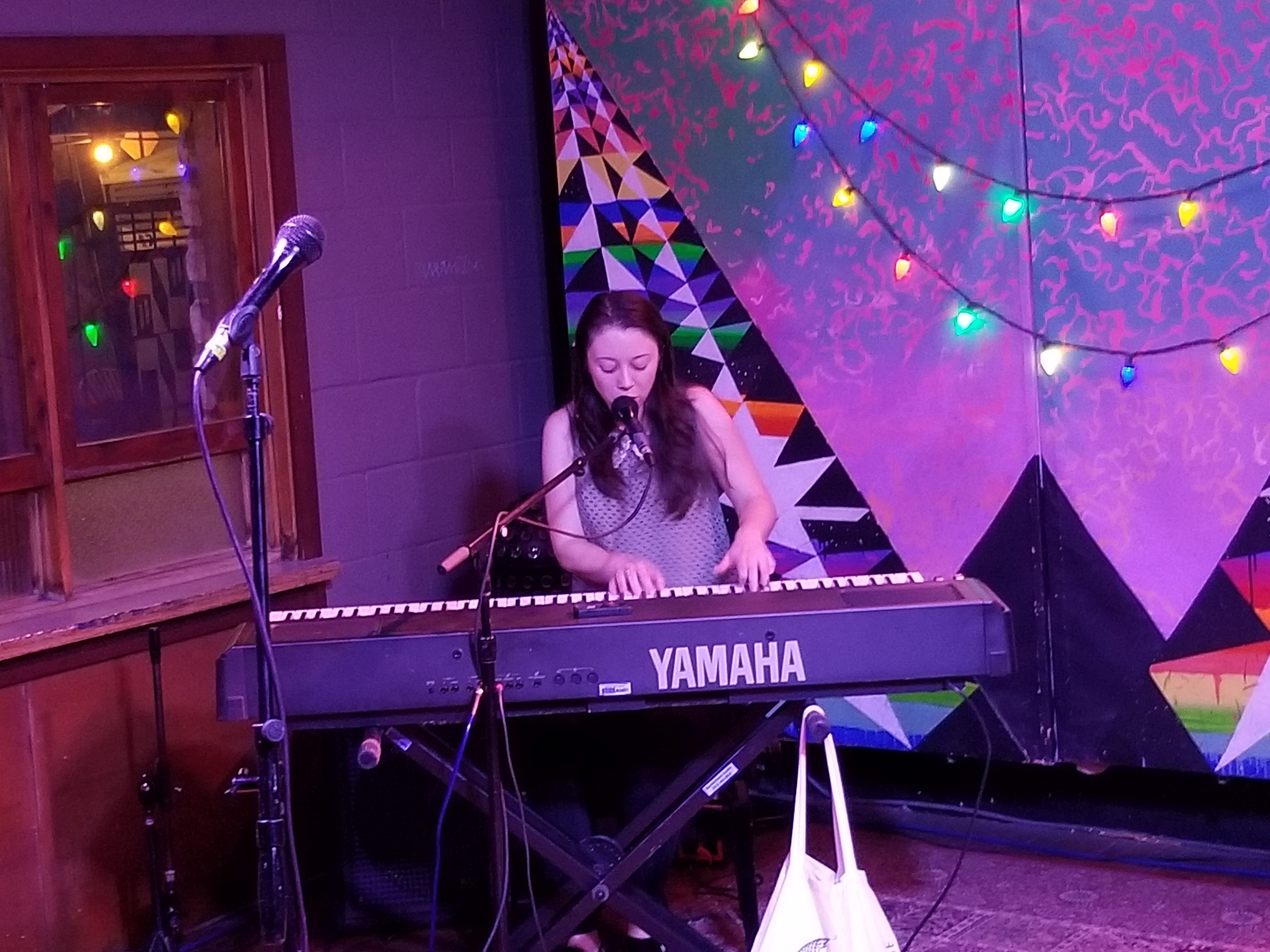 Ok, so a second story about a person.  At the conference, they have these tables set up to help all of us anxious musicians to break the ice and start conversations.  There is a line of tables that each has a sign based on a region... Austin, New York, Midwest, South, West, Europe, Canada, etc.  There is another line of tables broken up by music genre... hip hop, country, edm, pop, rock, etc.  So, I head to the rock table.  When I mention that I am from Dayton, Ohio, someone points to this other fella and says "he's from Dayton as well"... the other fella had "Austin" on his badge, so I was skeptical.  Turns out he is from Dayton, but moved to Austin for his music career a couple of year ago.  Since we're from the same area, I figured I'd tell him specifically that I grew up in Xenia.  He says "dude, I'm from Yellow Springs".  Yes, we're both from the same county, and don't meet until a music conference in Austin.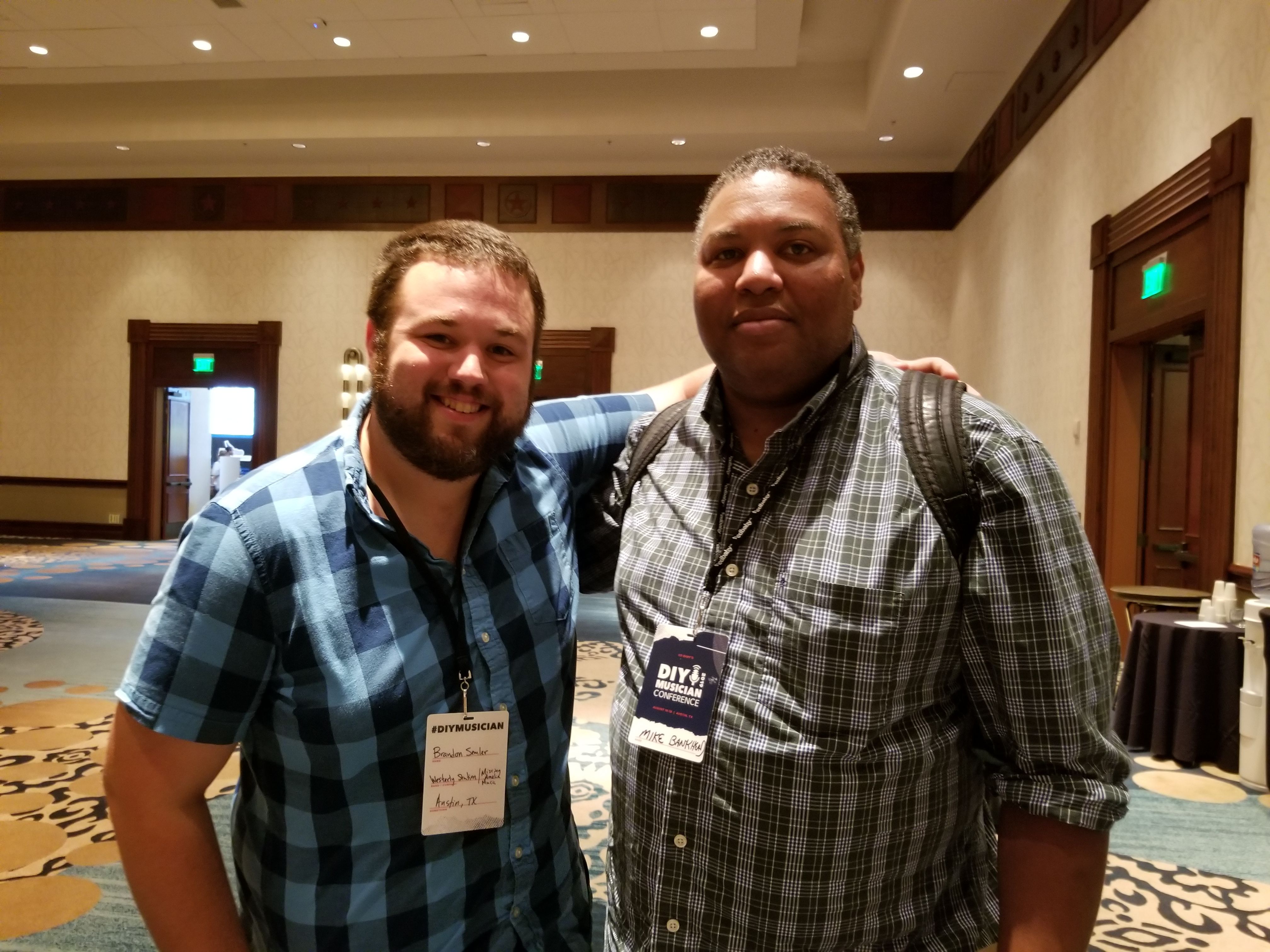 His name is Brandon, and he's in Westerly Station.  What's more, he and his wife happened to be in Ohio last week, where they went on WYSO to talk about their music with Juliet on Wednesday night, then they stopped by Reel Love Recording Company on Thursday to do some tracking with me.  You'll be hearing some sweet mandolin that Brandon played before the end of the fall. 
In summary, an enjoyable conference, despite the work.  I hope to attend again next year.