You might remember that last week's blog was about co-writing "Won't Love You Anymore" with the gentleman pictured below.  I figure that this would be a good time for us to all get to know him a bit better.  Interview after the picture: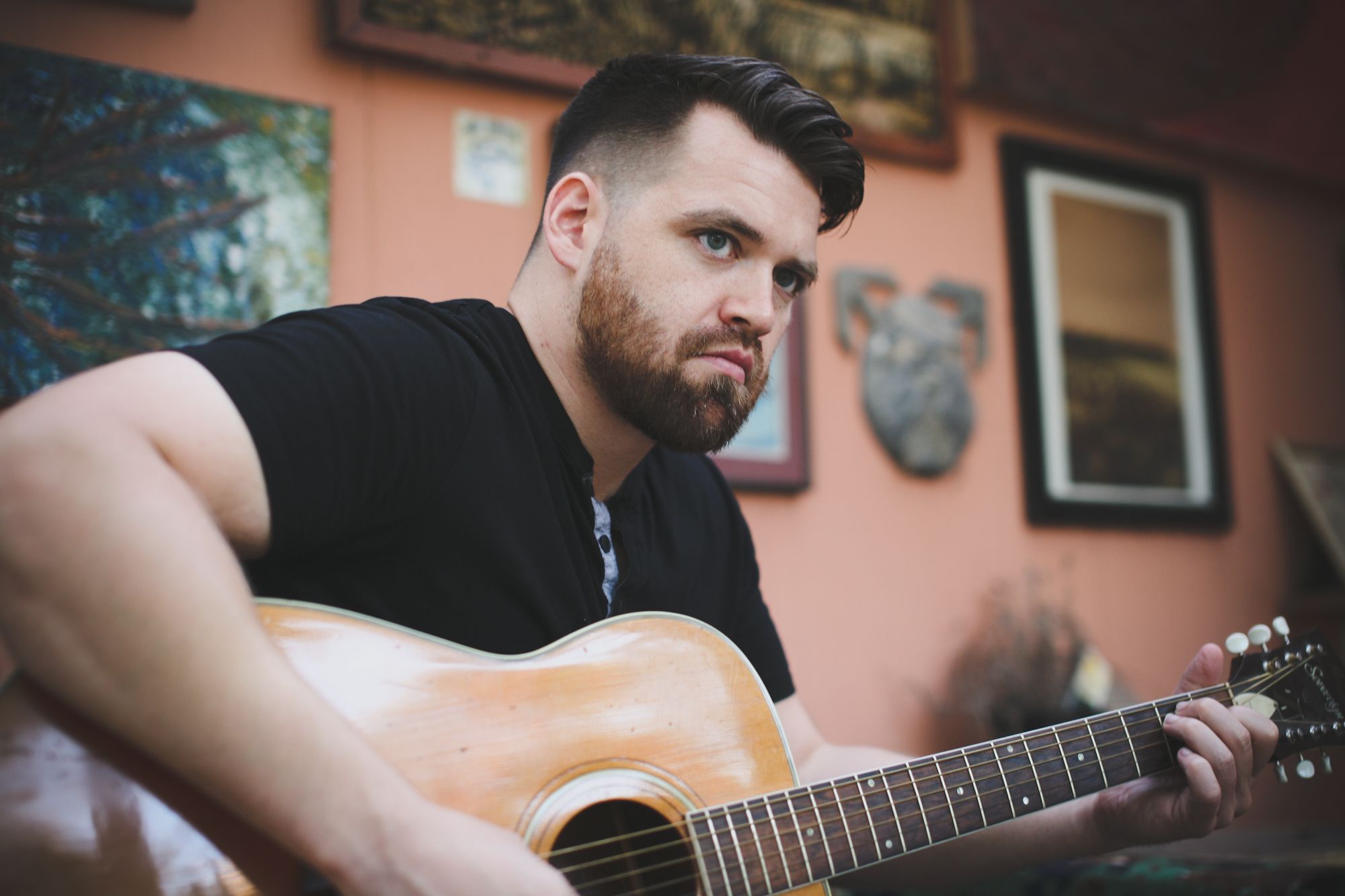 photo by Jon Estes
1. Let's hear the elevator pitch for your skill set and genre.   
I'm a singer/songwriter that writes and performs songs about, and for people who feel like they've been left behind by the world or someone they loved.  
2.  It seems like "Five Years From 21" was written when you were 26 years old.  You're older than that now.  How do you feel your life has changed since then? 
Quite drastically really. When I wrote that song, I was feeling really depressed and defeated. I was 26, working a retail job that I hated with coworkers that were mostly teenagers. I wasn't playing a ton of music. I just wasn't pursuing it at the time. I was lost.   
Fast forward to now: I've got a great "day job" that is flexible enough for me to still focus on music but also affords me an income to live comfortably. I'm married and couldn't be happier! I've never been more confident in my music and my ability to connect with fans than I am right now. I'm feelin' pretty damn good! ha  
3.  What was the first album you can remember buying with your own money? 
It probably would've been either Gish or Siamese Dream by the Smashing Pumpkins. I got the "Bullet With Butterfly Wings" single for Christmas when I was nine and fell in love with the band. One of my siblings already had Mellon Collie and the Infinite Sadness so I set out to buy the rest of their discography.  
4.  Tell me about the last concert you saw. 
The last concert I saw was in October of last year. Just typing that is really depressing! It was Jason Isbell and the 400 Unit at the Ryman here in Nashville. I've seen Isbell a handful of times but this may have been my favorite show of his. Our seats were great! We were pretty close (although there's really not a bad seat at the Ryman). I drank significantly less than I have at past shows which led to less having to get up and get a drink or go to the restroom. Haha That was kinda a revelation! Maybe I don't need to down 10 beers at a show! The band was fantastic as always. It was just a really great experience.  
5.  I happen to know you love The Smashing Pumpkins, like I do.  Let's get granular here... give me three of your favorite Smashing Pumpkins songs, and tell me specifically why you love them. 
"Bullet With Butterfly Wings" – It's not a song I listen to regularly now but it had a profound effect on me as a child. I remember getting the single for Christmas as well as a boom box. I sat in my room and played that song over and over. I couldn't quite put my finger on it but something about that music just really spoke to me. I immediately vowed to be a rock star and got my first guitar on my tenth birthday six months later.  
"Geek U.S.A." – Between that crazy guitar solo and Chamberlain's incredible drumming this is just a straight up bad ass rock song! There's tons of energy complete with a super quiet down part that then gets loud which is so wonderfully typical of the Pumpkins. It's perfect.  
"Blissed and Gone"  – This an outtake from Adore. There's several different versions, but I couldn't find the original one that I heard anywhere. I think I probably illegally downloaded it on Napster or Kazaa (sorry ☹). It's one of the saddest songs I've ever heard and that's probably why I like it. It's just super sad. Ha  
6.  You are the first person I have co-written with, and the experience was so positive for me that now I have a music project built around co-writing with a friend.  How has our collaboration influenced you? 
Our collaboration wasn't the first time I'd co-written with somebody, but it was the first time I was actually happy with the final product! Ha The experience has encouraged me to want to co-write more. It was also cool that we were able to do it remotely. I was kinda surprised we were able to make that work, but we did! 
7.  If you had the power, what would you change about the music industry? 
It'd be easy to say, "I wish it was like the good ole days when people actually paid for music." However, the major labels were in power back then, and folks like me and you wouldn't stand a chance. In the digital age, we have more power. As an artist, I guess I'm kinda okay with how it is. As a consumer, I really hate paying extra for TicketMaster fees! Is TicketMaster really necessary?!? 
8.  How do you intend to keep growing as a songwriter and artist? 
When I was younger, I often wrote about my own life. It was very self-absorbed. As I've gotten older, I've started putting myself in other people's shoes and writing from their point of view. I want to keep on doing that. Getting better at it. Meeting new people with different struggles and shining a light on that with my music. I also started learning how to play harmonica and I really want to step up my guitar game next. Basically, I just want to keep getting better at every aspect of my music. 
***
Why not go visit Greg's website?  You can also find him on Instagram, Facebook, and YouTube.  I'm not going to ask you to send Greg messages and emails to bug him about when he's going to get around to recording "Won't Love You Anymore" himself, but I'm not going to NOT ask you to do that, either.  Or something.
You can listen to my recording of "Won't Love You Anymore" on all digital streaming services tomorrow, 11th August.  Would you do me the kindness of clicking here to pre-save on Spotify, or here on Apple Music?