Baseball is back.  It was back in Taiwan and Korea a few weeks ago, and in those places, you can actually go to the game in person, but hey... I'll take empty stadium baseball on TV.  I love baseball.  (What, you thought I was all about music all of the time?)   One of the things my wife and I like to do is go visit different ballparks and watch a game.  I like to get to the park very early - basically right when the gates open - so I can stroll around and look at the architecture.  If the teams are taking batting practice, I like to watch batting practice.  I enjoy the atmosphere of the park on game day.  
There are 9 ballparks currently in use where I have seen a game.  In reverse order, from least favorite to favorite, here are my ballpark rankings:
9.  Rogers Centre, Toronto
Let the record show that I love the city of Toronto.  We have made some good friends there.  We have had outstanding dim sum there. That said, of all of the ballparks I have personally visited for a game, this is my least favo(u)rite.  First, the things I like here... there is a retractable roof on what used to be called SkyDome, so games really shouldn't be rained out.  When the roof is open, there's a view of the CN Tower from the ballpark.  The concourses here are all kinds of spacious, there is plenty of room to walk around.  The drawbacks... well, they aren't playing the games on real grass, that's too bad.  Also, it's a big round dome... even when the roof is open you feel a little like you're indoors.  The stadium lacks character.  That said, we have always very much enjoyed our visits here.  We have been to a few games here, and since we've had multiple visits, we've tried different seats.  We've had seats directly behind home plate, back a few dozen rows... and we've had seats way up high, like these: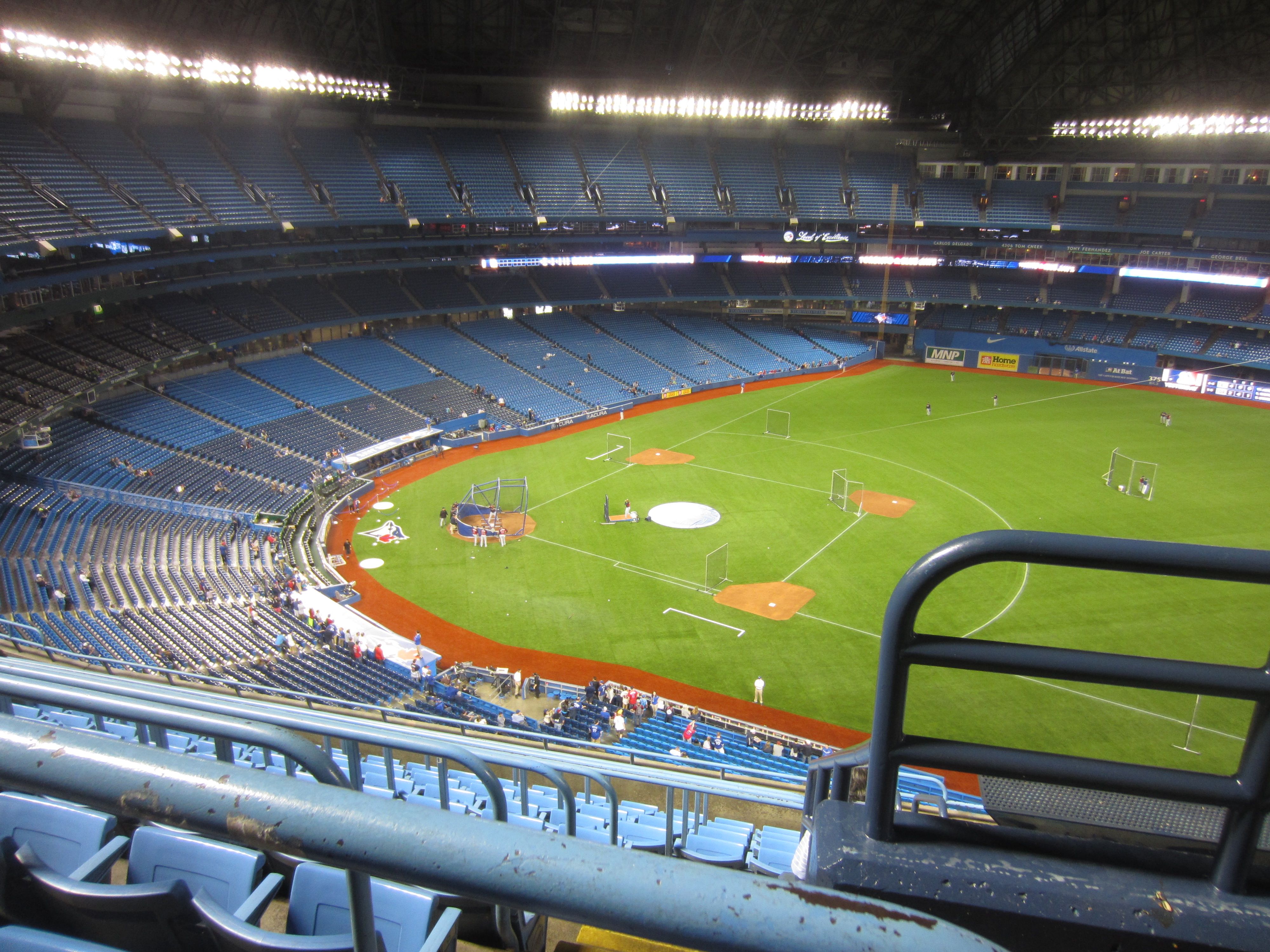 The Rogers Centre (that's how they spell it in Canada) seems to be easily accessible with public transportation, but we didn't get to the games that way.  We've always stayed in hotels less than two or three miles from the ballpark, and we always walk here.
8. Great American Ball Park, Cincinnati
Let the record show that I do NOT love the city of Cincinnati.  Too many one way streets.  Public transportation isn't great.  Parking isn't the easiest to find, and it costs more than I enjoy paying.  Ok, that aside, maybe the park is nice?  Well, it has character... it's outdoors and a grass field.  The sight lines are ok, there aren't any bad seats... but I don't like the way the lower level has a long slope, it just feels strange to me compared to the other ballparks I've been to.  The way the architecture is done here, the higher decks feel quite far from the field.  Also, the food options here weren't great the last time I visited.  The Ohio River is quite lovely out there in right field, however.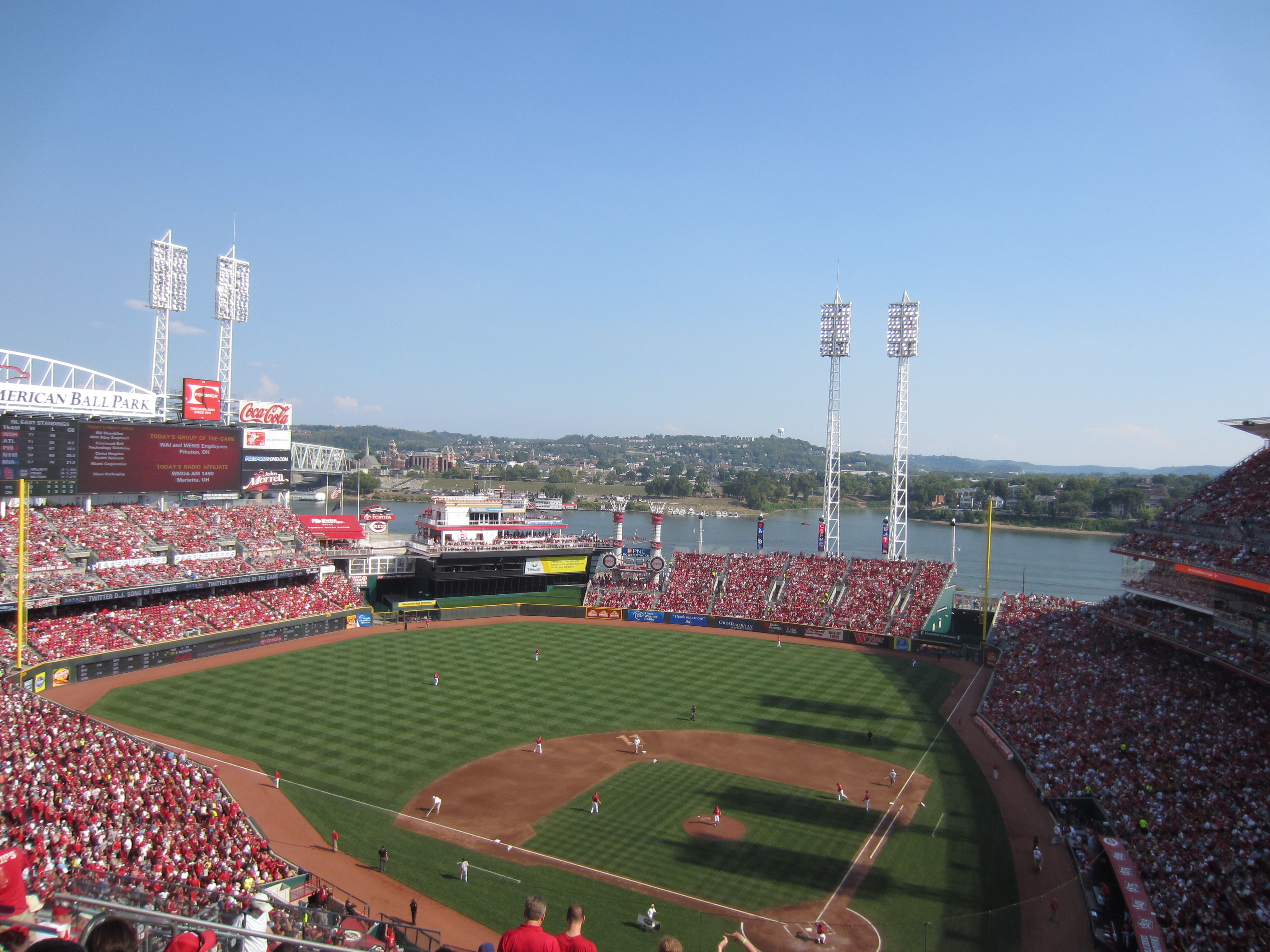 7. Comerica Park, Detroit
The Tigers play here. You can't miss that when you come to Comerica Park, as there is a massive statue of a tiger out front.  There are other statues of other tigers pretty much everywhere.  After a bit in the park, I kind of got the feeling that they might have overdone this motif a little.  I mean, I guess I understand it... after all, there are some other large felines across the street, so maybe folks get confused.  I found it very easy to drive here and very easy to park, and those are positive things in my book.  Now, it's been many years since I've visited, but the thing I remember most about the concessions was the abundance of Little Caesar's pizza, which makes sense, as the ball club and the pizza company are owned by the same people.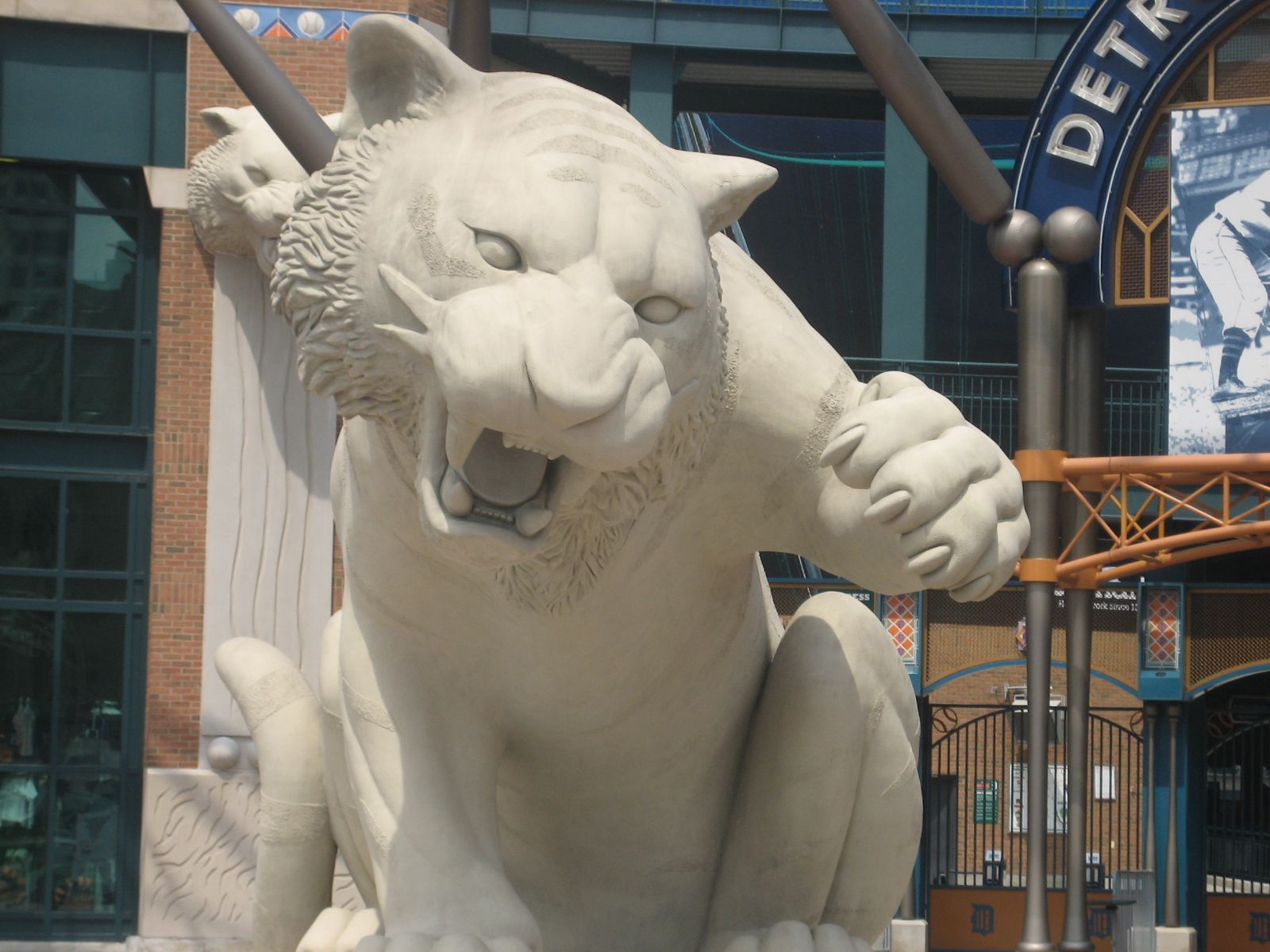 A brief comment on the Tigers fans.  This is an old franchise.  The Internet tells me it was founded in 1894. Some baseball legends have played for this franchise, although some of them were not particularly decent human beings.  (Looking at you, Tyrus.)  A proud and storied franchise, but they suffered many years of being quite terrible at baseball.  When I visited Comerica Park, the Tigers were coming out of a long period of being awful, but nobody knew that quite yet.  (These pictures are from 2006, and they happened to win the pennant that year.)  I remember sitting behind an elderly gentleman at the game... he had a spiral bound score book... it was clearly meant for the entire season.  He had been a season ticket holder for decades.  Now, maybe it had something to do with where I had chosen to sit, but I remember that the fans near me were particularly knowledgeable on this day, and since they were Tigers fans, they were clearly long-suffering as well.  They weren't quite a friendly as the fans in Toronto, because of course nobody is a friendly as Canadians, but I enjoyed their company.
6. Nationals Park, Washington D.C.
Other than Sean Doolittle, I don't have very much affection for the Nationals, as they play in the same division as my favorite baseball team. The park is ok though.  It's very easy to reach via public transportation.  If memory serves, it's right at the end of one of the city's subway lines.  You leave the station, and then it's just a brief stroll to the park.  Much like many of the more modern ballparks, there does not appear to be a seat with a bad view here. You can get a half-smoke at the ballpark, which you should do when you go to Washington.
5. Miller Park, Milwaukee
The people of Wisconsin are different.  I had never seen tailgating at any baseball stadium until visiting here, the land of beer, sausage, and cheese.  Yes, folks come out early to the game and hang out in the parking lot drinking and grilling.  One drawback to this ballpark is its location.  It's not really close to anything interesting in the city.  It's not easily accessible by foot or by public transportation.  Other than that, it's a lovely experience.  I had my first (and only) experience with Spotted Cow here. I don't remember exactly what we ate, but I am certain it was some type of sausage... I mean, it's Wisconsin.  Miller Park features a retractable roof, and we had the opportunity to see it in action.  It was a somewhat humid and sunny day when we got to the ballpark, and even with the roof open, I had the odd feeling of being indoors for some reason.  A weather system was going to move through, so during the game, the roof closed.  After the rain moved away, they opened the roof again, and we could see the clear night sky.  
4. Coors Field, Denver
When you watch baseball on television, folks always comment on how spacious the field is here.  Due to the altitude, the baseball travels farther in Denver when it is hit, so the fences are farther away from the plate than in the other ballparks.  You geometry experts out there can explain this better than me, but this results in a larger area of play.  Indeed, when we got to the park, I could see that the playing field is vast, easily larger than any I've ever seen.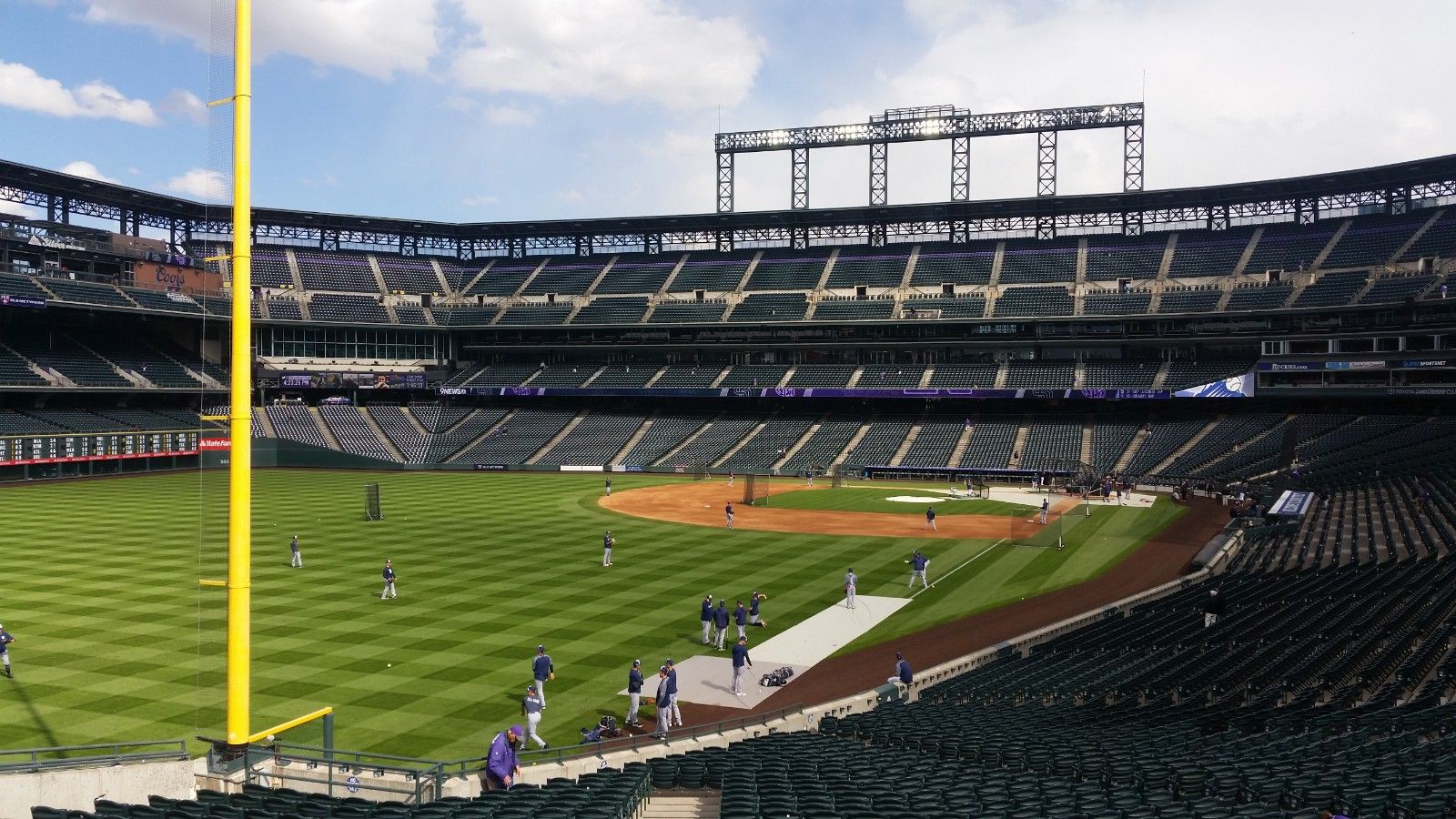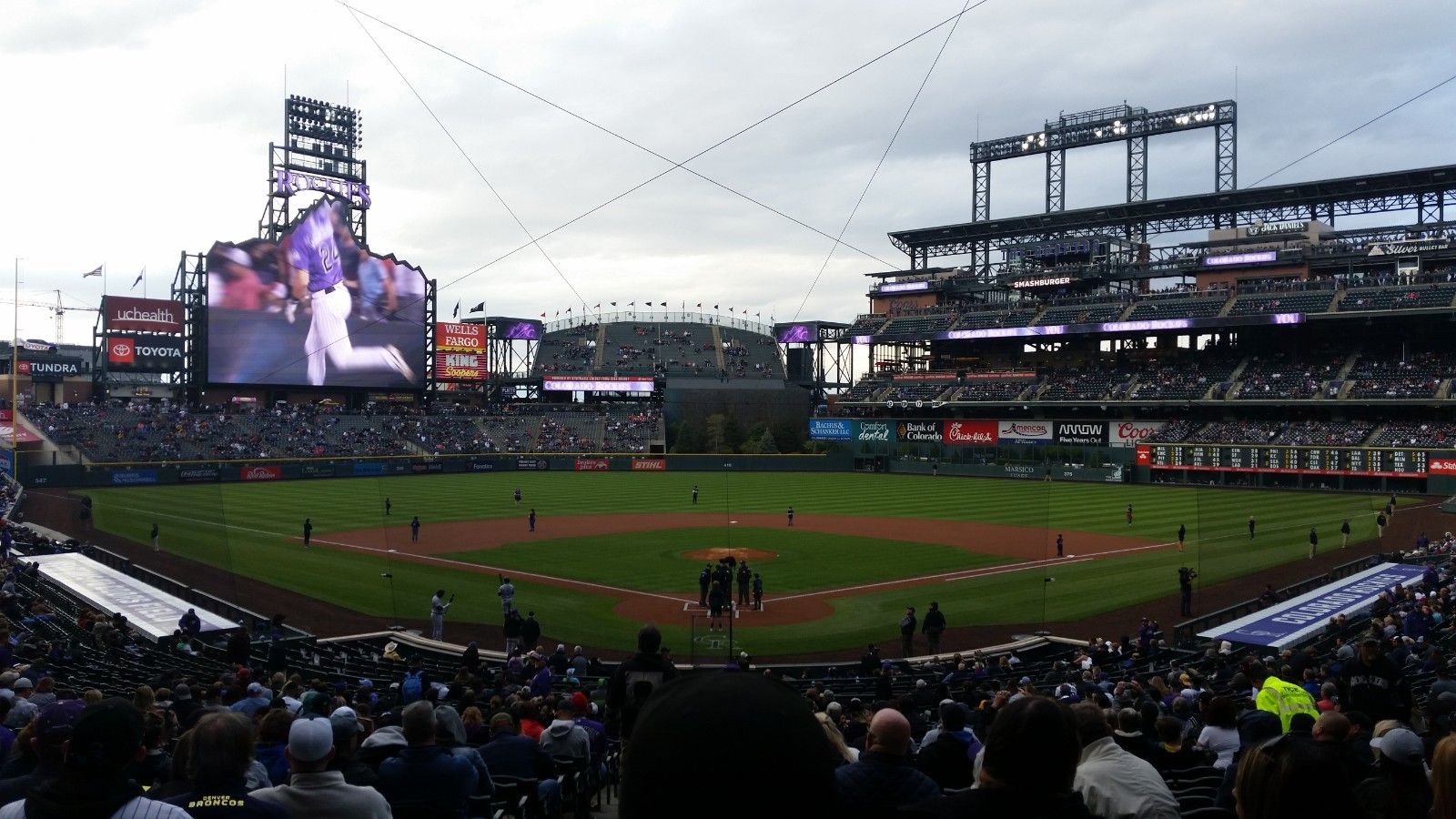 In the first picture, look at the upper deck of seats.  Do you see what appears to be a purple line near the top?  Every seat in the rows there is painted purple (whereas the other seats in the park are green) to indicate one mile above sea level at that location.  The park is a thing of beauty, quite comfortable, very friendly staff, and it appears there are good sight lines no matter where you are.
There are plenty of beverage options here, though the most abundant are Coors products, which shouldn't surprise anyone.  There are plenty of great food options in this park as well.  I can't comment on how easily one can reach this park via public transportation, because we headed to see a game here immediately after getting off the airplane... we rented a car, drove straight to downtown Denver, parked, and strolled a mile or so down to the park.  (Parking was abundant and cheap, but that might have been because we arrived somewhat early.)
3. Citi Field, New York (Queens)
I am no fan of the Mets, who inhabit this place, but I very much love this ballpark.  First, it is incredibly easy to get here.  The ballpark is right next to a subway station, on line 7, more or less across the street from the tennis complex where the US Open is played every year, and quite close to the place where the alien crashed through the globe thing in the first Men In Black film.  The park is ten or eleven years old still very much has that new ballpark feel.  The Jackie Robinson Rotunda entrance is a glorious way to introduce yourself to City Field, and the abundance of brick brings some elegance.  
For both of my visits here, I sat at club level.  It's elevated, but the architecture of the stadium is such that there are seats on that higher level that have you closer to the action than lower level seats in many other ballparks.  (Looking at you, Cincinnati.)  I was amazed how clearly we could hear the ball pop in the catcher's mitt from the club level seats, just below where the broadcasters are located.  Another great thing about club level is that tickets there get you access to some restaurants and bars that are not accessible for every ticket holder.  These areas have comfortable seating, specialty drinks, good food, and delightful air conditioning... oh, and there are monitors everywhere, so you won't miss any of the game action.  If I blindfolded you and dropped you off in this area, you would have no idea you were at a ballpark.
Also, Shake Shack.  Yes, I know that this is a chain now, and they're expanding everywhere, but that wasn't always the case.  My first Shake Shack experience was here, and I very very much dig.  Also, you can get one of David Chang's delicious Momofuku fried chicken sandwiches, and you will not regret it. Really the only drawback is the proximity to La Guardia, so you hear planes overhead pretty much all of the time.  That's a small price to pay for a great game day experience. 
2. Marlins Park, Miami
I have been to Paris (the one in France) twelve times... maybe thirteen, I have lost count.  I have been to Florida (the one in the United States) exactly once, and it was to go to Opening Night at Marlins Park a few years ago.  If you are into baseball, you're probably thinking that nobody goes to games here.  Yes, that's pretty much true, and for me, that's part of the charm of Marlins Park.  We went on Opening Night, and the game wasn't sold out.  If you're not going to sell out on Opening Night, you're probably never going to sell out.
It's really a shame that people don't go to games here, because this is a beautiful park.  As typical with modern baseball venues, there does not appear to be a seat here with poor sight lines.  The park and its surroundings have a ton of pastel and bright colors, and you can see they're really leaning into being located in Miami.  Just about everything inside the park is labelled in two languages, as you would expect for a stadium in a multilingual city.
What a unique place.  When we visited, they still had the home run sculpture, which many people found to be "hideous", but I thought it was a quirky, interesting large piece of bric-a-brac.  Well, the new ownership didn't like it, so it's gone.  The park also used to have fish tanks behind home plate that contained live fish, but I'm not sure if they are still there.  From the outside, Marlins Park looks sleek and futuristic, perhaps like a spaceship parked in the neighborhood.  Marlins Park also has a retractable roof, which is necessary to combat the high heat and humidity of South Florida (as well as the pop-up thundershowers).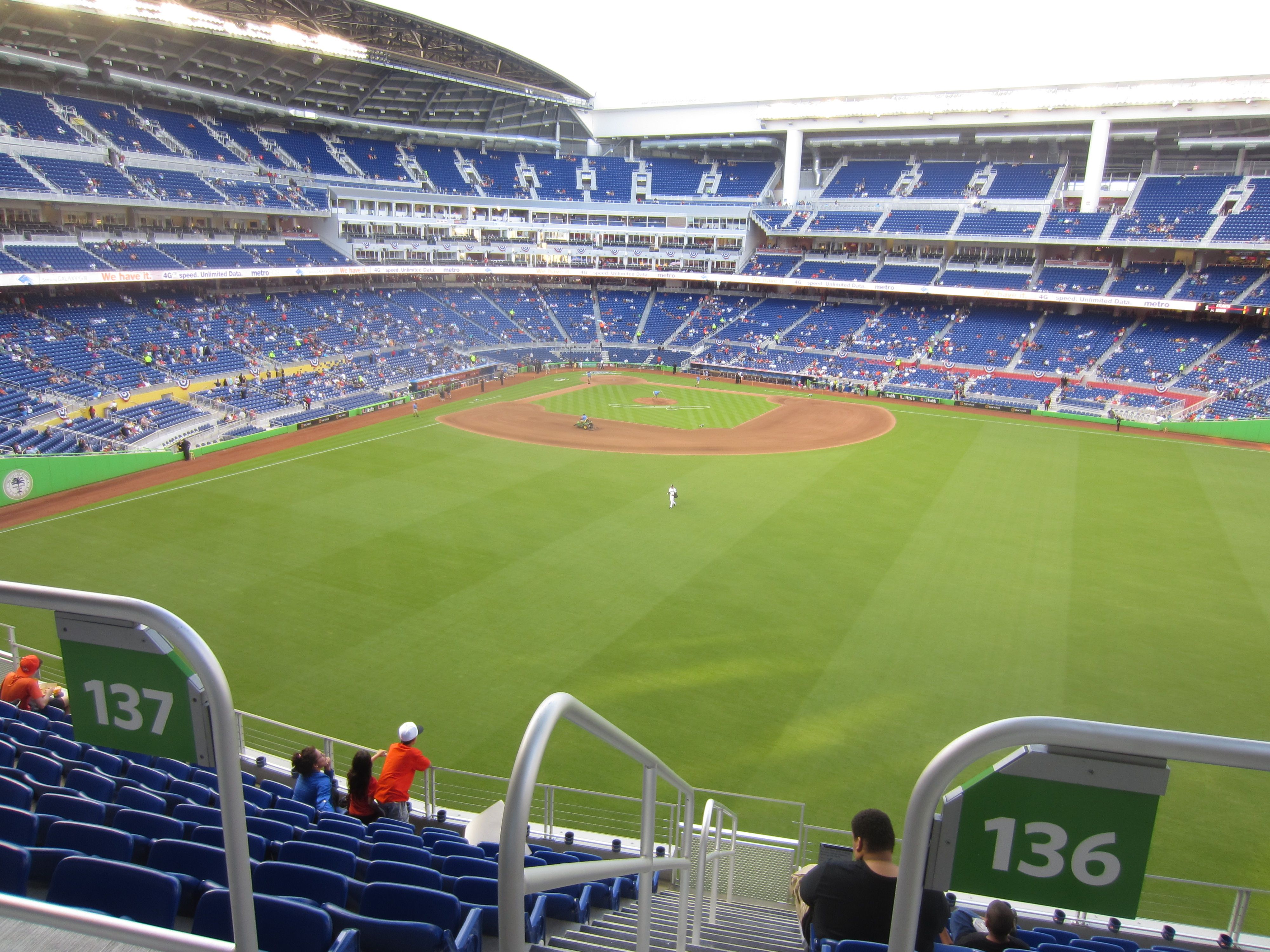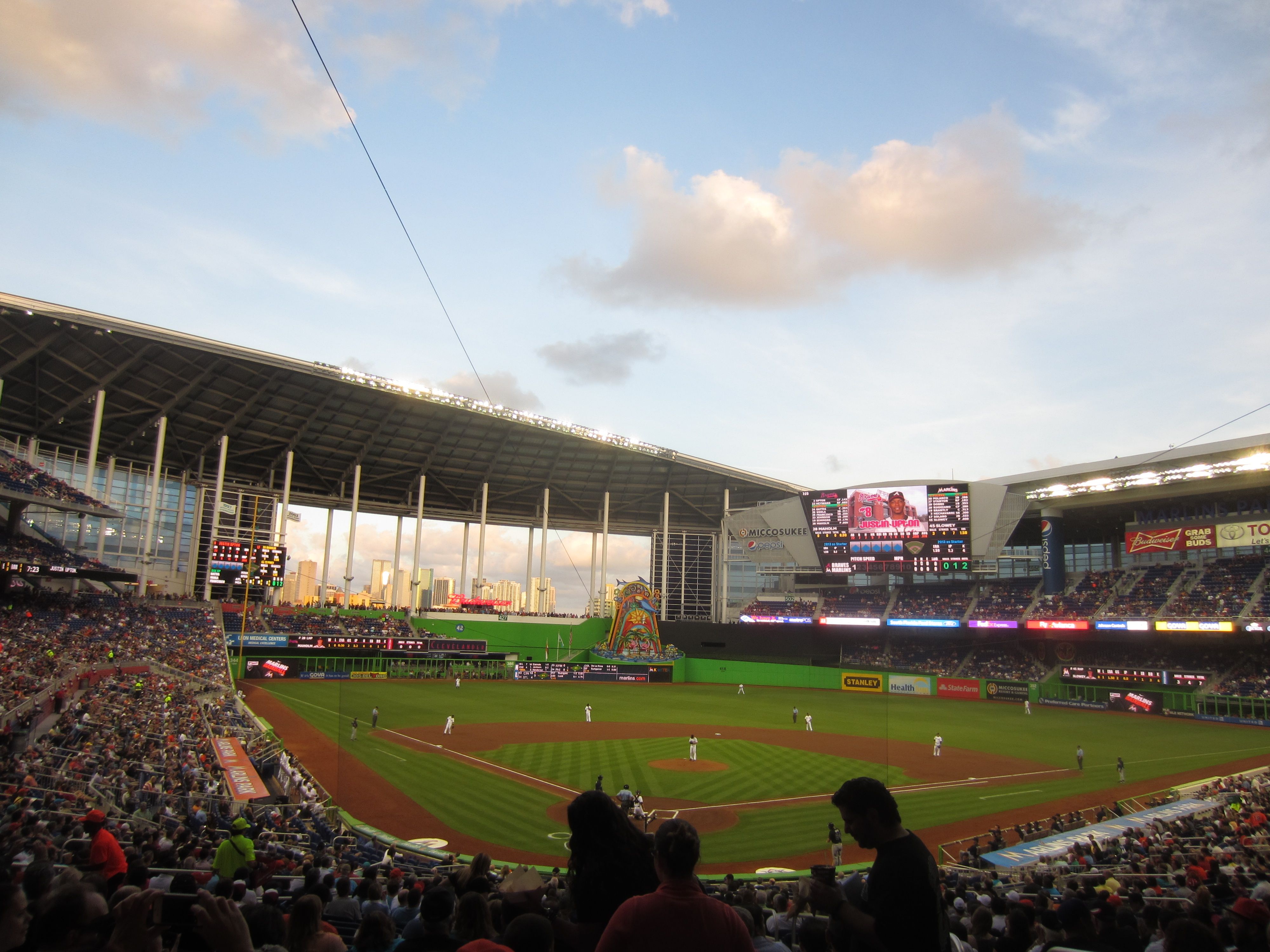 If you can figure out how to navigate the bus system in this town, you can probably get to this park easily.  That wasn't the case for us, we had some transportation adventures in the city, but managed to get to the park eventually.  The food options here are solid, and it's Miami, so there is plenty of Cuban fare in the park.  Whenever it is safe for us to travel again, I strongly recommend taking a brief baseball vacation here.  Tickets are cheap because demand is low.  In future baseball seasons, check the schedule for when your favorite team is playing in Miami, and head on down there to see them.  You won't regret it.
1. PNC Park, Pittsburgh
When you visit Pittsburgh to see a game, I recommend that you stay in a hotel downtown, within a few miles of PNC Park.  On game days, many of the streets in the immediate vicinity of the park get closed to vehicular traffic, and become pedestrian-only means of ingress to the stadium. Walk across the Allegheny on the majestic Roberto Clemente Bridge,  and pause when you get to his statue to take in the atmosphere of game day.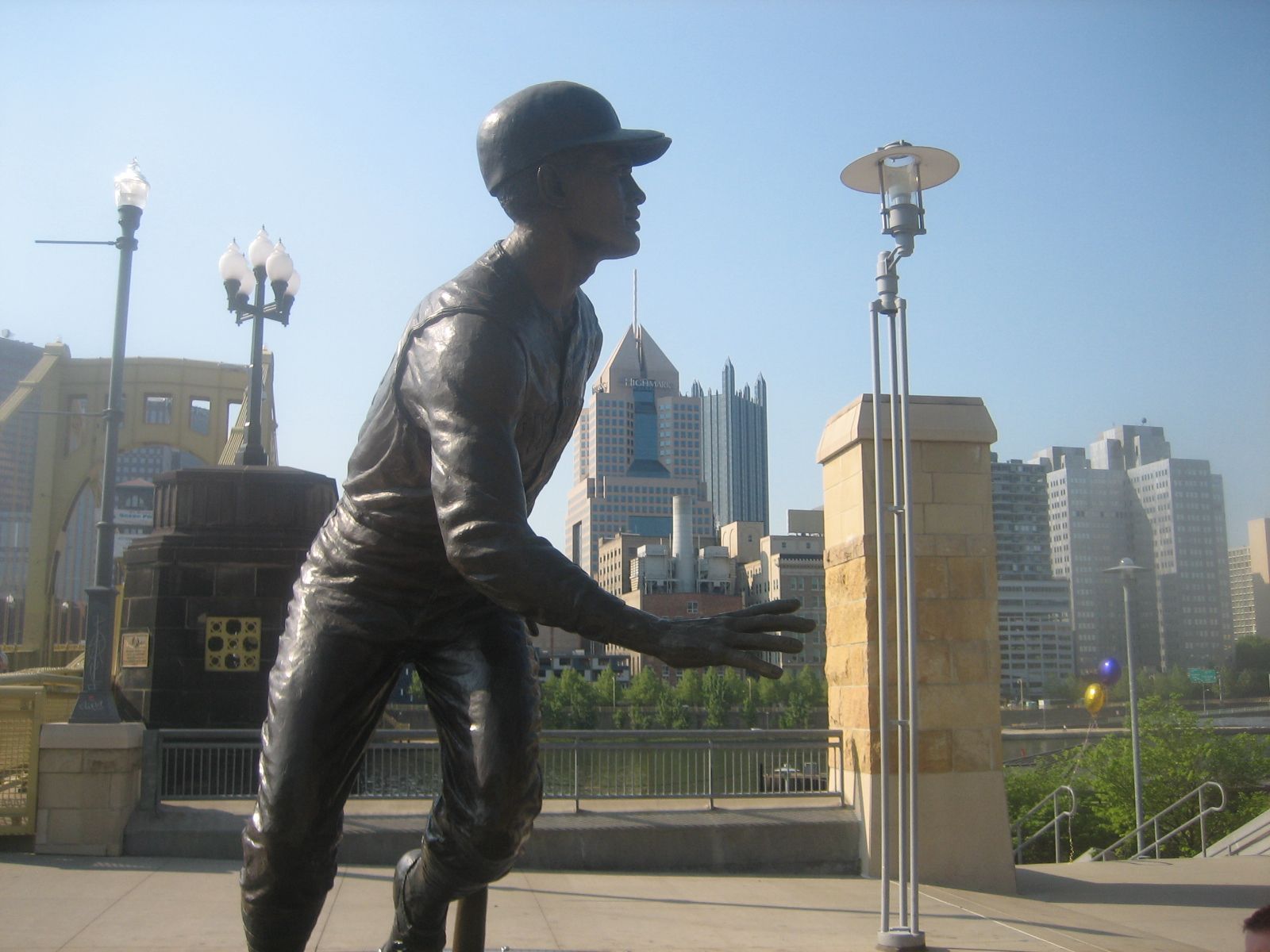 If you don't happen to stay downtown and get yourself to the game under your own power, no worries, despite the pedestrian-only streets in the neighborhood, it's a friendly place to drive and park as well.  Once you get to PNC Park, you'll notice that there are great views of the field from everywhere.  I've been to enough games here that I've sat close behind home plate, I've sat in the highest level, I've sat halfway up on the first base side behind the dugout, and a few other places.  The views of downtown Pittsburgh and the action on the field are great from just about everywhere.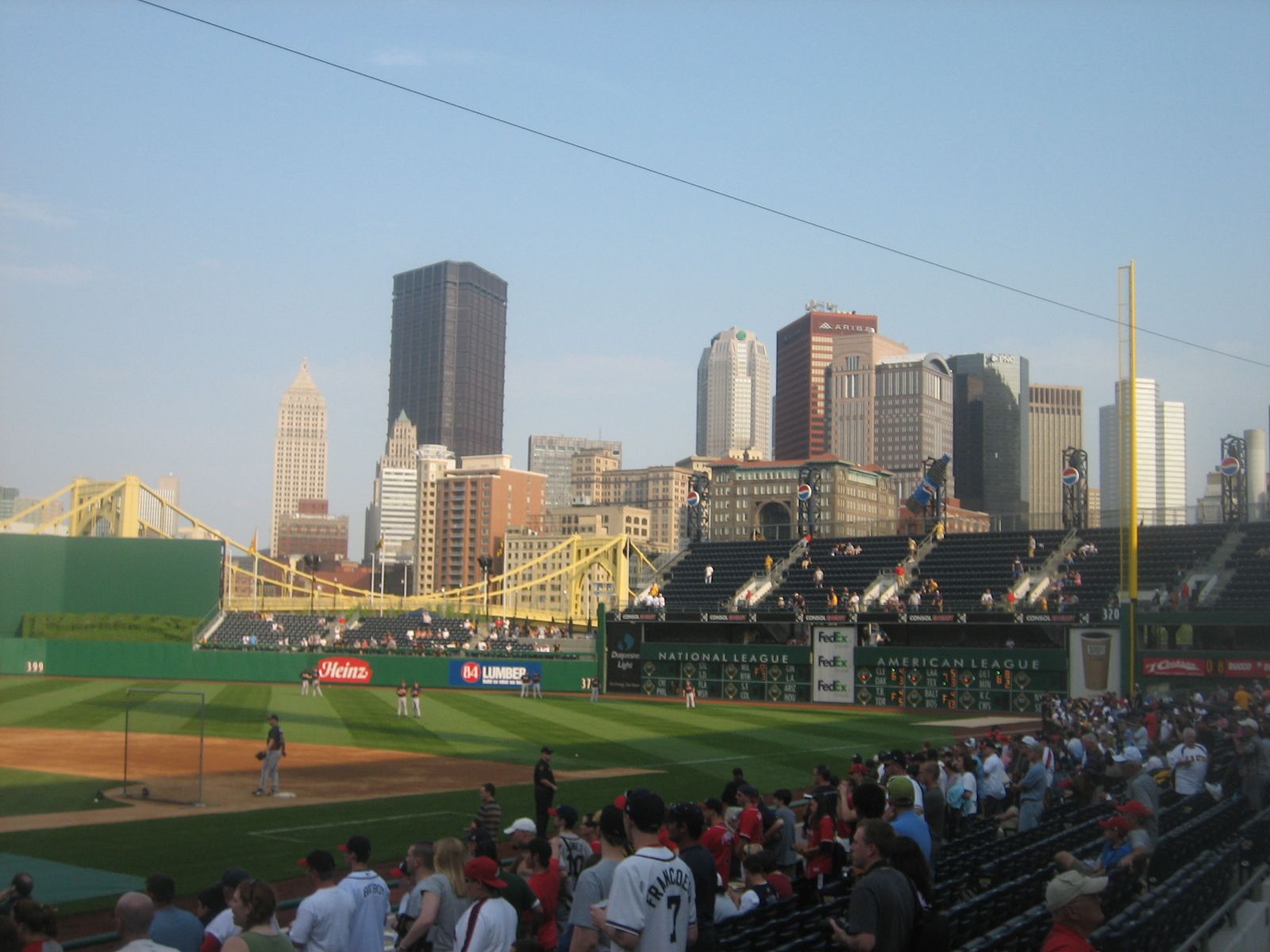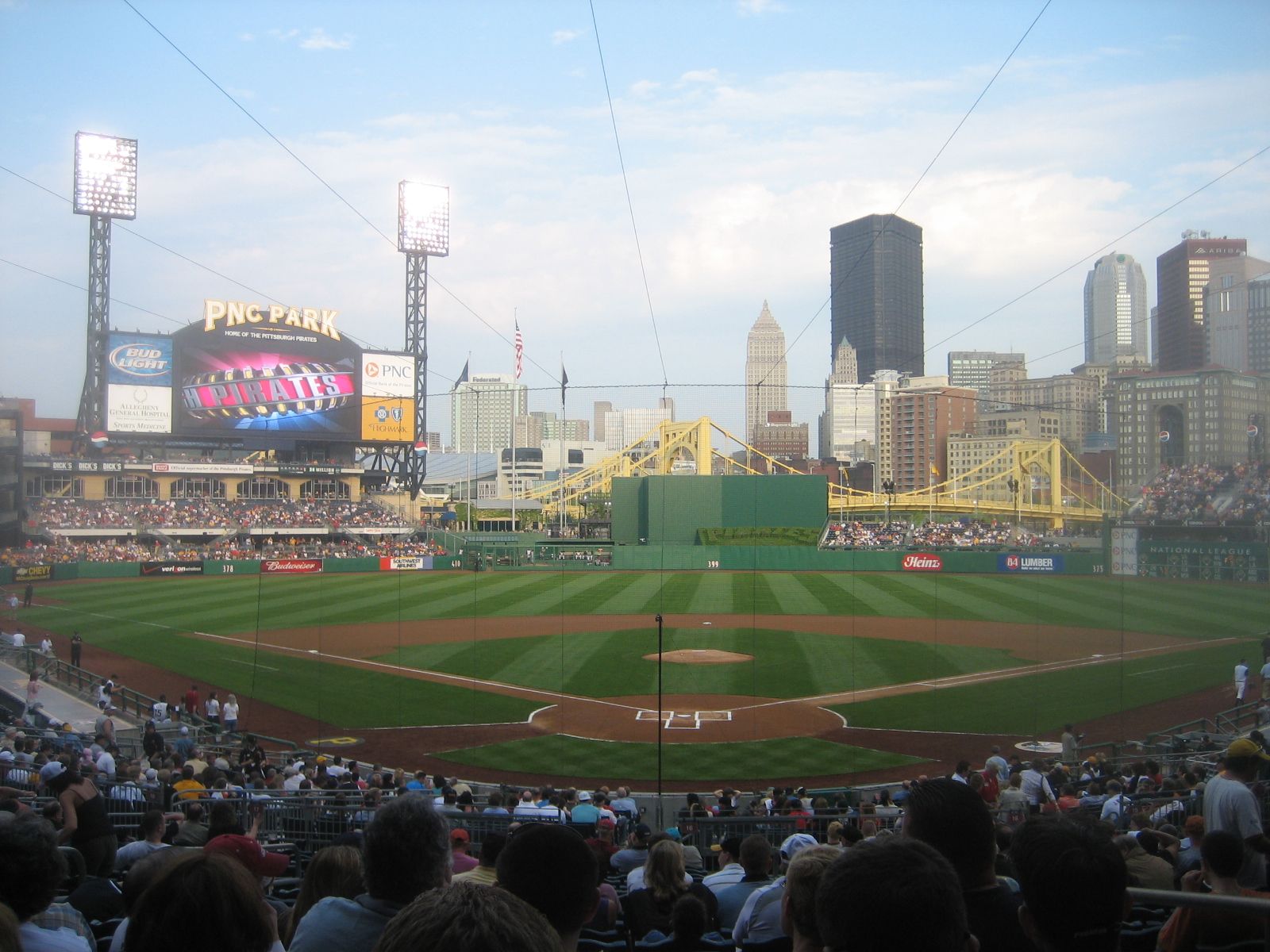 As far as keeping yourself hydrated and fed, well, on many of my visits there was a particularly LOUD vendor who you could hear from several sections away shouting "LEMONADE!"... I hope he's alive and well.  In a nod to the Eastern European immigrants in the area, you can find tasty pierogi at a few of the concession stands.  There is a pierogi race once a game between innings, similar to the sausage race in Milwaukee and the president race in Washington.  You can also get a fantastic Pittsburgh staple, a Primanti Brothers sandwich, and wash it down with an ice cold Iron City. (Yes, it's an expanding chain now, and there is even a franchise near me, but I refuse to go.  A visit to Primanti Brothers is one of the things that makes visiting Pittsburgh special for me, and I don't want to spoil it.)
***
That's it.  That's my list.  There are some other ballparks that I have walked around (Petco Park in San Diego), or driven by on the highway (Fenway Park in Boston), or strolled by with friends (Wrigley Field in Chicago).  Currently on the list of places I wish to go visit for baseball:  Target Field in Minneapolis, Kauffman Stadium in Kansas City (which will be accompanied by a trip here), T-Mobile Park in Seattle, and Oracle Park in San Francisco.