Welcome to Concert Memories May!  All of my Monday blog entries this month will be about memorable concerts.
Once upon a time, I was somewhat obsessed with The Cranberries.  Not only did they have a tastefully named bassist, their Irish roots shone through the singer's voice, making them a new thing to me in the world of rock and roll.  I mentioned this show briefly in a previous blog entry, as a background detail to a sad story.  This show was enjoyable enough that it's a shame that I usually remember it that way first.
This happened at Veterans Memorial in Columbus, Ohio... which isn't there anymore.  There is a museum with that name on the site in Columbus, but that is not the concert hall where I went to this show.  The venue had your classic concert hall seating, surely intended as a home for an orchestra.  Our seats were in the balcony, way up high... in fact, I think we might have been in the very last row.  (Give me a break on the details, this was a LONG time ago.)  I attended this show with a group of good friends, some of whom are no longer with us, and some of whom I have lost touch with.  That detail in itself is kind of a sad reminder of the passage of time.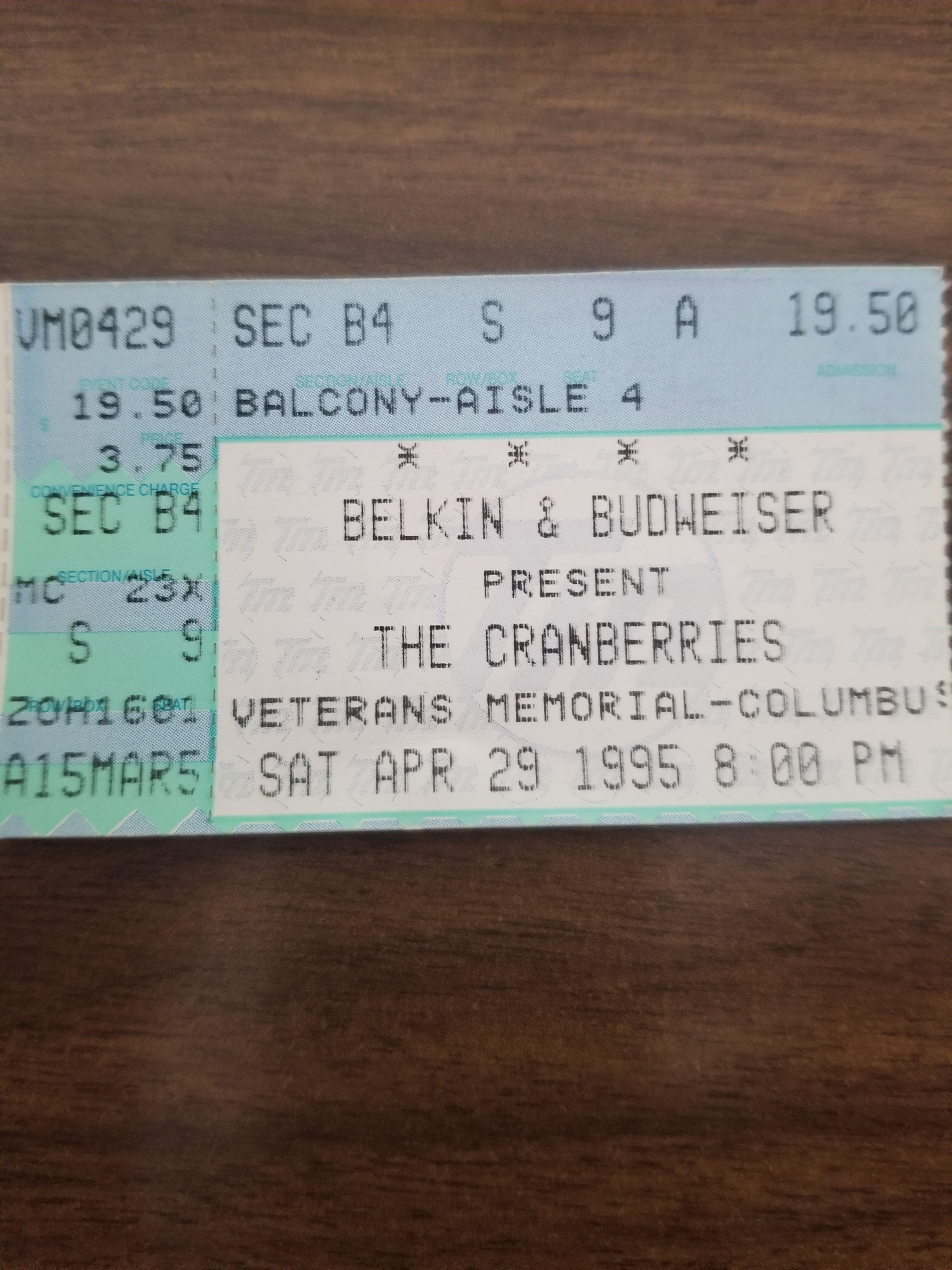 At this time, The Cranberries were still touring in support of the No Need To Argue album, which brought them international stardom.  With only two albums out at the time, we all knew every song, and as happens at shows like this, there was a great deal of singing along.  We were all in for a surprise... they played one song twice.
Dolores told the audience at one point that they were shooting a music video for "Ridiculous Thoughts", and that they would need to play the song again.  There was a wardrobe change involved for this.  (The outfit was the pattern of the flag of the United States, and not, strangely enough, the flag of Ireland.)  That's kind of cool... not only did we get to hear a very good song twice in the same night, the music video is a permanent memento of this specific concert.  In case you have never seen the "Ridiculous Thoughts" video, here it is: