Hey, here's another new theme for a series of blog entries.  This is the first Songwriting Story, in which I open the curtain and let you peek into my songwriting process.  Now, I won't do this for every song, as some artistic ambiguity is sometimes something desirable, but on occasion I'll share some information about how a song came to be.  Today we start with "North of Sixteen", which is track 7 on Echo in the Crevices. 
This is a song I wrote a dozen times, several dozen times.  I had words, I would discard the words. I had music, I would discard the music.  I wrote this song over and over again, year after year, and eventually, this particular iteration stuck.  I tried to write a bass line cool enough to obscure the sadness of the lyrics… indeed, this is my favorite bass line on the album.  Do people even pay attention to the lyrics anyway? 
March 1995.  My junior year of high school.  I was 17. Like many high schoolers my age, I had a part-time job… I worked at a grocery store.  The store wasn't in my hometown, so many of the teenagers who worked there attended different high schools in the area.  At that age, you spend a great deal of time with your coworkers… four or five days a week, a few hours a day… longer on weekends… it's natural that you develop some camaraderie and bond with them.  As I recall, I got along well with all of the other high schoolers who worked with me… the public school kids, the private school kids… we all spent plenty of time socializing at work. 
Susan went to a high school in a neighboring town.  Cheerleader. Honor Roll. Student Council. Exemplary. Intelligent. Talkative. Friendly. Sixteen. She was part of a group of coworkers who I was especially fond of… we'd take the 15 minute work breaks together when we could… there would be laughing and stories and jokes… sometimes about school, sometimes about life.  I think one of the interesting things for all of us was the chance to interact with a bunch of peers that you wouldn't see the next day at school. Below is a picture of her that I found online. Mind you, this is not necessarily the way I remember her, at least not this particular dress… but the smile is exactly the way I remember her.  She always had that smile.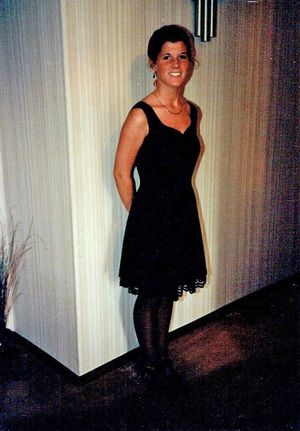 For safety reasons, one of the male employees would walk the female employees to their car if the shift ended at night.  We all did this for all of the young (and not so young) ladies that we worked with, but I seemed to end up walking out with Susan somewhat regularly… in fact, it was often enough that if she arrived at work after I did, she would try to park next to me, or at least tell me that she tried to park next to me.  She would tell me "I parked next to you again, guess you have to walk me out". 
You came to me on a cool March night like any other 
I don't remember what day of the week it was.  I remember it was March, and it was before the suicide, and I was at work.  I was, specifically, outside at work. See this particular grocery store had a carport where the customer's groceries would get sent through a conveyor.  We young guys liked to work in the carport loading groceries into cars, because we got tips that way. This particular day, it was my turn to be outside. It was late enough to be kind of dark outside, this was before daylight saving time started back up.  Susan came to the store with her folks… they were going shopping. She walked over to where I was standing outside to chat. 
Your laugh for me was just a mask to hide the maelstrom 
At the time, I didn't notice anything out of the ordinary.  Ah, the power and clarity of hindsight. We had a nice conversation.  She smiled the same smile as always, and laughed at my occasional awful joke (usually of the self-deprecating variety).  I asked if she had to take care of anything work-related, and she said she might run into the store for a few moments, but that she had come specifically to see me.  I remember being quite flattered, because teenage boys feel flattered when intelligent, pretty young ladies say nice things to them. We talked about an upcoming Cranberries show that I was planning to attend… the show would be in April.  She expressed interest in joining my group. When I balked at that - not knowing how exactly to set that up - she made an offhand comment about maybe not seeing me ever again. Again, I didn't attach any significance to this… until… you know. 
Didn't hear what you meant to say 
She talked about feeling sick… like a cold was coming on.  I told her to keep her chin up and repeated the old adage about chicken soup.  She said that was probably a good idea. Looking back, this conversation was her way of saying goodbye… but it was also a cry for help.  I would like to think that I would notice that something was wrong if we were to have a similar conversation today. I would like to think that I've learned a bit more about reading people and empathy.  This is not to say that I wasn't empathetic then, but I was 17, I was surely not emotionally equipped to do what I have always thought should have been done. Anyway, when she had to run into the store, she gave me a hug… she came out a few minutes later with her parents, and I ended up loading groceries into their car.  As they were pulling away, she turned and waved to me from the back, and I shouted "chicken soup!" in the general direction of the car. She flashed that smile in response. This was the last time I saw Susan alive. 
Bathed in exhaust / closed your eyes and went to sleep 
I found what I think is an archive of a newspaper article online… 1995 was so long ago that there isn't much on the Internet about these kinds of things from that time period.  It's not like I need any of the personal details, I remember all of those, and don't think I could ever forget. It's haunting. No, I wanted to look up some of the facts… find something official.  The article I found is here. This is an excerpt: 
The vibrant and popular Fenter, an honor roll student herself, placed frozen shrimp on the counter to thaw, fed her cat Dusty and walked into the garage. She then climbed into her car, turned the ignition and read a suicide prevention pamphlet she received at school. Three hours later, Barbara Fenter pulled into the driveway, opened the garage door and smoke billowed out. She found her daughter slumped in the driver's seat, dead of carbon monoxide poisoning - the pamphlet by her side. On her bed, next to a list of "final things to do," Susan left a suicide note. 
Since I didn't go to the same high school as Susan, I didn't hear the news during my day.  I found out when I got to work. I was actually up in the upstairs break area, early for my shift, and about to start.  My dad found me (he worked in management there at the time) and asked me "did you hear about Susan?", but he had THAT look on his face… the one that speaks of no good.  If you read the article I linked to, you'll notice that there was another suicide of a student in her school earlier in the week, and that story had gotten plenty of local media coverage, so it was on everyone's mind, and when dad asked me that question with that look on his face, that conversation Susan and I had came flooding back and I KNEW.  I knew. I said "suicide"? Dad nodded and left the room. It's hard to describe what that felt like… punch in the gut, kick to the ribs… something like that. My first reaction was angry. Anger at her for not asking for help, then quickly anger at myself for not realizing that she asked for help and also said goodbye. I punched a wall. My hand hurt for a few days afterwards. 
Somber day at work.  Grocery store where much of the staff was kids.  Everyone knew. It was on the news. Work was so perfunctory.  The customers noticed. The really regular customers knew she had worked with us.  Several of my coworkers spent most of their shift in tears.  I can't describe how work itself felt for my coworkers, but for me, work felt completely pointless.  I wanted to scream with rage, I wanted to break things, I wanted to cry… but no, I went ahead and bagged those groceries and mopped those floors and faced those shelves and was polite to the customers.  As I talked to my coworkers, it became clear that Susan had carefully planned this. For instance, she had called someone earlier in the week to cover her weekend shift. She didn't plan on being alive when the weekend came around.  Several of my coworkers had similar stories about getting visits… and when we compared our stories, the thing they all had in common was that air of finality. 
The article I mentioned previously has a sample from her journal. 
"My life is just one big nightmare. I can't get over how stupid I am," Susan wrote five months before the suicide. "Maybe I'm book smart, but I sure can't handle the things I feel inside....I think I'm going to die of a broken heart....No one can understand how I'm feeling...I can't deal with this anymore, with this pain and hurting I feel." 
That's not the Susan I knew.  Ok, that is the Susan I knew, I just didn't pay enough attention.  We were teenagers, we were all broken and messed up in our own ways.  Some of us still are.  I always thought that she had stuff figured out.  It happens that she apparently thought the same of the rest of us. 
I wrote "North of Sixteen" so many times… so many words, so many names.  This song you hear today is the one that made it, a testament to the profound and crushing guilt I have felt for more than 24 years now.  What could I have done? What should I have done? What if? This song comes from a dark and painful place.  Lyrically, it is as honest as anything I've ever written. Musically, it's in a minor key… that's appropriate. 
Never could you find your way north of sixteen.