I think today is a good day to tell you about my in-progress EP.  Let's pretend I'm a journalist and use the 5 W questions, shall we?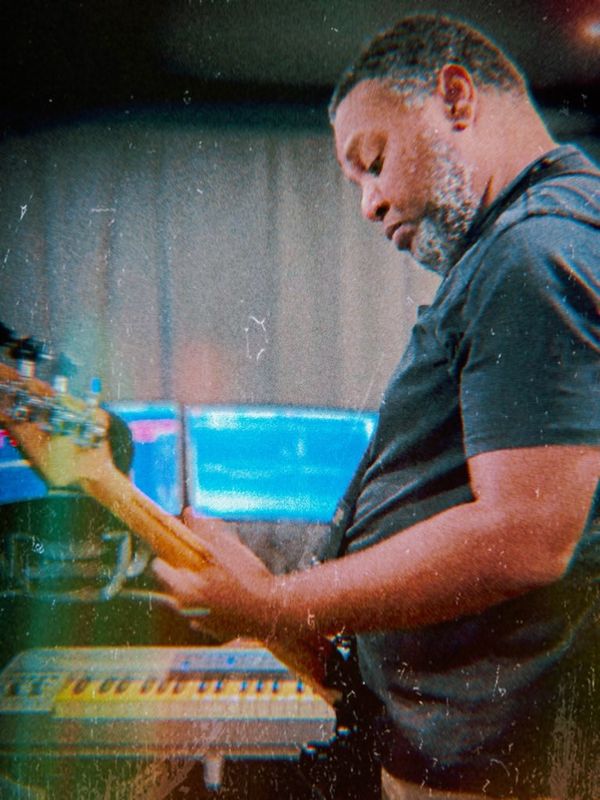 Photo by Joshua Chan
WHY?
I wrote a great deal of songs during the pandemic.  Most of these, you'll never hear.  They're not all winners, you know.  As I kept writing, several of the songs ended up being about Black experiences. As they say, write what you know.  Now, I've written about this sort of thing before. After all, writing songs is how I process emotions and try to deal with my anxiety and depression and life in general. Eventually, I had written enough songs that I thought were good enough to not discard. I'd like to share them.  That's what songwriters do, you know, we generally prefer to share what we write. Instead of staggering these songs across multiple releases, I decided to collect them all into one project.
WHO?
The songs on this project are all very much about Black experiences. That being the case, I thought that the best way to approach recording them would be to enlist the assistance of people who would most be able to personally relate to the subject matter.  The artistic aesthetic for this project is that all personnel are Black. This includes musicians, engineer, mixer, mastering engineer, photographer, videographer, and graphic design. If you've read my blog or heard me talk about music, you know that I consider collaboration to be a highly valuable and important part of making art. This is an opportunity for me to work with some very talented people who I've never worked with before. I feel like the enthusiasm they are bringing to this project can only enhance the final product.
WHERE?
I am recoding at The Dreamcatchers Recording Studio in Reynoldsburg, Ohio. Rizo is the gentleman at the controls.
WHAT?
This is going to be an EP.  In addition to the detail about the personnel above, it will be different from my past work in two major ways.
First, every single song on this project is told from my point of view. By saying that, I don't mean that I've never written a song from my own point of view before.  "North of Sixteen", from Echo in the Crevices, is very much a first person story, and it's a very clear narrative. "Goodbye", from Anxious Inventions & Fictions, is another example of me being the voice speaking in the song. This certainly isn't the case all of the time. Songs like "I Am a Number" and "Your Anthem" are observational.  Songs like "Little Light" , "Le Soldat", and "She Speaks in Metaphor" are purely fiction, but plausible. My most recent single, "Wapakoneta", consists of a kernel of true memories buried in a fabricated story. This new project however... this is extremely personal. I am the voice on all of the songs. I am open, I am vulnerable, and I am speaking the truth. Note that you won't find any instances of me pushing for social or political causes or changes on this EP. (If you're looking for my thoughts in those areas, feel free to reach out to me in person.) I am saying things that are true, and then saying how I feel about them. The listener is free to draw their own conclusion. Being this open is scary.
Second, every song on this EP is in a different genre. Usually, piano is my tool of choice for writing songs. Piano provides a blank slate. There are a nearly unlimited amount of choices one can make as far as arrangement and instrumentation when starting with piano. As I arranged the songs, I tried to put together arrangements that would best serve each song. After I got three songs into the project, I noticed that they were all different genres. At that point, I decided to lean into it. Yes, each song is a different genre, but they all sound like me.
There is another detail about this project that I'll keep secret, but it is a secret that I have shared with the lovely people who subscribe to my mailing list. They are the first to know what I am up to, and I share inside information with them that I won't share elsewhere. If you'd like to join them and step into my world, please sign up here.
In a nod to Jimi Hendrix, the name of the EP will be I Am Experienced.
WHEN?
This blog post is going up on Monday January 17th, 2022.  In the United States, that is a federal holiday called Martin Luther King Jr. Day.  Some people in the United States might spend a few minutes on this day thinking about topics such as racism, prejudice, and equality. Some people might spend a few minutes thinking about how to not be partial in one's individual interactions with other humans, or what the world might be like if everyone had an altruistic love for their fellow person. Many people ask themselves when, if ever, anything will improve. Those are all valid thoughts, and I'm not going to address them here. I will say that I have made some art in which I talk about my feelings, I am working hard to get it professionally recorded, and I will share it with you as soon as I possibly can.