I live in Ohio, which is one of 50 states in The United States.  It has been a long time since a war was fought within the borders of this country or state.  It has been so long that all of the people who fought in that war are long dead.  Now, I've visited plenty of other places where war has come much more recently.  For example, I happened to be in Sri Lanka when celebrations were planned to commemorate ONE YEAR since the end of their lengthy civil war.  I visited El Salvador once, and anyone there who was my age at the time would have had civil war as a back drop to almost half of their life.  I have visited France many times, have many friends there, and the folks who live there experienced devastating war fought in and around their homes, a war in which my own grandfather was a participant. War is a horrible, terrible, destructive, evil thing.  People who live where I live tend to forget that.  As a person who is a voracious reader of history, I haven't forgotten, and I ended up writing a song about it.
Here is a picture of the poem I wrote called "Ton Soldat", told from the point of view of a soldier who is sick and tired of war.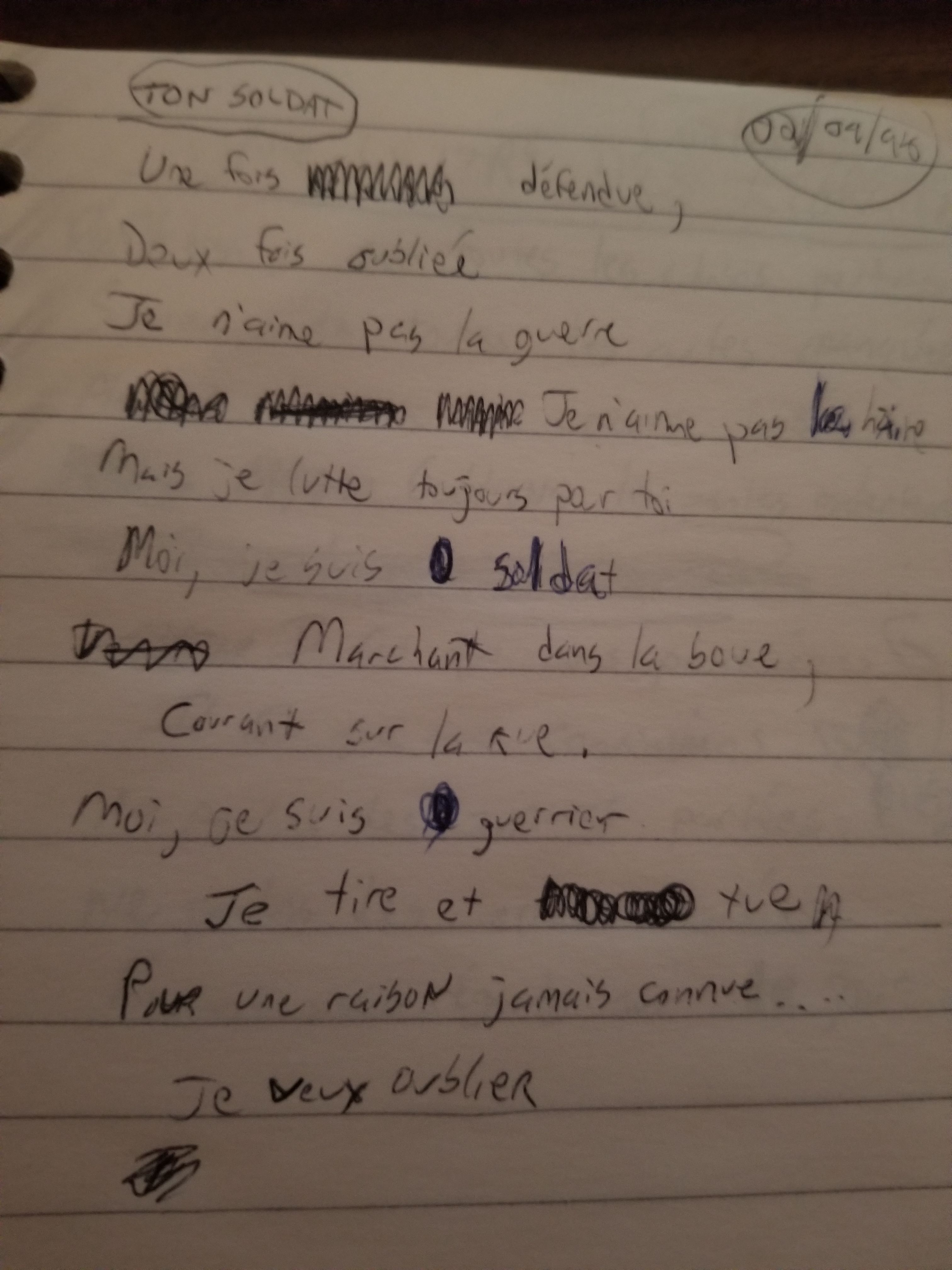 See the date on that?  February 9th, 1998.  I was 20 years old when I wrote that, I still had a brother, I didn't yet have gray hair, and I hadn't been to France yet.
When I was putting together songs for my debut album, Echo in the Crevices, I wrote music for this, and asked some of my dear French friends to have a look at the lyrics to ensure they made sense.  I applied their suggestions, changing out the verb "lutter" for "combattre" and "battre".  There were a few other adjustments made to fit the music and make the song flow better.  This song is now called "Le Soldat".  
When it came time to head to the studio, I knew I wanted a shoegaze feel, a wall of distortion and sound, but also laid back.  The bass was going to do most of the movement.  I remember asking Tod Weidner, who was kind enough to play guitar on this song, if he could play the guitar part whilst making sure the attack sound of the pick hitting the strings wasn't heard.  He did a great job with that. He also brought some ingenuity to the bridge, building the chords that I specified piece-by-piece, playing one note at a time during multiple takes... when all of the overdubs were done, we ended up with the sound of full chords.  Also, I figured that if you're going to write a song in French, you had better have some accordion in it, and Eric Cassidy helped me out with that.  Our community drummer, Brian Hoeflich, also added a nice touch to the bridge, laying heavily on the snare drum to give a military feel to the music, which was quite appropriate.
This song needed to be on the album, for its theme and its mood.  I didn't figure many people would like it, because, let's be frank, most people where I live do not listen to music that isn't sung in English.  This was the favorite song on the entire album for one reviewer in particular, and that surprised me. 
It is my hope that having this extra context helps you to hear this song in a new way.  Why not check it out on my Bandcamp page, on Spotify, on YouTube, on Amazon, or wherever else you listen to music?