I met Doc a couple of years ago at a music conference.  She has a signature look... a hat, a rat, and always a guitar.  Her artist name is Dirty Metal Lefty, partially because of an innate southpaw status, which is something we have in common.  (I mean, I do play bass like a right-handed person, but I eat, write, throw, golf, swing baseball bats, and shoot basketballs left-handed.)  This is a very talented person who wields the guitar with all kinds of skill... this is the kind of wizardry that eludes me, as I find guitar strings to be too numerous and also way too tiny.
Here's my favorite song from the Neva' On Sundays album, "Ain't No Friend of Mine."
The last time I saw Doc, we sat in a hotel lobby down in Austin singing and playing Chris Cornell songs.  Well, I didn't do the playing, and I did the singing rather poorly, but it was a great time.  No, not that Chris Cornell song.  No, not that one either.  Yeah, and this is also not one of them.  Here's one. Here's another.  Here's a third, that almost makes me cry every time I hear it.   Interview below the picture.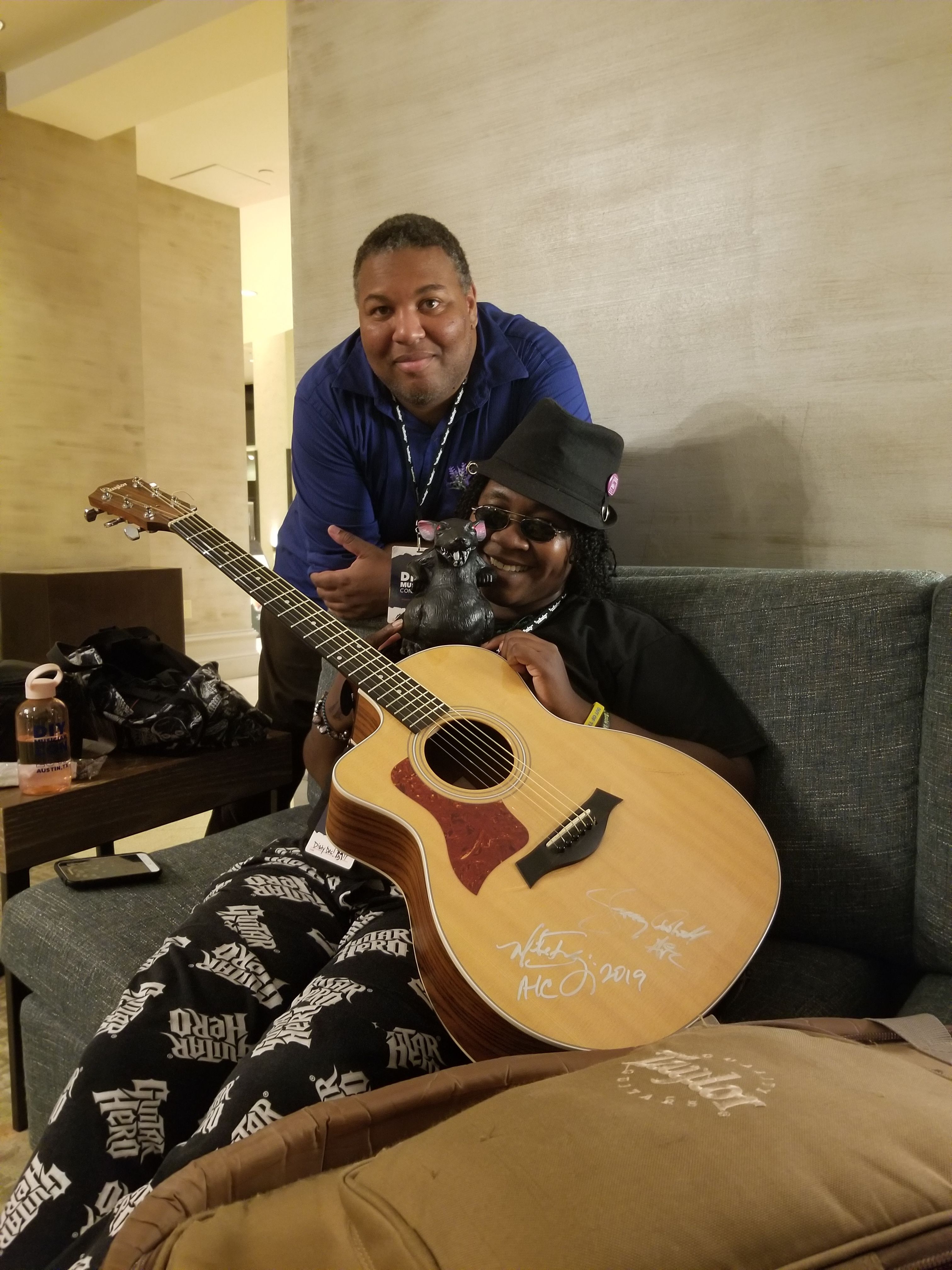 When I run these, I usually put my questions in bold... but Doc used some unique formatting in her response, and I think it's best to show you this interview the way she intended.
1.  Let's hear the elevator pitch for your skill set and genre. 
Blues Inspired Indie-Alt Rock with Jazz and Metal undertones 
Think "If Sade had a baby with Alice In Chains who was REEEALLY into CSN (Crosby, Stills, Nash) and Albert King" 
2.  How did you get started making music?  How soon after you started learning to play did you start to write your own songs? 
I guess from the moment I could make noise and bang on stuff.  Music for me and a headache for others. LOL 
If memory serves me proper, I was around 9 or 10 when I first sat down and intentionally tried to write a song; on a keyboard, surprisingly enough. The songs conjured from lyrics only were usually set to the melody of a song I already knew. #UnintentionalDerivativeCover 
3.  What was the first album you can remember buying with your own money? 
Remember Columbia House music club with their "10 cassettes for 1¢"? 
Alice In Chains - Dirt. And spoiler alert, those cassettes weren't really a penny. Boy did I learn that lesson the hard way. . .   
[Mike adds: You and me both, sista.]
4.  Tell me about the last concert you saw. 
Mon., Mar. 9th - Michale Graves (ex-Misfits) w/ special guest JJ Speaks 
Covid ruined everything after that (>_<)* 
5.  What artists do you consider to be your biggest influences? 
In addition to the elevator pitch in question 1: 
Chris Cornell, Nina Simone, Fantastic Negrito, Deftones, Afro Celt Sound System, The Absence, Dave Brubeck, Screaming Jay Hawkins, Fleetwood Mac, Lamb of God, Nevermore 
6.  So, you're a guitarist.  Most guitarists that I know tend to be really into their instruments, their pedals, and their rig.  This is your opportunity to indulge in a lavish description of your favorite musical toys, if you would like to do so. 
I LOVE gear but I don't have or use a ton of it. I don't want to "hide" behind too many effects. . . aaaand I don't like having to keep up with too much stuff. [LMAO!!!!!] 
Boss Metal Zone pedal is my absolute jam for electric. It pairs well with most of my guitars and Vox tube amp; just kinda sucks that the price hasn't gone down in over 20 years. For Acoustic: I use a series of loopers, a Digitek Trio, a dope vocal dohickey from TC Helicon, and devices for backing track playback. On occasion, I'll also use a A/B box to split my guitar between two different amps with separate pedal setups. The concept adds more texture to my overall tone. It also affords the opportunity to alternate my set between full band sound and intimate feels. 
7,  How are you dealing with this pandemic from a music standpoint?  Touring is out of your toolbox for the moment, has anything taken its place? 
Maaaaan, Covid swooped in and snatched my gigs like an owl pouncing on an unsuspecting field mouse. [Mike interjects: This might be the greatest of all similes.] That was painful; financially of course but even more so on the emotional and mental front. I figured I try to use the "mandatory" down time to work on writing and finally getting around to cleaning my house. It's amazing how many pieces of life get neglected when you don't take enough time to tend to stuff. As for the music as a whole, live streaming has become the new trend but it does not and cannot replace actual live music IN PERSON. 
There's a special, uncanny bond forged in the heat of the moment between musicians and their audience; a sort of energy exchange that breaks down barriers. I miss that. Genre aside, music, in general, is one of the only few things we [humans] can all agree upon. I don't think I've ever met anyone who doesn't enjoy music on some level. 
8,   It's cliché, but it's a good question to end with:  What's next for you? 
A resurgence of gigs, I hope. I miss connecting with people. In the meantime, I do plan to release a single or two or three. . .maybe a video to accompany them. No dates yet but new stuffs ARE indeed coming. I'll keep adjusting to our new normal as well supporting my mates and local small businesses around town. A friend and I have even paired together for a side project, busking around town and such. Busking is the next best step until we're able to navigate proper live gigs in the midst of this pandemic madness and social distancing.
Let me know when it's safe to pop in for a slot in your neck of the woods.
***
Dirty Metal Lefty has indeed stopped by our state on a previous tour, playing in Columbus.  I had planned to go, and ended up not being able to do so, which still makes me sad.  Here's hoping she stops by Dayton someday.  I linked to her website above, but you can also find her on Instagram, Facebook, and Twitter.  Also, you know how Bandcamp has been waiving their fee on the first Friday of every month recently?  Well, Friday July 3rd would be a good date to swing by the Dirty Metal Lefty Bandcamp page and buy some music.