Usually, I write these concert memories posts about a show from at least a year ago, and this one just happened in January.  However, it was such a fantastic couple of days that I couldn't help myself.
If perchance you have read my blog before, you know I have seen Elbow live before.  You also know I love them very much, ever since their first album came out. They released a new album recently, Giants of All Sizes, and are out playing shows to support it... as one does.  They only scheduled four (4!) shows in the United States, and quite sadly for me, they were all on the West Coast.  After careful consideration, I decided that this was something my wife and I could not miss, so we flew out to San Diego on a Friday.
San Diego.  What a lovely city!  Let's put that aside for the moment though.  We land rather late, and we get to our hotel.  We are in need of drinks and snacks, so we set out on foot to procure these things.  While walking down one of the streets, I see a gentleman who bears a strong resemblance to Craig Potter.  (Craig Potter plays keyboards and sings harmonies in Elbow.)  As we get within a few meters of this gentleman, I say "Hey, you're Craig Potter."  Call me captain obvious.  Just a few steps behind him, well, there was lead singer and lyricist Guy Garvey.  I had missed Craig's brother Mark, he was a bit ahead of them, and had managed to walk by us without me noticing.  We had a very nice chat with the Elboys.  (Pete was in the hotel trying to sleep off some of the jet lag.)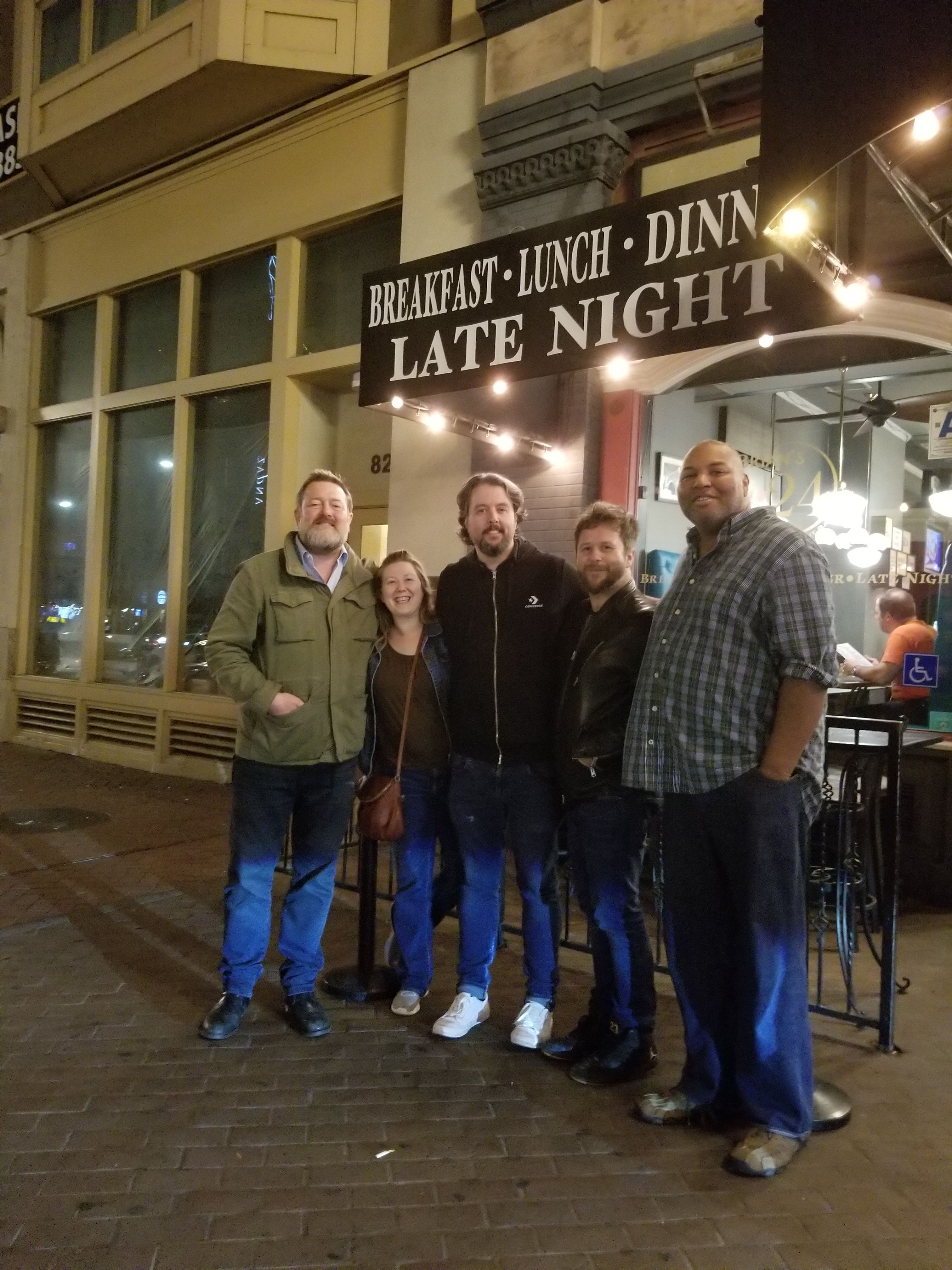 If you're wondering if it was cool to meet them, I assure you that is most certainly was.  My wife and I couldn't stop giggling about it the rest of the night.
You see, over in Europe, these guys are rock stars.  They routinely sell out arenas.  They play before thousands of people at festivals.  They even played at the 2012 London Olympics.  Now, here in the United States, yeah, not so much.  For whatever reason, they aren't famous... which is fine, as it means they can walk through the streets of an American city without being mobbed.  (Craig told me that he and his brother and Pete can usually walk around without being recognized, but Guy can hardly be outdoors without people noticing him.)  The other benefit that we have in the United States to Elbow not being overwhelmingly popular is that they play rather small venues, which is really the best way to experience live music.
House of Blues.  That's where they played in San Diego. It's a small room.  The Internet tells me that the capacity there is 1000.  Yeah, that's a small room.  For you Ohioans, that's smaller than Newport Music Hall on High Street in Columbus, and it's smaller than Bogart's on Vine Street in Cincinnati.  Yeah, that's a small room.  That's where Elbow played.  
We showed up early to queue for entry.  We met some lovely people who also made a trek for the show. Cricket was the first person in line.  She's quite ebullient, and is from Seattle.  I don't even remember how many times she said she has seen Elbow, it was 14 or 15 or something insane. Cricket also coincidentally managed to pick the same hotel for her San Diego stay as the band did, and had breakfast with Guy Garvey that morning.  We also met a wonderful couple from New York, the tastefully named Mike and his wife Christine, who were there with a local friend of theirs also named Christine.  It became apparent that although the people who enjoy Elbow in the United States are not numerous, they tend to be passionate about the band and their music.
The show.  The show was great.  Jesca Hoop opened. She was wonderful.  She also contributes some harmony vocals to the first track from Giants of All Sizes, so she came back out to sing those after her set.  In case you are wondering what exactly Elbow played... well, here's a picture of their setlist, which California Christine was kind enough to let me take.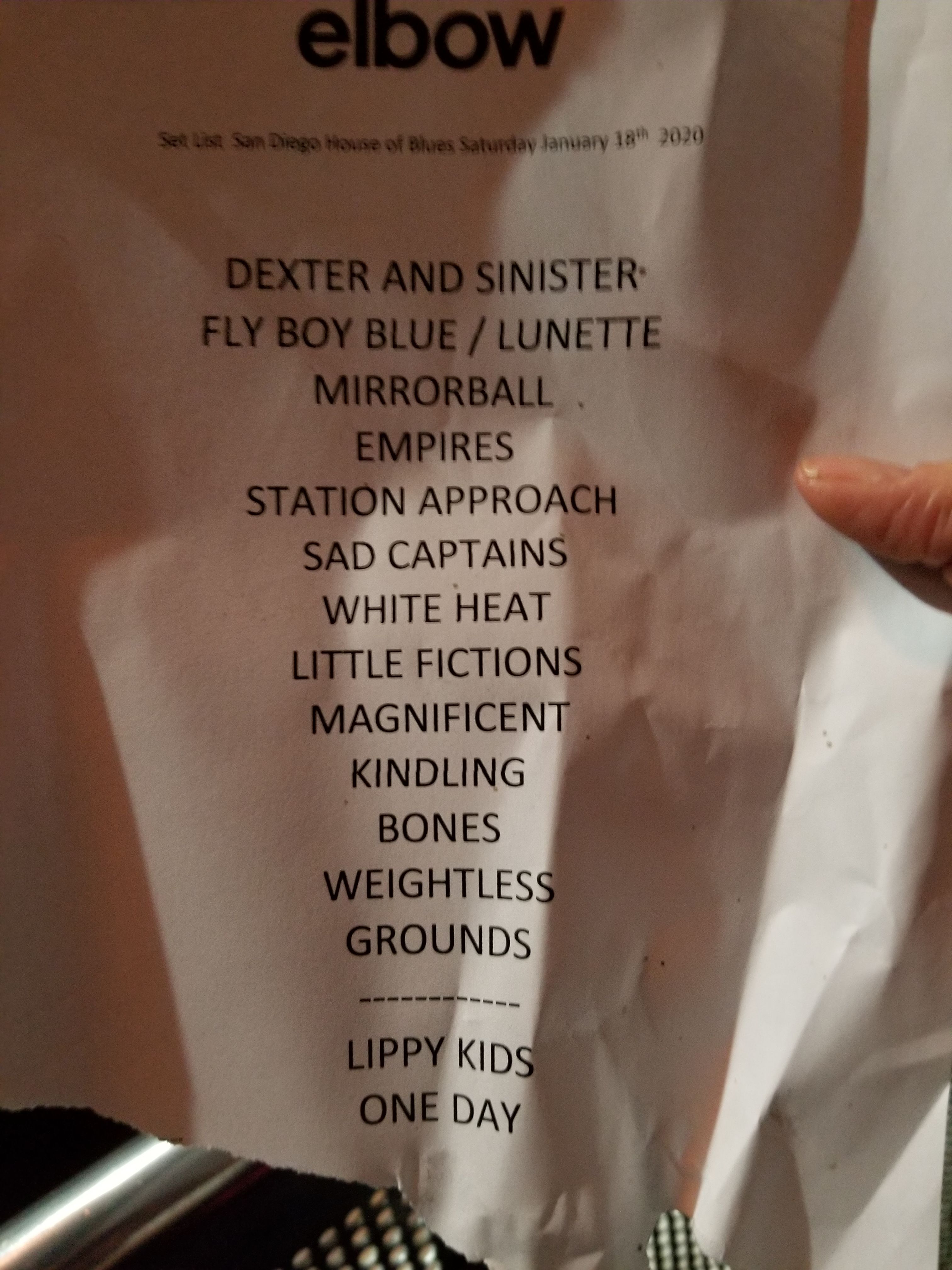 It's not every day you get to see some of your favorite musicians up close.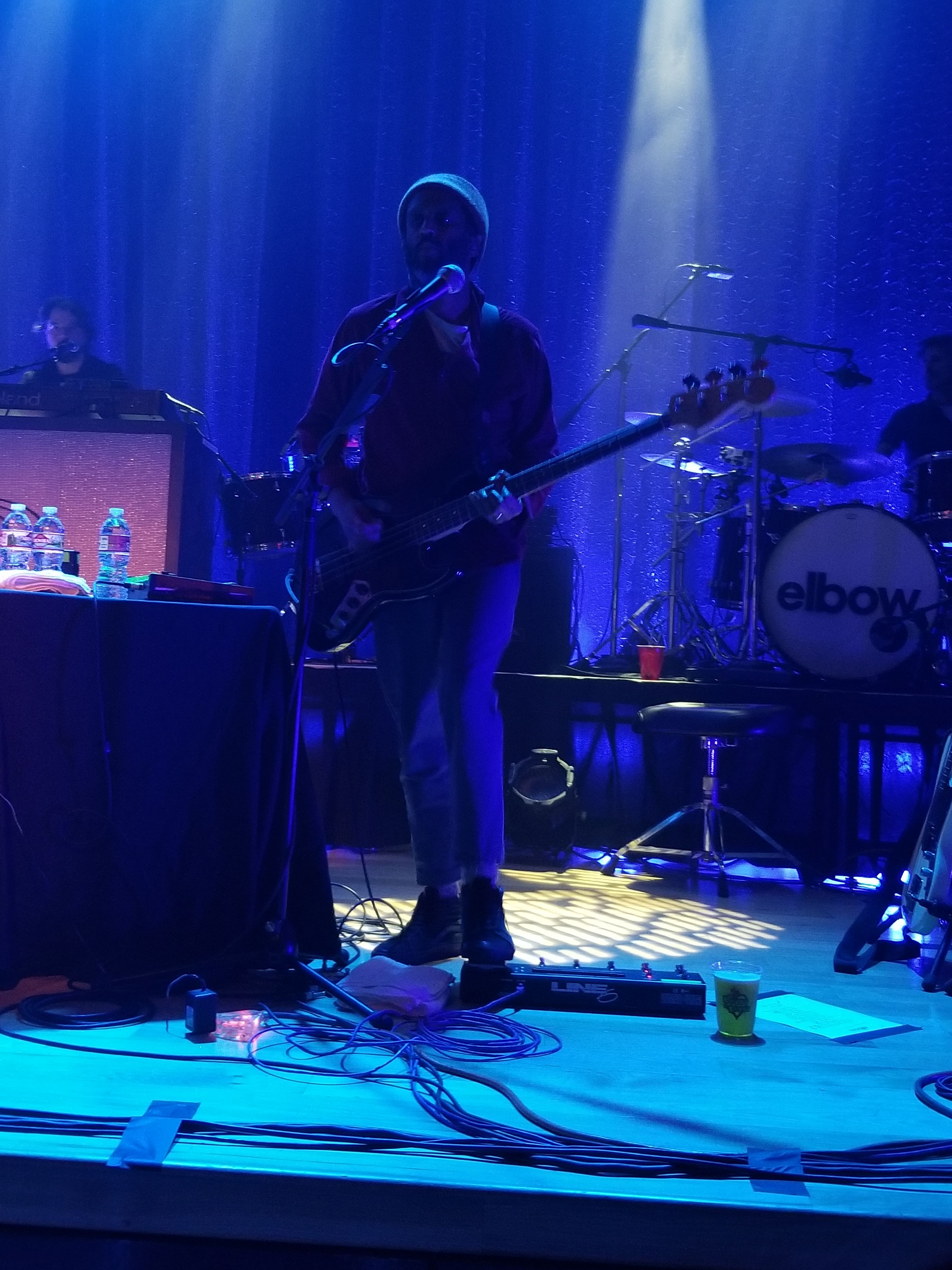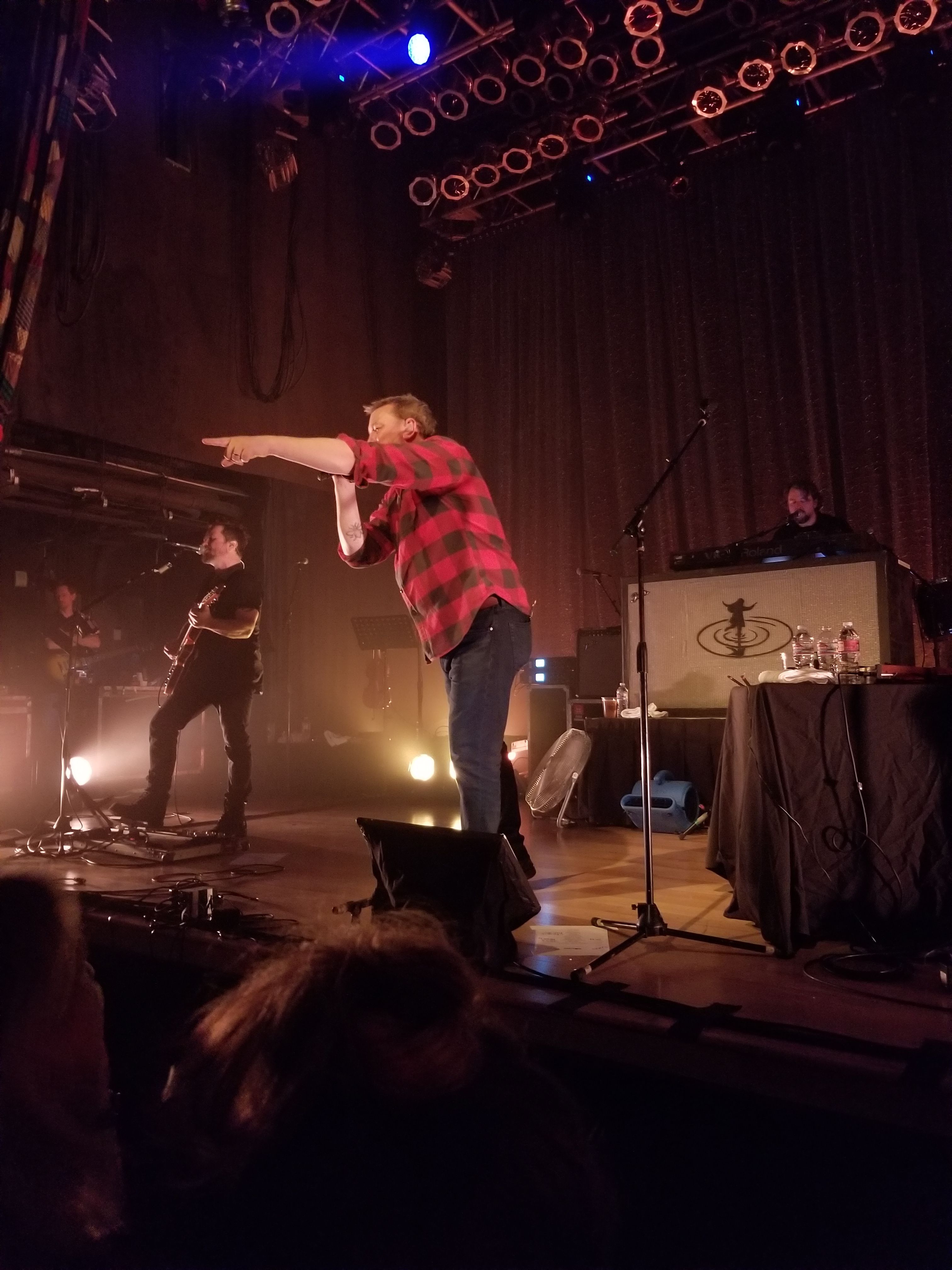 After the show, we're hanging out and chatting with the folks around us... talking about how great the show was, talking about music in general.  Our new acquaintances from New York tell us that the gentleman who is lead singer for The Verve Pipe was in attendance, and how they had seen him and talked to him at a New York show.  I asked to clarify... "you mean Brian Vander Ark is here"?   See, I love his voice.  Love.  He's a great songwriter, having written one of my favorite songs of the entire nineties.  I also went to a few Verve Pipe shows back in the day.  Christine was kind enough to introduce me.  Again, being captain obvious, I start off by saying "so... I am told you're Brian Vander Ark".... I've really got to get better at opening lines when I meet a musician I respect.  So, I officially meet Brian and his wife Luz.  They came out for the show all the way from Michigan... and Brian was surprised that so many people flew such great lengths to see Elbow.  (Once I learned he was there, I thought to myself that it made perfect sense.  As the kids say, game recognize game.)
All told, yeah, a pretty great weekend.