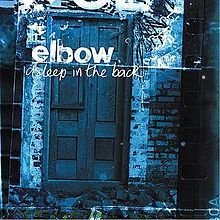 Elbow - Asleep in the Back
I talked about my most recent live experience with Elbow in a previous blog post.  This is the album that got me hooked on them.
A coworker of mine turned me on to this album in 2001.  This was one of the five compact discs I took with me on my spring 2002 trip to France.  The trip was mostly for a friend's wedding, but I managed to move around a bit while I was in Europe... I had a nice trip out to Chamonix for a couple of days, and also dropped by Bruxelles and Bruges.
I spent plenty of time alone with my thoughts and this record playing in my headphones.  On long train trips... on a lift up a mountain... strolling through the forest a short distance from the Arve.  Really, every time I hear these songs, my brief visit to the Alps comes rushing back.  My favorite track on this album was "Newborn"... and today it is probably a tie between "Newborn" and "Scattered Black and Whites".  Guy Garvey's way of painting a picture, evoking an emotion, harnessing a mood with his lyrics... that's a skill I am attempting to develop.