This happened almost twenty years ago.  Mobile phones weren't ubiquitous.  No social media.  Cameras used actual film.  What follows is a verbatim excerpt from the travel journal I was keeping.  (To clarify, the "money problems" I mention are due to me leaving my wallet in a cab exactly one week prior.  I only had $15 US cash in there - which was not useful, as the currency one needed was francs - but I also had my bank card in there, and my plans to withdraw money from the ATM as needed took a big hit.  Also, at this point in the trip I was staying with some friends in Lyon, so had to travel to get to the show.)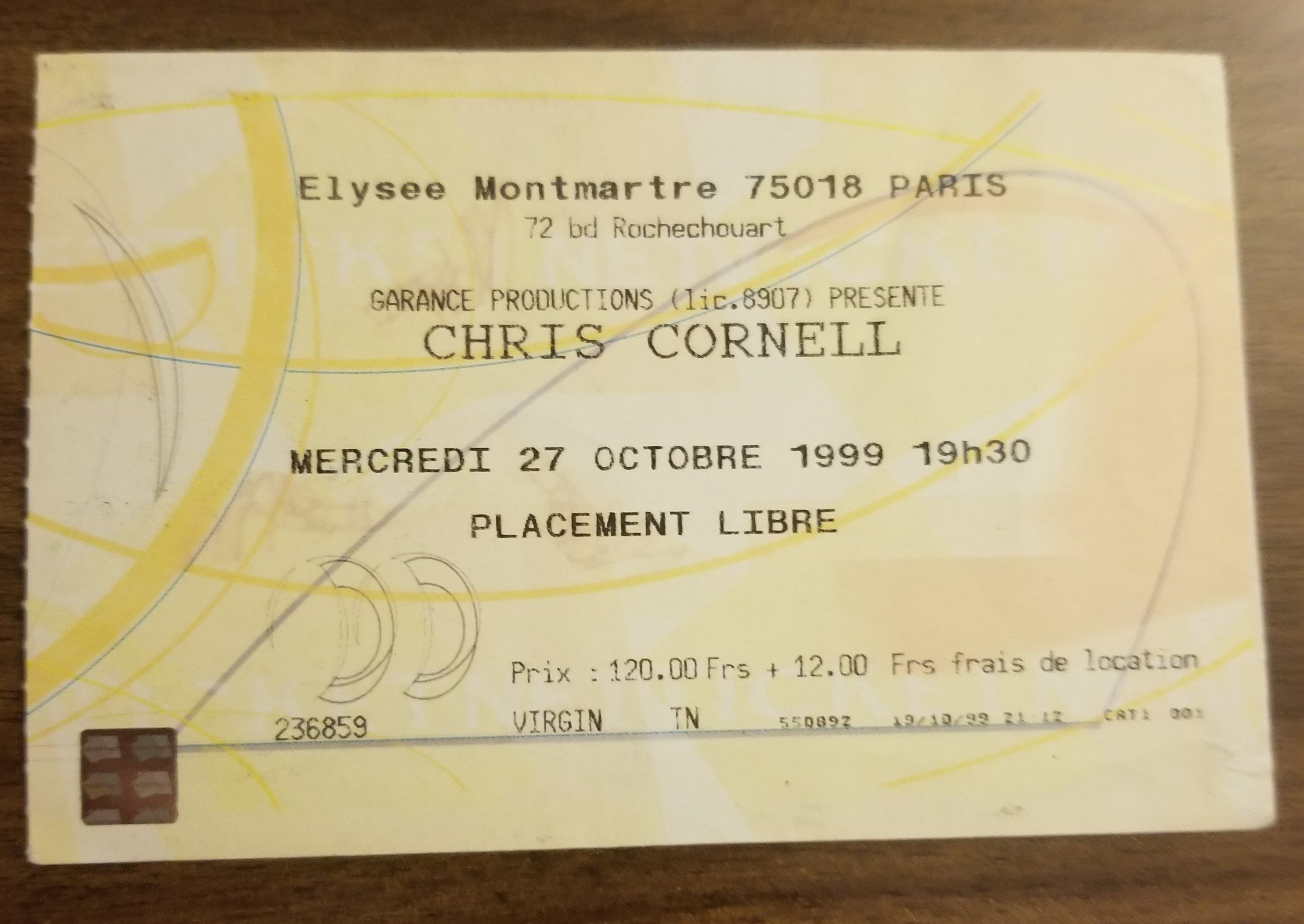 ***
MERCREDI le 27 Octobre 1999
11:04h  I'm up and preparing for the trip to Paris.  I am very much looking forward to the concert, I'll be able to forget about my money problems at least for a couple of hours.
19:29h At the concert.  Security temporarily confiscates my camera. It is like the Newport , but smaller, darker, no balcony.  I remember that Europeans don't mosh. I wish I had some cash on me, because this atmosphere is just screaming for a beer.  There is no opening act.  I met a guy on the crew.  Chris will play for ninety minutes.  I met some other Americans... girls from Wisconsin.  They had backstage passes... girls always get backstage passes.  The place is filling up... if it's not sold out, it sure is close.  This concert brought to us by OUI 102.3 FM, rock radio Paris.  They are doing a live TV appearance tomorrow on Canal+, according to the crew.
20:05h  The set list just got taped down.  
20:17h  It's on now....
Sunshower
Can't Change Me
Flutter Girl (key bass)
Mission (key bass)
Preaching...
Seasons (no keys 2 guitar)
When I'm Down
Pillow of Your Bones
Fell On.... (solo, for Kurt)
Moonchild
Sweet Euphoria  (for Paris, no drummer or bass)
Like Suicide
Follow My Way
-------
All Night Thing
Steel Rain
JEUDI le 28 Octobre 1999
07:29h  It's a six hour ride to Lyon, and I have to change trains in Dijon.  Hope that goes smoothly.  The good thing is that my railpass covers it.  I had expected to get more miles out of my railpass, but I have been rendered rather sedentary.  Last night's concert was great... the only thing that could have improved it would have been meeting Chris.  Chris kept up a good-natured banter with the crowd... in English.  Most of the younger crowd at the concert definitely understands English.  Highlights were the rockin' "Pillow of Your Bones", the crowd sing-along on "Fell On Black Days" and "Like Suicide", and the signature Chris Cornell scream/wail on "Steel Rain".  The crowd was very unfamiliar with the new songs, but they were very enthusiastic.  European concert goers don't heckle like their American counterparts.  And no moshing... everyone is in there all tight, and people kind of dance or headbang a little, but there isn't any real bodily contact.
***
So, those are the thoughts of the 21-year-old version of me.  Looking back, what a fantastic set.  Chris mentioned that he happened to be in that very building - Elysée Montmartre - when he got the news that Kurt Cobain had died, so he dedicated "Fell On Black Days" to Kurt.  He also remarked more than once that Paris is a very beautiful city, and dedicated "Sweet Euphoria" to the city and people of Paris.  As I mentioned in a previous blog post, I had been listening to the Euphoria Mourning album a great deal, so I was quite familiar with all of the new songs.  I would go on to eventually see Chris Cornell solo two more times... but this show topped them.  This is definitely one of the most memorable nights of music in my life.
Also, I miss Chris Cornell about as much as someone can miss a person who they have never met.
When you miss somebody 
You tell yourself a hundred thousand times 
Nobody ever lives forever 
So you give it one more try 
To wave goodbye, wave goodbye
Well said, Chris.  Well said.