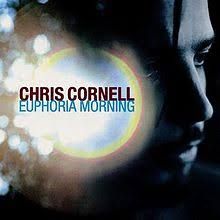 Chris Cornell - Euphoria Mourning
This album was released in fall 1999.  If you happened to have bought it back then, you might have noticed that the title as printed on the disc was Euphoria Morning, as shown above.  Apparently, someone at the record label thought that Cornell's original title was too dark.  I have restored the title here as originally intended by the artist, and really, it fits the music better. 
This was my favorite singer.  I don't know that I had a favorite band at the time, but as far as vocalists were concerned, this was my guy.  Such range. Such emotion. From quiet to loud. I mean, the only person I can think of that sounds even remotely like Cornell is Ian Thornley from Big Wreck… and he's just kind of in the same neighborhood. 
I bought this album nearly immediately after it was released, but at first I didn't listen to it much.  Then I noticed that Chris Cornell would be playing a show in Paris at the same time that I would be there.  Ok, now it was on. When I went to Paris for the first time in October 1999, I only had 5 discs with me for the trip.  Euphoria Mourning was one of them.  (I would tell you the others, but that will steal the thunder from future blog posts.  I think they call this "a tease" in the radio industry.) See kids, back then we had a thing called "Discman", which was a CD player built by Sony.  It could play one disc at a time, and it was small enough to fit in your pocket. Well, it fit in my pocket, I'm a big guy. 
I was in France for three weeks.  Three weeks, five albums. Think of it as kind of a miniature version of the age-old "desert island album" question.  I listened to this album every day. Every day. I listened to it in Paris while walking around, on the train between French towns, in Amboise, in Lyon, in Avignon, on the Métro, in the rain, in the dark, and whilst falling asleep.  I was struck by the quality arrangements, and delighted at the departure in sound from Cornell's work with Soundgarden. This is not to say that I didn't like Soundgarden; on the contrary, I loved Soundgarden… I was just open to accept a change of pace.  These songs reminded me of "Seasons" from the Singles soundtrack and "Sunshower" from the Great Expectations soundtrack… but they were more layered, more textured, and more nuanced.  (The exception here is "Sweet Euphoria", which Chris recorded by himself.) This album was my first exposure to Alain Johannes and Natasha Shneider, two great musicians who co-wrote many of these songs, and who played on the album.  (This reminds me that I still need to look into their old band, shame on me for not doing that.) 
This album has meant a great deal to me over the past nearly 20 years.  The lyrics from "Preaching the End of the World" that go "I'm 24 and I've got everything to live for"... well, when I was 24, that took on a new meaning.  The sentiment in "When I'm Down"... I feel like that every day, and that's one of those songs that I wish I had written, it's so good. I've really felt "Wave Goodbye" many times in my life as friends or family members have died.  So yes, I still love this album… but when I listen to it, I without fail remember that first trip to France… I hear a song from this album and I remember trying to figure out how to work the machines in a Paris laundromat. I hear another song from the album and I remember strolling along the Rhône on a dark night in Arles, nearly out of money, feeling so very alone, and considering jumping into the dark waters below.  I hear another song from the album and I remember that awful awful cold I got while I was in Lyon. 
"I'm a wreck when I look mighty".   
Thank you Chris.