I had this bass line in D major around for awhile.  It was fun enough to play through that it deserved to have a song written around it, even though I don't generally write in major keys.  The bass line best lent itself to Latin-influenced music... cumbia, salsa, rumba, merengue, bachata... something like that... the problem is that I don't know how to write any of that music.  Where would I begin?
I began with research.  I listened to a handful of songs from each of the above mentioned genres.  This part of the process probably deserved a lot more time than I dedicated to it... but it was a decent start.  Next, I asked a few friends who I know listened to Latin music if they could tell me more about it.  That didn't work.  The general answer there was that they have it around to dance to, but they couldn't really tell me anything about it.  (Note to self:  do NOT ask non-musicians about music.)  On to the Internet!
For some reason, salsa became the genre of choice here.  Any article or commentary I could find online about salsa music history and structure, well, I devoured it.  I learned that the traditional structure for this genre doesn't even remotely resemble the way that I understand songwriting... then decided that if I attempted to be "authentic" and write a salsa song by traditional structure without truly understanding it, well, that's not very authentic at all, is it?  The solution?  I ended up writing a pop/rock song in the normal pop/rock tradition, but with Latin influences.  Of course, the lyrics had to be in Spanish, there was never any doubt about that.
The result is "Baile Conmigo".  Here are the lyrics.
Baile conmigo 
Baile conmigo 
Oye hermosa 
Pareces muy sola 
Charlar contigo 
No hay quien osa 
¿Por qué? 
¿Por qué? 
Oye hermosa 
Tanta guapeza 
Hace una persona 
Muy muy nerviosa 
No soy metido 
Te hablo, te pido 
Te hablo, te pido 
Baile conmigo
This is what the artwork for it looks like.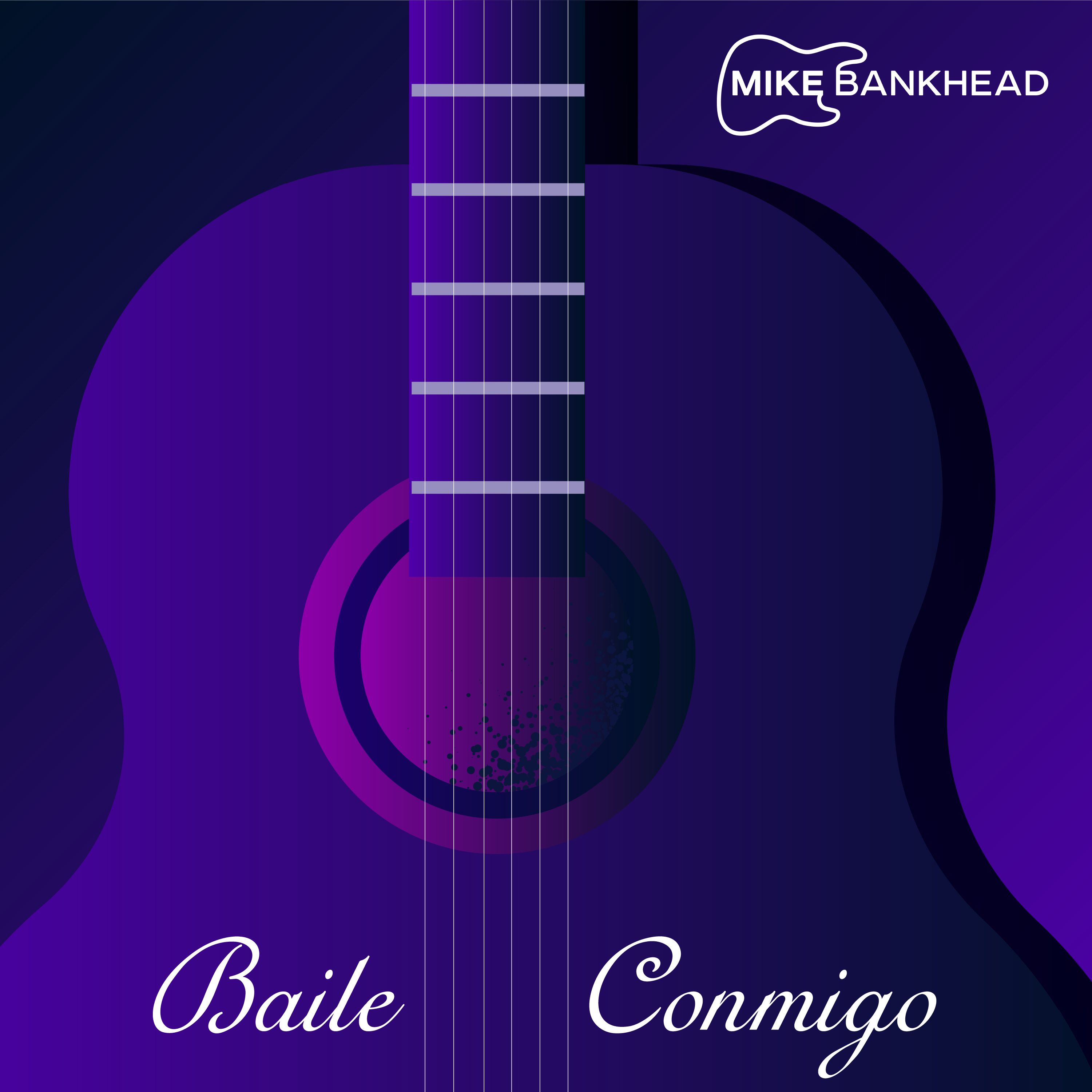 As usual with my songs, I had a several very talented folks help out with this recording.  Here are the song credits:
Mike Bankhead - bass, piano, vocals 
Khrys Blank - claves, shakers, all sorts of percussion 
Brian Hoeflich - drums 
Phillip Bradley-Hutchinson - trumpet 
Erich Reith - congas, all sorts of percussion 
Rich Reuter - guitar 
Produced by Patrick Himes & Mike Bankhead 
Engineered & Mixed by Patrick Himes at Reel Love Recording Company, Dayton, Ohio
***
Percussive power couple Khrys and Erich were kind enough to do their usual moving and shaking all over the recording, supporting Brian Hoeflich's steady drumming.  (I asked him if he could give me a salsa beat, and he gave me a salsa beat.)  Phillip Bradley-Hutchinson's trumpet is a perfect addition.  Rich Reuter deftly brings lead guitar licks that sing ever so smoothly over all of it.  Finally, as usual, Patrick Himes and engineering and mixing skills present the best version of my work... and he didn't even blink when the indie rock guy showed up with a decidedly non-indie rock song.
This song was recorded amongst the songs that ended up on Anxious Inventions & Fictions, but doesn't really fit in with those songs, so it stands on its own as a single.
You'll be able to listen to "Baile Conmigo" this Friday April 2nd.  It will be available right here on my website, and also over on my Bandcamp page. You'll be able to download on Bandcamp for "pay what you wish" pricing, even if what you wish happens to be zero.  If you do decide to offer some small measure of compensation for the download on Bandcamp, well, since April 2nd is Bandcamp Friday, 100% of all funds will come straight to me, as the kind folks at Bandcamp are waiving their customary fees that day.