What?
The album title is Anxious Inventions & Fictions, which is a lyric taken from the piano ballad "Insomnia".  The album art looks something like this: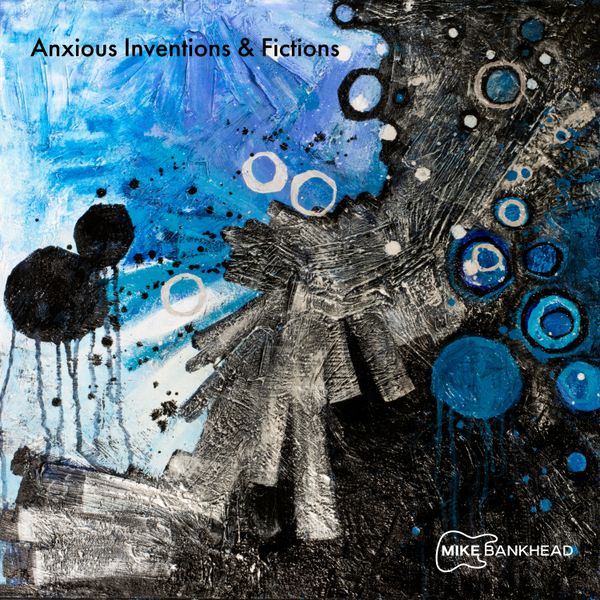 Megan Fiely, "Insomnia", 24" X 24", acrylic on canvas, 2020.
This album exists in two versions. 
First, there is a ten song digital version.  Do you remember my crowdfunding campaign in order to press vinyl from earlier this year?  That did not get funded, so the ten song digital version is what the album would have been on vinyl.  In order to duplicate the vinyl experience, after the fifth song finishes playing, press pause on your device, get up and walk around the room for thirty seconds to simulate flipping the record over, and then continue. 
Second, there is a twelve song deluxe version on compact disc.  This contains two additional songs, an alternate mix of the opening track "Your Anthem", and a different track order, for a custom listening experience. The CD also comes with a twelve page booklet, containing lyrics, liner notes, and art.  For both versions, the album is sequenced carefully, and the listener is meant to listen to all of the songs in order.
Who?
Mike Bankhead.  That's the name/logo on the cover.  I wrote and arranged the songs for the most part.  I say "for the most part", because TINO wrote lyrics and is featured on one song (you might remember a blog post about him), and Greg Owens co-wrote another song (you might remember a blog post about him as well).  Also, two songs feature string arrangements by the outrageously talented Blair Breitreiter.  But wait, there is more...
Here is a list of the wonderful folks who lent their time and talents to this album:
Eli Alban
Dustin Booher 
Blair Breitreiter 
Thad Brittain  
Chris Corn 
Ken Hall
Valentino Halton
Patrick Himes 
Brian Hoeflich
Chad Middleton
Kent Montgomery
David Payne 
Nathan Peters 
Tim Pritchard 
Tod Weidner 
Heather York
This album sounds good, mostly because of this list of humans.  For those of you who are not familiar with independent music in Dayton, you'll just have to trust me when I say that some of the finest musicians in our area are represented here.  
Also, a tip of the hat to Megan Fiely for the beautiful painting, and to Spencer Williams for the photography, layout, and design.
When?
There are some different answers to this question.  Let's start with making the album.  Tracking and mixing took place between February 2019 and February 2020.  That's a year of hard work, not just my own efforts, but also the people listed above, and specifically Patrick Himes as the recording and mixing engineer and David Payne as assistant engineer.
You can order this album on September 4th.  That happens to be Bandcamp Friday, when Bandcamp forgoes their customary cut of artist sales.  That means that all of the funds spent on Anxious Inventions & Fictions on that specific date go to me, and contribute to my ability to continue making art for you to enjoy.  If perchance you don't know where to find me on Bandcamp, here's the link for you to bookmark:
https://mikebankhead.bandcamp.com/
The official release date for this album is September 12th.  That is the day that you will be able to listen to it on the Bandcamp page I just mentioned.  That's also the day for which a safe, socially distanced, outdoors release celebration is planned.
For those of you who only listen to music via streaming services, you will find Anxious Inventions & Fictions available there on September 15th.
Where?
The album was recorded and mixed at Reel Love Recording Company in Dayton, Ohio.  Blair handled some additional recording of string arrangements at Bohemian Trash Studios in Albuquerque, New Mexico.  The album was mastered at True East Mastering in Nashville, Tennessee.
The socially distanced release celebration will happen at Yellow Cab Tavern on 4th Street in downtown Dayton.  Please note that the owners and staff at Yellow Cab care deeply about the health of our community, and require all visitors to wear a mask.  If you do not wear a mask, they will kindly ask you to leave.  Yellow Cab also has social distancing guidelines in place.  If you wish to know more about the precautions they are taking and how you can cooperate, please give them a call.  
Why?
There are those who think that music doesn't need a reason, because "l'art pour l'art", right?  I haven't thought about that particular worldview all that much.  I certainly have my reasons for making art.  
Songwriting is how I deal with stress and anxiety and depression.  Songwriting helps me to work through all sorts of emotional turmoil, and the catharsis that it provides is probably a net benefit to my mental health.  Songwriting is a way for me to say what I want or need to say, especially when nobody is listening.  Not all of those songs get recorded as demos at home, and even fewer of them make it all the way to the studio... but some of them do, and this is what  happens when they do.
I still believe in the idea of the album as an art form. That's not popular these days, as music is seen as a resource, a commodity, a value-less product, both by the companies who use it to make profit, and by the vast majority of music listeners.  I don't make pop music, so of course, I'm not making music for these people.  I make music first of all for me, because it's something I'm driven to do... and all of you other musicians out there, I see you nodding along.  Of course, I wish to share my art... well, the subset of it that I get around to thinking is of enough quality to warrant sharing... but if I write something I don't personally like, you won't be hearing it.  I won't write in a genre or in a certain way because it's popular, because I'm trying to get rich, or because I think it's what someone wants to hear.  You'll only be getting authenticity from me, thank you very much.
The above said, music is also a means of communication.  Thoughts, feelings, ideas, the concrete, the abstract, and just about everyone wishes to be heard, yes?  Maybe music is kind of a cry for help?  Tell you what, as soon as I get a therapist, I'll be sure to discuss this with them.
You know, ever since I was a teenager, if I see that particular word all on it's own, I can't help but sing it.  I mean, I sing it inside my own head where nobody is listening, but it has to be sung.  How, you said you never would leave me alone....
So, how did this happen?  Lots of hard work.  I'm not exactly a gifted musician or songwriter, but I work at it, and I have some perfectionist tendencies, which means lots of editing and re-writing. A great deal of singing practice.  A great deal of singing the same parts over and over again, until Patrick would tell me that it's no longer pitchy.  All sorts of patience from Patrick Himes and the musicians who agreed to play for me.  Even more patience from my wife when I would be in the studio for long hours and obsess over details in mixes at home.
How? Time. Pain. Self-Doubt. Frustration. Tears. Stress. Study. Thought. Experimentation. Explanation. Sleeplessness. 
Anxious Inventions & Fictions is my best work.  That's what I think, anyway.  I hope you think so, too.