New music used to be released on Tuesday. For albums that were eagerly anticipated, local music stores would start selling them at midnight.  I happened to be eagerly anticipating Pearl Jam's 5th album, Yield. At the time, I had a job where my shift ended at 11 PM on Monday nights, and I decided to go get Yield as soon as I could. After work, I drove to Dingleberry's in Centerville (a great record store that is no longer with us) and browsed records whilst listening to whatever was playing on the in-store speakers until midnight.  At midnight, I purchased the CD, and proceeded to listen to it on the way home.
The only song I had heard from the album prior to purchase was "Given To Fly", which was the radio single.  There was a little bit of controversy around it, because of its similarity to a Led Zeppelin song, but since I hadn't really listened to any Led Zeppelin at the time, I didn't notice.  The single didn't particularly move me, but there was music industry buzz around the release, and I had read some positive reviews.  (See, back then, you had to do your research before buying an album.)  
Yield kind of smacks you in the face when it opens.  "Brain of J" was the kind of raucous rocker that reminded me of "Once" and "Go".  I was all in immediately.  The second track, "Faithful" has a steady, meaty riff in the pre-chorus and chorus.... the third track, "No Way" is a place where Jeff Ament demonstrates the groove that I enjoy from his playing (though I love his work on this entire album), and I also immediately dug the lyrics.  I fondly remember the feeling of discovery as I drove home... the soaring chorus of "In Hiding", and the sing-along album closer "All Those Yesterdays".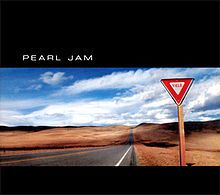 When I got home, I had a chance to really examine the packaging.  The CD came in a rather creative digipak, with a triangle cut-out on the cover, allowing you to see the yield sign on the panel behind it.  When you open the cover, the sign is in a completely different context.  The album also came with a nicely designed booklet where you can read the lyrics and all of the track credits.  I spent plenty of time sitting in my room, reading through the liner notes and lyrics whilst listening to this album.  It's a fond memory of a long gone time...