I have mentioned before that I took a trip to France in 2002, and only took five compact discs with me for the duration of the trip.  As you might imagine, I listened to these albums over and over and over again. I knew them forward and backward, every lyric, every chord change, every nuance.  There is something about deep and repeated listens to a work of art that builds a bond between the musicians and the listener, even though that bond might only work in one direction. When I listen to any of those five albums, I am assaulted by old sights, sounds, smells, feelings, thoughts, places, situations, and people. The debut album from Starsailor is one of those.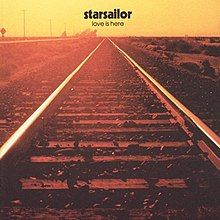 I never saw this band live.  I've never even watched a live performance of theirs on the Internet, though I'm about to change that as soon as I'm done writing this blog post.  My only relationship with Starsailor is through their compact discs that happen to be in my collection.  Love Is Here is the first, arriving in fall 2001.
At that point in my youth, I generally leaned toward louder rock records.  This wasn't the case all of the time - after all, I loved that first Elbow album and anything Radiohead wanted to throw at us - but mostly, yeah. This album occupied a space in my collection that didn't have a lot of company.  Most of the guitars on this album are acoustic, and there are a TON of keyboards... piano, synth, organ. All of that kind of makes the bass stand out more than on many of the music I was listening to at the time, and that might be something that attracted me to this band.  All I know for sure is that I loved this album from the opening notes of the opening song all the way to the closer.  It pulled at the emotions then, and today the sad songs sound just as poignant to me, but with the added gravitas of 20 years worth of additional life experience filtering who I was and where I went when I was spinning this disc six times a day.
In some ways, listening to this album today feels very different.  I know a great deal more about how to make music than I did in 2002. I find myself dissecting the songs technically more when I listen now... oh, there's some electric guitar arpeggio added for atmosphere and there's reverb on it... oh, that's a B3 organ... oh that sounds like a slide guitar...  oh, I wonder if that's a pump organ or an accordion in that section... you know, those types of thoughts. All of that aside, if I listen with my eyes closed, I remember exactly what it felt like to step off the téléphérique du Brévent with a bunch of skiers and snowboarders and then stroll away a bit and be all alone at what felt like the top of the world.  
I need to be alone while I suffer. 
A lyric that I still think was written just for me.