Anxious Inventions & Fictions is officially being released this Saturday, September 12th, so yes, I am shouting it from the rooftops everywhere because I would really love for you to at least listen to it, maybe even purchase it.  (This is where you can purchase it.) Have you noticed the beautiful cover art for the album?  If not, well, here it is again: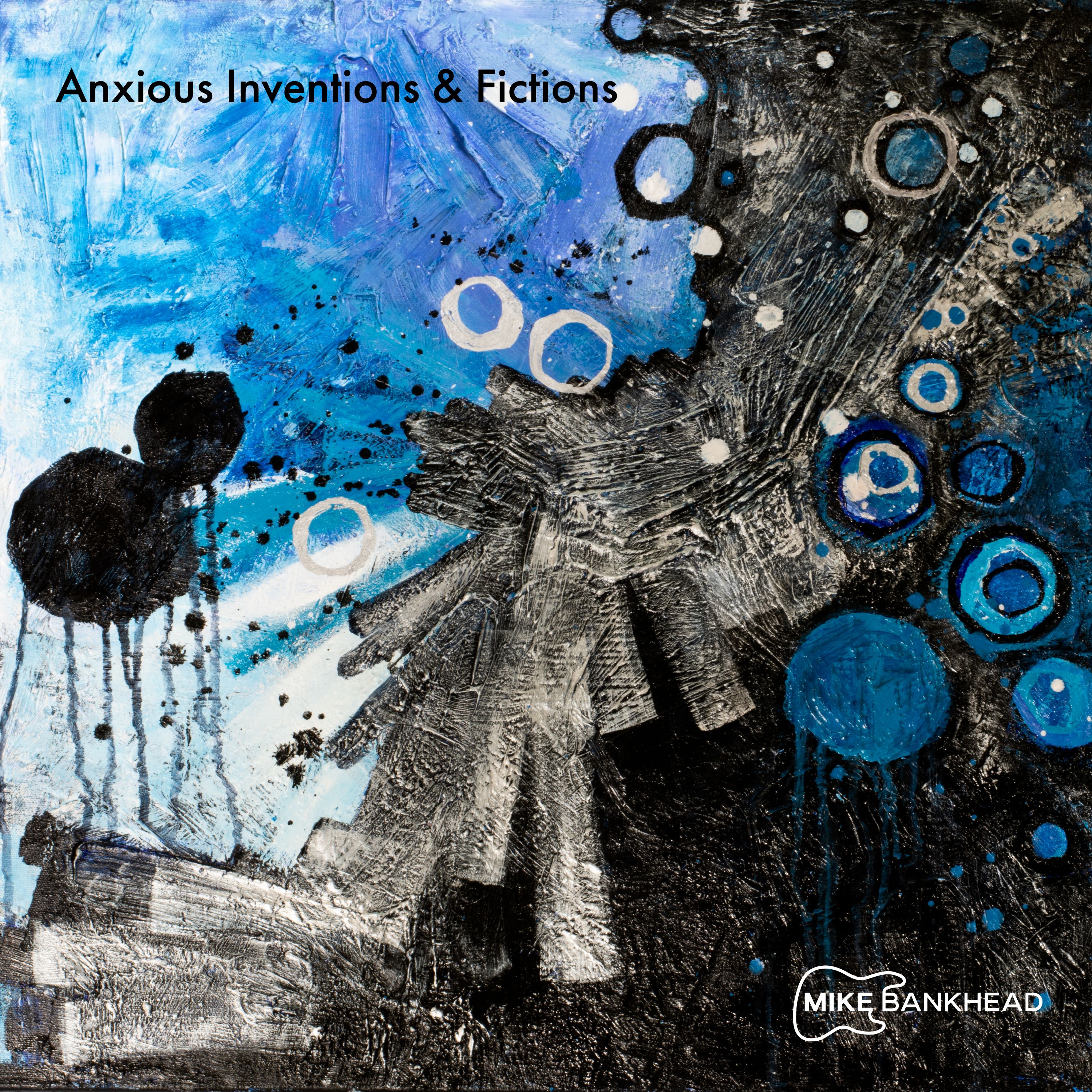 Megan Fiely is the artist responsible for this painting that is hanging on the wall of my home, and also gracing the cover of Anxious Inventions & Fictions, both in the digital realm and in hard copy.  How about getting to know this artist better?  Interview questions after the picture: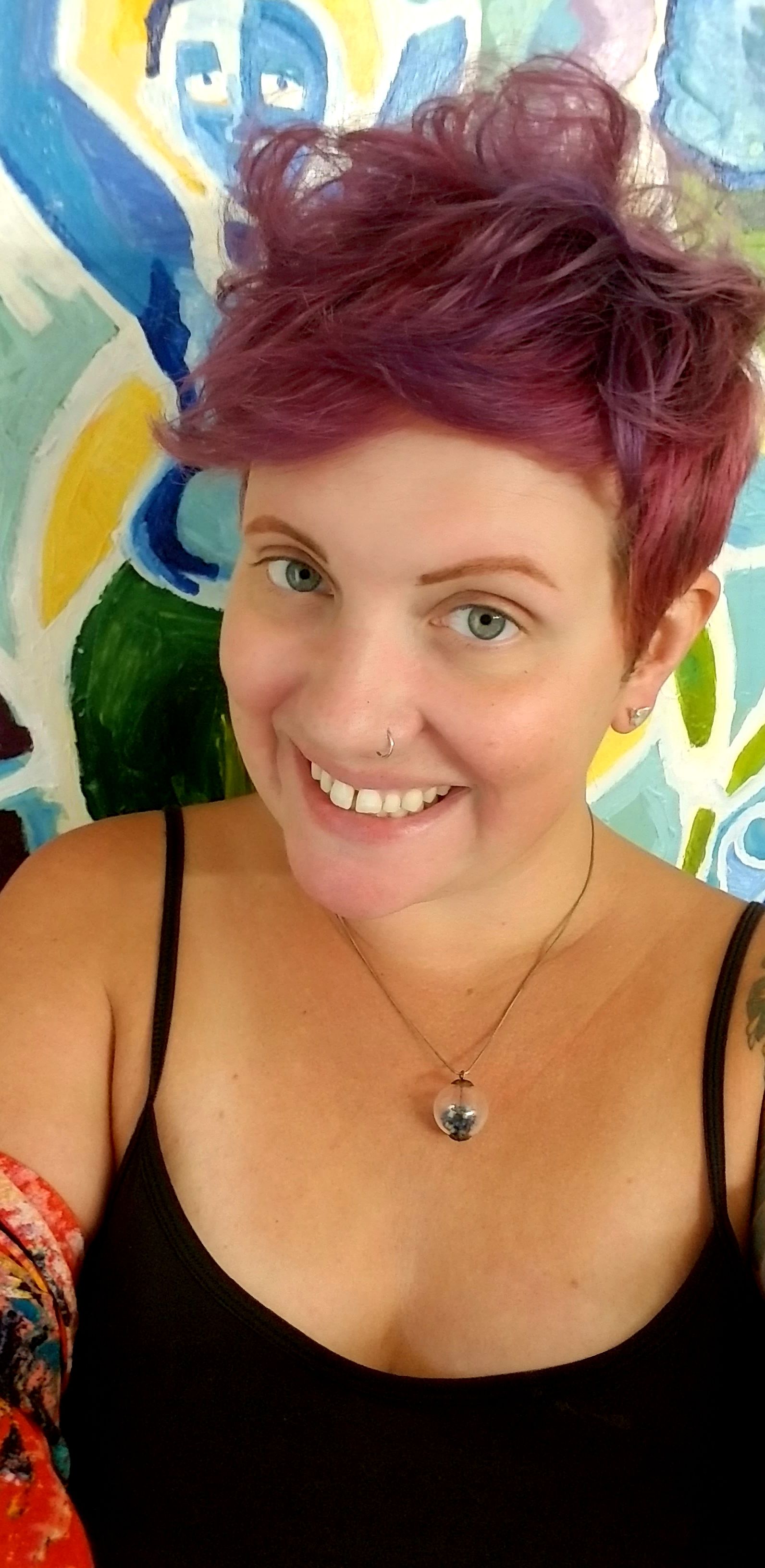 1.  Let's hear the elevator pitch for your skill set. 
I am an abstract artist who works with bold texture and color, simultaneously exploring the celestial and the microscopic.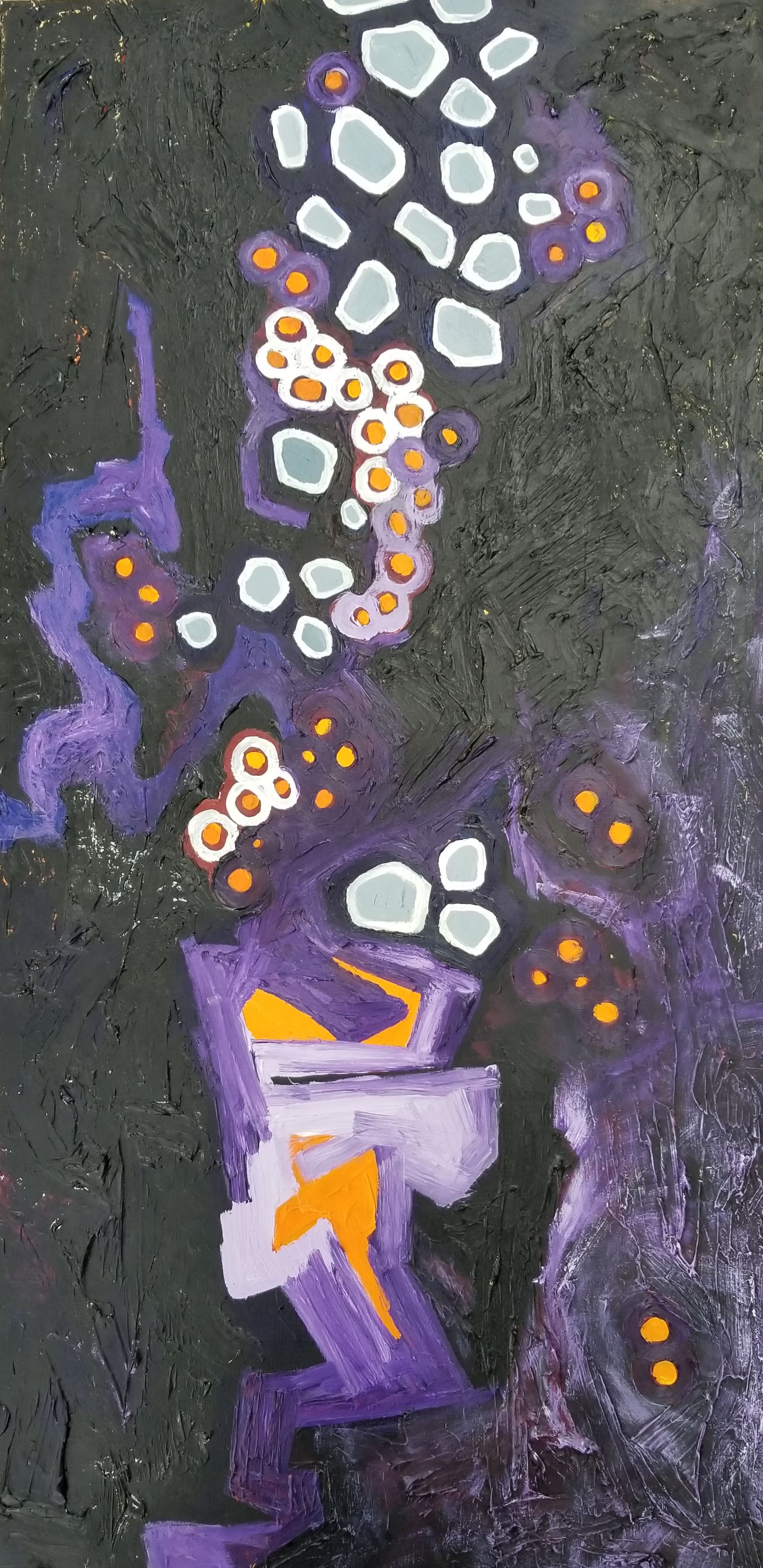 2.  When did you first start painting? 
Visual communication, in one form or another, has always been my thing. My parents are both artists so I'm lucky to have absorbed art like a native language. I've taken a lot of different creative paths like music, clay, and quilting (!), but the painter you'd currently recognize as Megan Fiely started happening about 7 years ago. I have older paintings, but I was just fumbling around and imitating other artists, which is very important. I now feel secure evolving my own distinct style.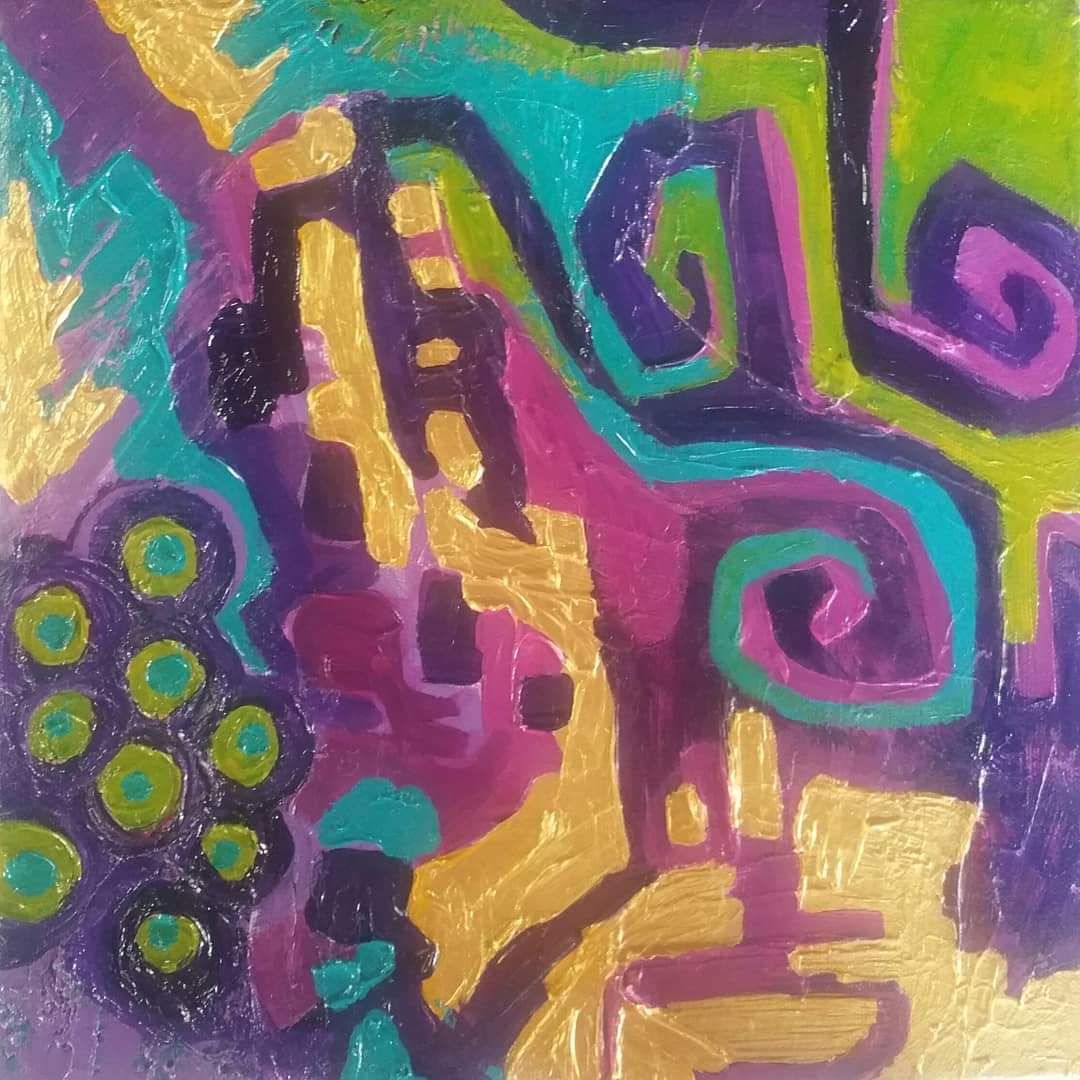 3.  You are best known as a visual artist, but you are also a musician, and maybe folks who are familiar with your paintings don't know that.  What instruments do you play, and when did you start making music? 
I play the piano and sing at home, and have a guitar for fun too. I started doing all that stuff as a kid: first piano lessons in elementary school and then of course a Fender Stratocaster at 12 or 13, followed by a sanded down but rather nice repainted bass with a fairy painted on it. I had the typical 90s power chord cover band who played for 3 of our friends in the garage. Then in my 20s I dated a musician and one night his bass player didn't show up (again). I got out of the bathtub to go fill in and accidentally became a bassist for several years. Eventually I folded in one of those newer Hammond keyboards that has a built in tube, put it through a Marshall and played bass lines with my left hand on a Korg. I also always contributed back up vocals, and have a good ear for harmonies. 
Honestly though, I'm better with a paintbrush. I like leaving the music to all my talented friends and painting album covers for them when I get a chance. And on that note, thanks for including me in the Anxious Inventions & Fictions project Mike! 
4.  What was the first album you can remember buying with your own money? 
Pretty sure it was Mellon Collie and the Infinite Sadness - Smashing Pumpkins. Or maybe No Doubt's Tragic Kingdom. 
5.  Tell me about the last concert you saw. 
The last official concert while not bartending at Yellow Cab was all the way back in summer 2019 when The Breeders played at Levitt Pavillion. (Mike adds: I wrote about that show in a previous blog entry.)  That was a lot of fun because almost everyone I knew was in the audience. I remember rocking out in the audience with you, Mike! Kim and Kelly are cool but Josephine's my babe because tall, bassist, British. 
6.  What artists do you consider to be your biggest influences, and why?  This can include any kind of art... poets, painters, sculptors, songwriters, etc. 
Van Gogh is everyone's favorite, including mine. He was more than just a painter though: Van Gogh was a part of the earth, and maybe some kind of human conduit for nature's beauty. My art doesn't look like his, but I think all artists are attempting to tap that same vein. 
Also Chagall, Klimt, O'Keefe. Again, my work doesn't look like theirs but I appreciate the spirit of their work, and of course all the color. I like when a figurative piece tells a story.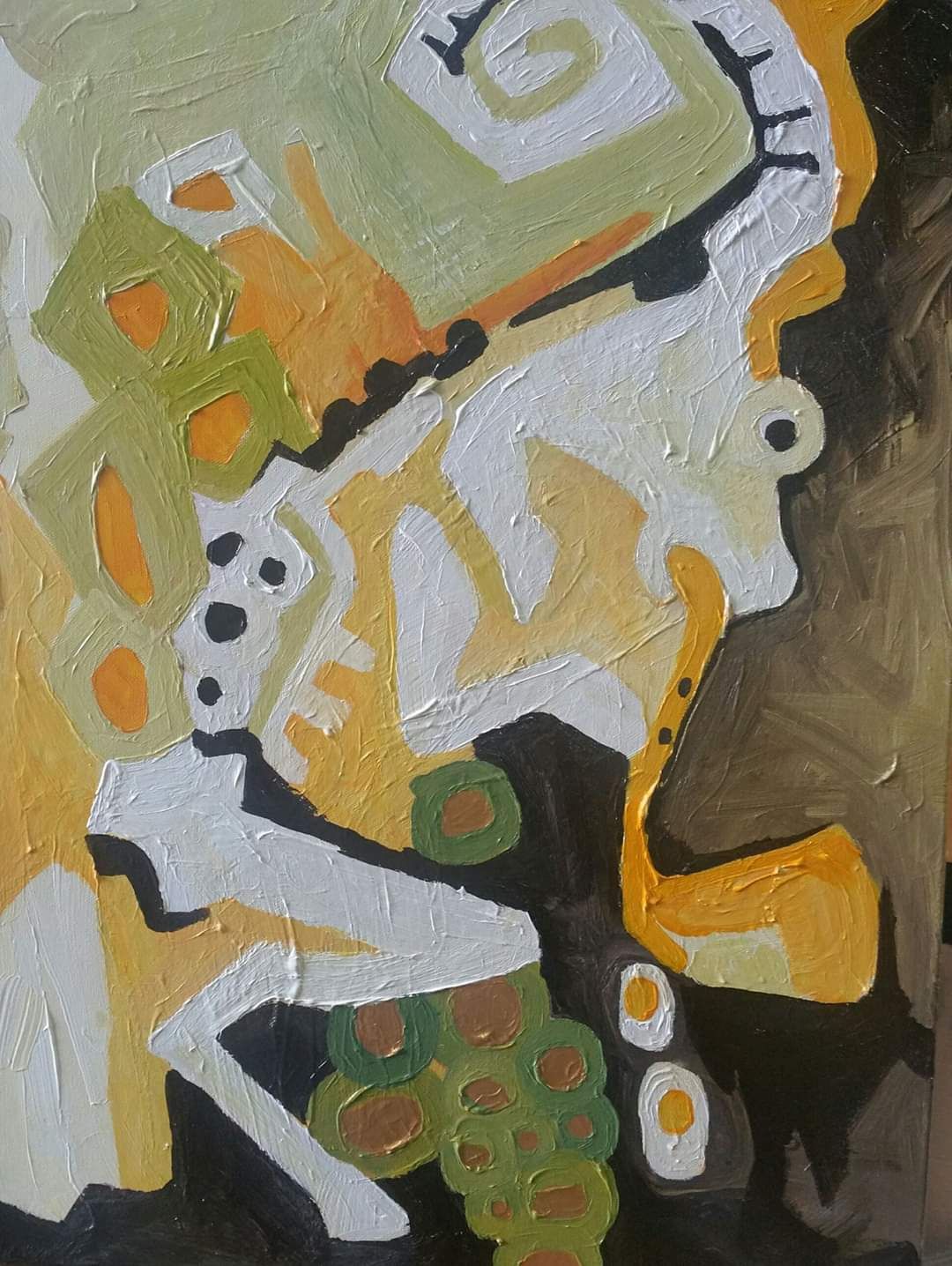 7.  I imagine that artists like yourself face a similar challenge to musicians in that (1) art is generally devalued by the public just like music is and (2) there may be people willing to buy your art, but it can be difficult to find them.  How do you deal with those two challenges?
STAY IN THE STUDIO. I had to stop looking for gratification though sales or popularity. I'm a very sensitive and anxious person with big opinions, so I tend to find myself in difficult situations when I'm being too public. I'm happier just living simply and focusing on the actual craft of painting. It seems like putting my energy into the art itself, rather than sales, results in just as many sales anyway. I feel valued and recognized by friends like you, Mike, and I'm seriously not bs-ing you that it's enough. Plus you had me paint your album cover so.... things do tend to work out. 
It's important to consider your audience as well. Do I really want to sell my art to rich people or corporations as part of some interior design project? Sure, but you best believe I'm gouging them! I'd seriously rather sell 10 small paintings to my friends at $60 a pop than make one big sale and never see the painting again. I am so fortunate to have a lot of creative and supportive friends and to live in a city that values the arts. I want to encourage regular people to collect and commission original art, rather than seeing it as out of reach because of the art snobs. Understanding this allows me to opt out of the things I don't want to do.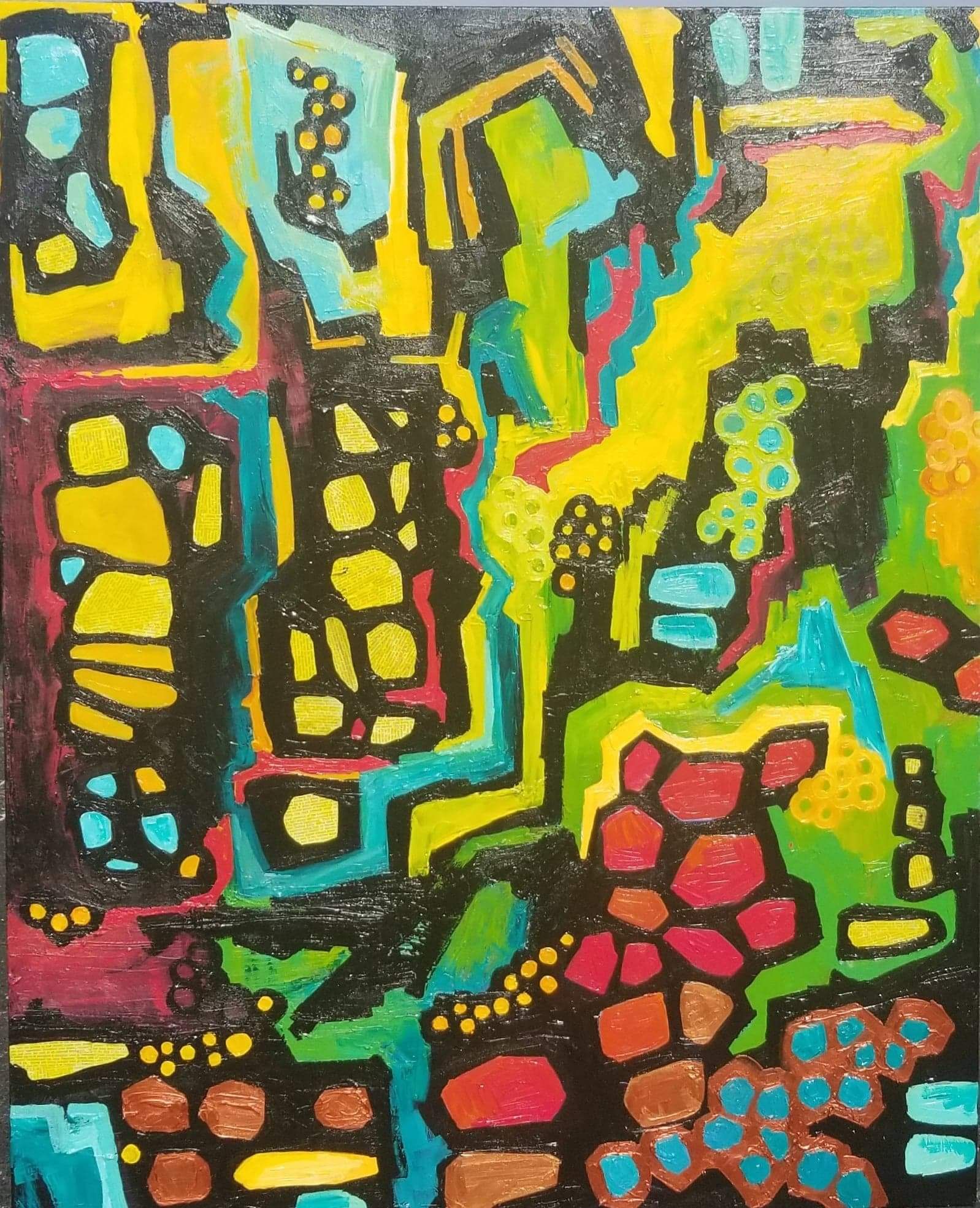 8.  How do you know when a painting is done? 
Finishing is the easy part, since by that point I've worked out all the technical aspects of the composition, balance, and texture. Perfecting the color happens close to the end. It's the mystical, meditative part of the journey. Once the colors are singing and dancing around the canvas, I know I'm very close to finished and I do some final technical adjustments. I'll dry brush metallics in places that need just a little more dimension, for example. Then I'll set it somewhere in my house for a few days and just cohabitate with the painting, and adjust anything that strikes me as distracting or otherwise bothersome. Then I sign it on the side of the canvas and it's done.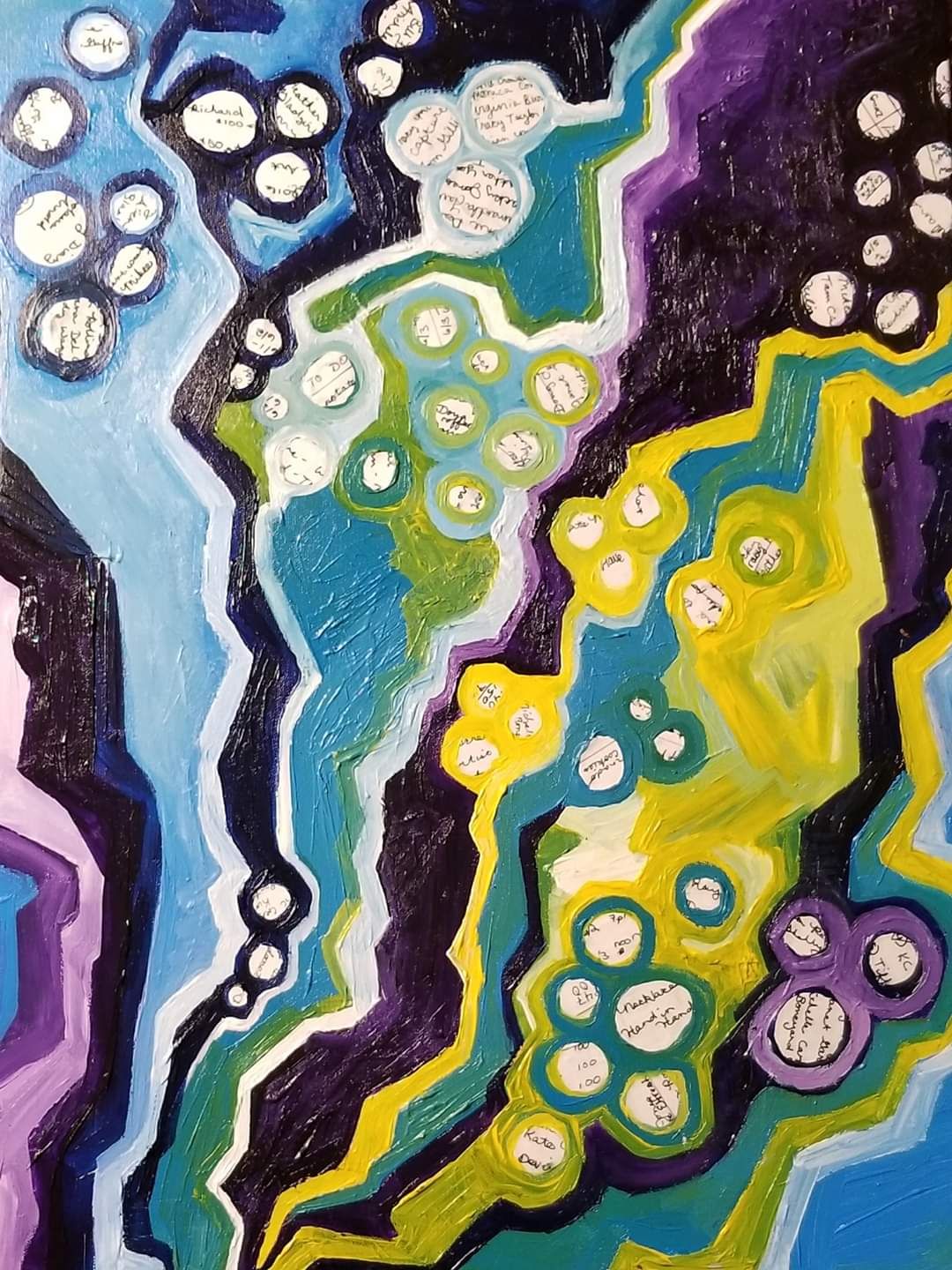 ***
Big thanks to Megan for the lovely painting on my wall, being willing to do this interview, and being a genuinely kind and lovely human.  Also, look at the colors jump off the screen in those samples of her work!  You can browse what she has available for sale at her online store.  You can also find her on Instagram.