Unlike in the Midwest, which is my home, the word "barbecue" is generally a noun in the South.  It's meat, cooked slowly, via smoke.  Regionally, there are plenty of unique twists.  In some places, if they use sauce, it is vinegar based.  In some places, mustard based.  Some use a white sauce.  Others would tell you that sauce only covers up inferior meat, and it shouldn't be touched.  Depending on where you are, the local specialty may be ribs... or pulled pork... or chicken.  In Texas, brisket is what they tend to do.  They're quite proud of it.  Since I was in Austin last year, and a place that some experts call "the world's best barbecued brisket" is there, I had my heart set on getting some.  Alas, for this particular place, you need to plan ahead a lot sooner than I did, so it wasn't going to happen.  That said, I wanted to get brisket somewhere... but where?
The first person I asked was Simon Tam.  No, not the medical doctor on the run trying to keep the evil government away from his sister.  I mean the bassist and founder of The Slants.  He was a presenter at the conference I was attending, and has done extensive global travel.  He is also very much into delicious food.  His answer was lightning fast and definitive:  go to Terry Black's.   The second person I asked was a local Uber driver.  People that live in the community, they are going to know where the good brisket is, right?  I explained my disappointment that a visit to my first choice wasn't able to happen, and asked for a recommendation.  Terry Black's was the first of three recommendations given.  In fact, this particular person said he liked it better than my first choice.  There was definitely a third person who got the query from me on brisket, and I don't really remember much about her, but I certainly do remember that Terry Black's was the call.  Ok, Terry Black's it would be.
My wife and I made sure we were extra hungry one day, and went off to find brisket.  When it comes to the meats here, you pay by weight.  There is an army of professional meat cutters there, gloves on, knives at the ready, slicing pieces of brisket (and other meat products) to order.  I got plenty of brisket... some burnt ends, some extra fatty, some extra lean... you know, a variety.  I got some sausage as well.  For side dishes, I opted for mac & cheese, and "Mexican" rice.  Looking back on it, this was a tactical error.  Sure, the rice was just fine (not outstanding), and the mac & cheese was tasty enough, but all the sides do is take up valuable real-estate that could be better served by brisket.  I made sure to get some of the free accompaniments... pickles and onions... you know, some acidity to cut through the fattiness of the sausage and brisket.  Here's what you want to know:  Is the brisket good?  Well....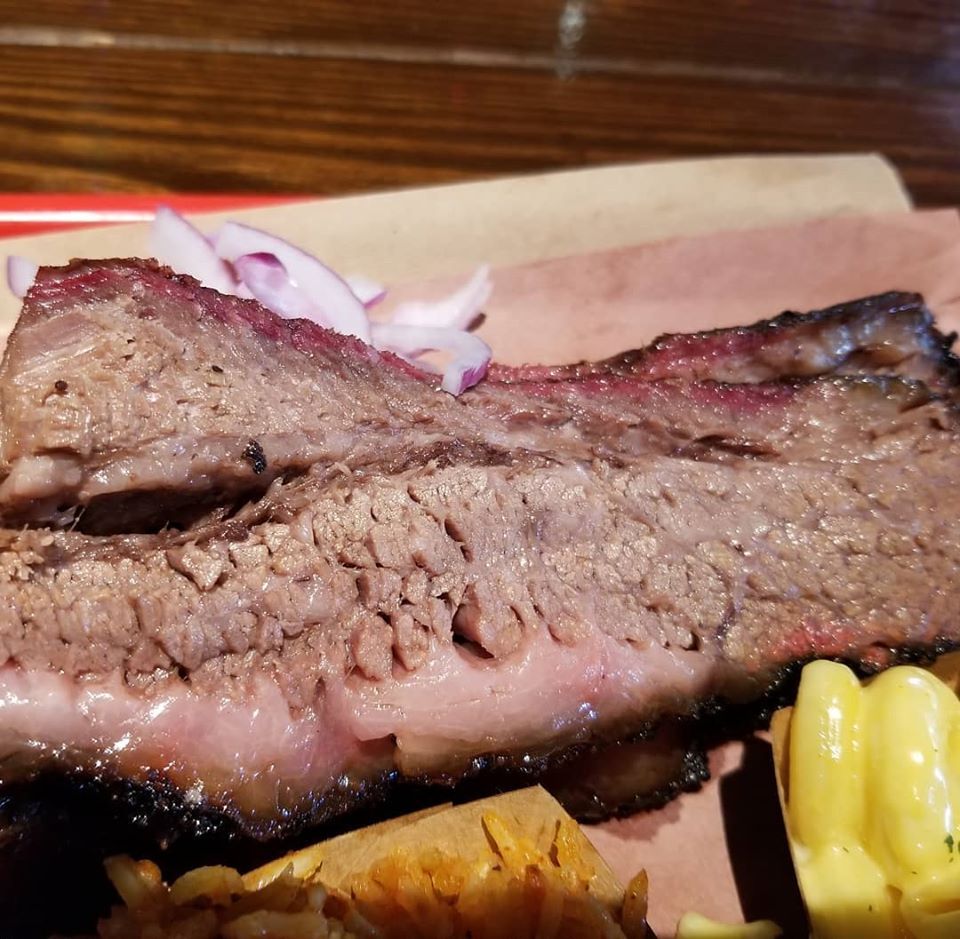 This was the best brisket I have had in my life, and it wasn't even close.  Sauce, though it was available, was not at all required.  The meat was replete with flavor from whatever these folks used for their dry rub, and from hours being exposed to smoke.  It was moist... even the "lean" pieces were juicy.  It was melt-in-your-mouth incredible.  The sausage was good too, much fattier than I expected, but in all the right tongue-coating ways.  My wife and I didn't get remotely close to finishing our food, so we packed it up, went back to the hotel, put it in the room's refrigerator, and finished it for breakfast the next day.  Get this... Terry Black's brisket was great even served cold first thing in the morning.  Trust me, you want this.
If perchance I make it back to Austin this year (not a guarantee, what with COVID-19 and all), I intend to go to Franklin's... but Terry Black's was great, and I wish to re-live this experience, so I'll head back there as well.  You can't have too much brisket, can you?