It appeared on social media, seemingly out of nowhere, this guerilla style deliciousness, this purveyor of flavor with punk rock ethos, this underground Detroit style pizzeria.  Specifically, "Underground Detroit Style Pizzeria" is how they describe themselves on their Facebook page. I, for one, happen to love Detroit-style pizza, and since I don't spend a great deal of time in Detroit, I am in favor of finding someone who will make it somewhat closer to home.  The challenge is, well, you can't really find these folks.  They are somewhere out there, out of reach, and the only way to corral them is to get on their waiting list.  I did so as soon as I could, which was back in July 2021.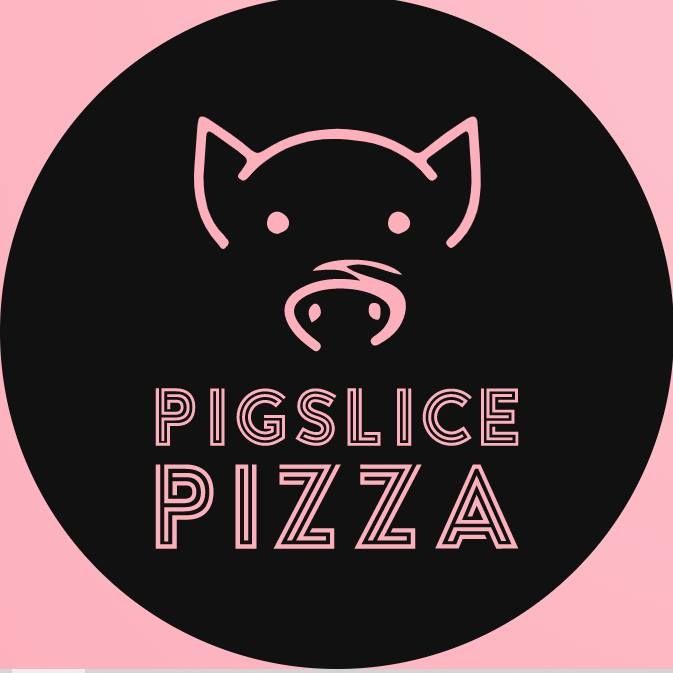 Finally, the last week of October, my turn came up.  The waiting list is clearly quite long, which means that business is good for these folks.  I received a message via Facebook Messenger, asking me to select the pizzas of my choice, and then to select from a limited amount of available pick-up times.  What happens if you cannot make any of the selected pickup times?  Well, your name goes back to the top of the queue, and the Pig Slice Pizza folks make a social media post saying that they have an opening, and it can be claimed immediately by the first person to message them. Thankfully, Misty and I were able to be available for one of the pick-up times.  We obtained two delicious pizzas.
This is the first one.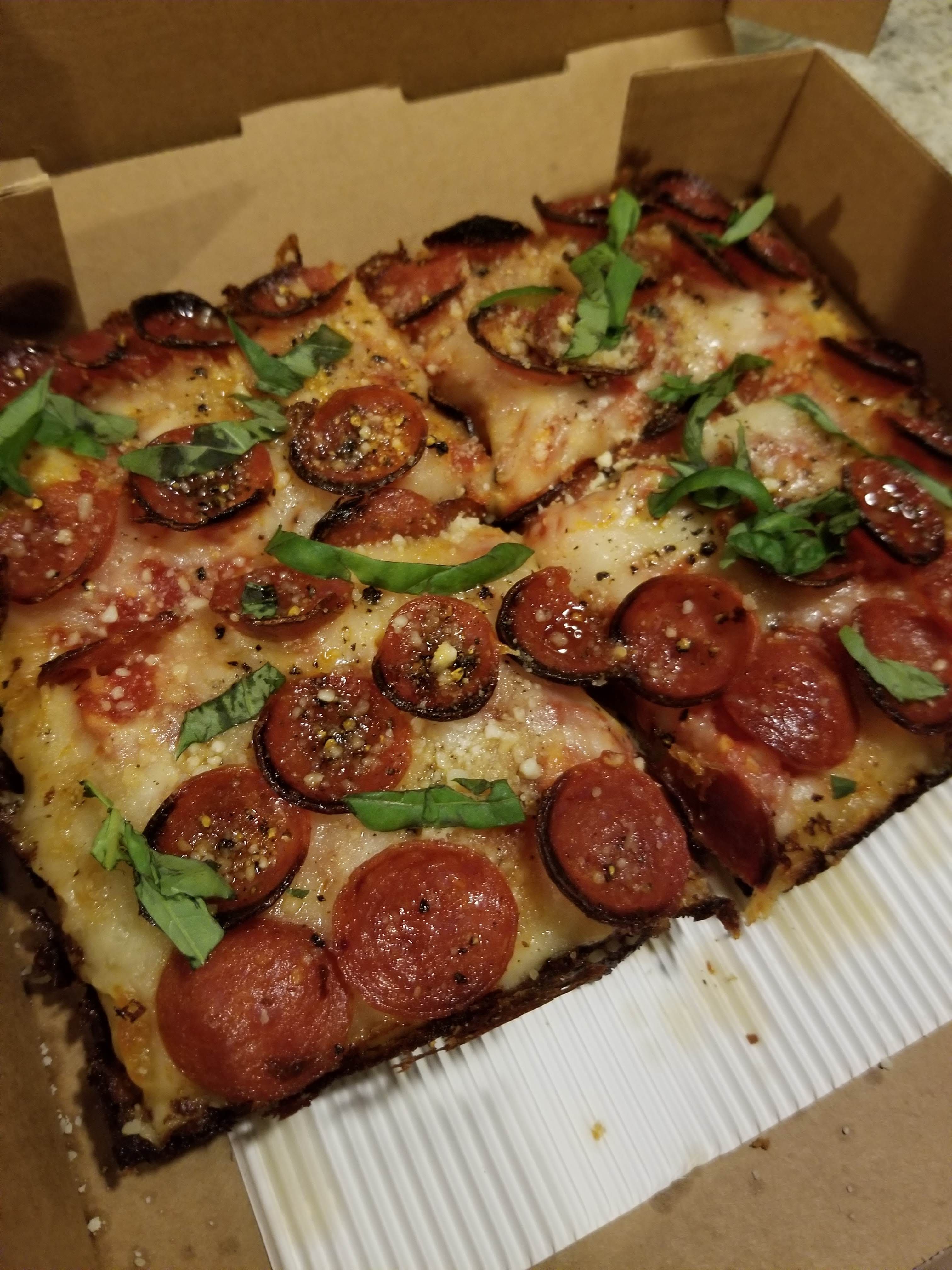 Here's the Pig Slice Pizza description for what you see above: 
The Original PigSlice Pepperoni Pizza. 
Detroit Style with house made sauce, mozzarella and provolone cheeses, topped with pepperoni and a hot honey drizzle and finished with parmesan and basil ribbons. 
You're gonna want this one every time.
My thoughts?  Well, this was delicious.  I love this style of pizza for the crunchy crust, the crispy bits of melted/charred cheese around the edges, and the doughy depth of the crust once you get past the crunch.  The sausage on top (pepperoni is a kind of sausage of course) also got some crispiness to the edges, which was nice. Also, a good way to get me to really like a food presentation visually is to chiffonade some basil.  The only objection I have here is the honey.  I don't need my pizza to be sweet, thank you.  When my turn comes up again in the queue in what will surely be several months from now, I'll either ask them to not add the honey to this one, or I'll make another selection.
Here is a picture of the other pizza.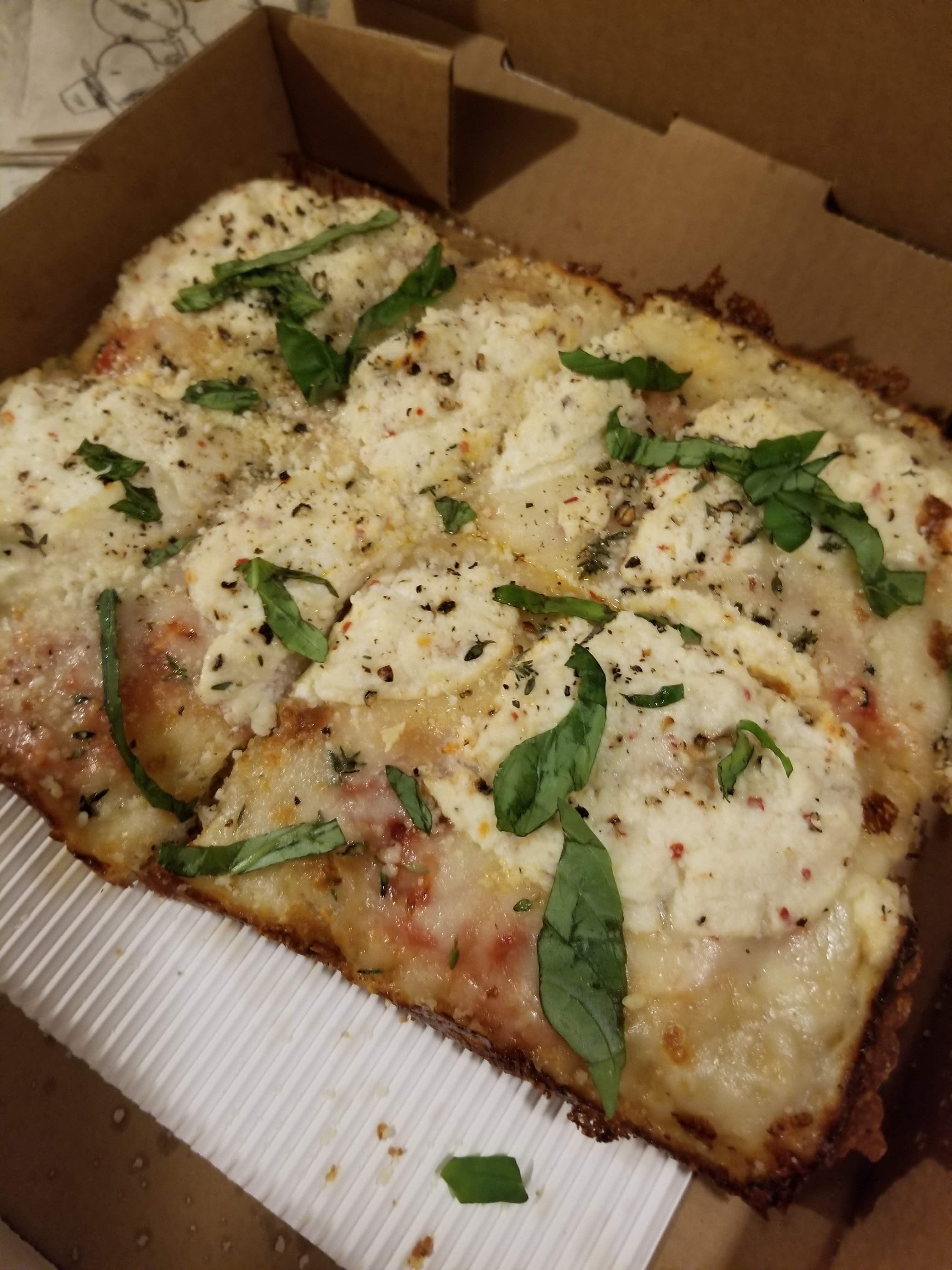 Here's the accompanying Pig Slice Pizza description:
THE cheese pizza. 
House made sauce, mozzarella, romano and parmesan cheeses topped with seasoned ricotta, basil and thyme. 
Cheese on cheese on cheese on cheese.
This was also delicious, and hey look, there's more basil, and again with the chiffonade. This one is simple, but there's nothing wrong with simple if you execute it well.  The ricotta gave this a creamy mouth feel. I might have selected a different combination of cheeses, but there isn't anything wrong with this pie. I would certainly eat it again.
The folks at Pig Slice Pizza seem to be content being an underground establishment for now.  Really, I shouldn't even call them a "restaurant", as you can't show up and sit down and be fed.  When you are contacted for your selections, you are given a pickup time as I mention above... on the actual day of pickup, you get another message with the location where you make the pickup.  You arrive, message them that you have arrived, and someone brings you pizza.  It works, they don't have to deal with the overhead of having a permanent non-residential location, and their dance card is full, so I don't know that they really have any motivation to change their business model.
If you live in the greater Dayton area, go ahead and find these folks online and sign up for their wait list.  It's delicious pizza.