When I was in my early twenties, I stayed with a friend a couple of times in the 15th arrondisement in Paris.  Because I spent so much time in that part of town, I became familiar with an Italian restaurant there, and I would visit them on every return trip.  This was one of my go-to lunch spots in Paris.  I liked it because it was out of the path of the crowds of tourists... a normal neighborhood restaurant, and at no point had I ever seen any other Americans there.  It is, therefore, with just a little bit of sadness that I must admit this restaurant has been replaced.
On my spring trip to Paris, my corporate colleague Guido was kind enough to take the time to meet me for lunch one day near our apartment in the 14th.  (We ate at a Lebanese place, but that's a story for another blog entry.)  Guido lives in Paris, but he is Italian, from the north, near Lake Como.  I showed him a picture of the pizza I had consumed at the aforementioned Italian restaurant in the 15th.  Guido was disappointed in my selection.  He then recommended an alternative.  He said to go to Arrivaderci.  He's Italian.  I'm not.  He would know better.  
I dragged my wife and my in-laws with me to Arrivaderci on Thursday 11th April.  It's in the 5th.  We arrived near the end of lunch time, but managed to get there before the restaurant closed.  Upon entering, I was greeted with a hearty "Buon Giorno!".  I replied in kind, and then said that there were four of us in the best Italian I could manage.  Then, I immediately switched back to French and apologized for not speaking decent Italian.  
We were seated.  We were brought menus.  Dish names in Italian.  Descriptions in French.  Ok.  
I started with the salmon carpaccio.  THIS salmon carpaccio: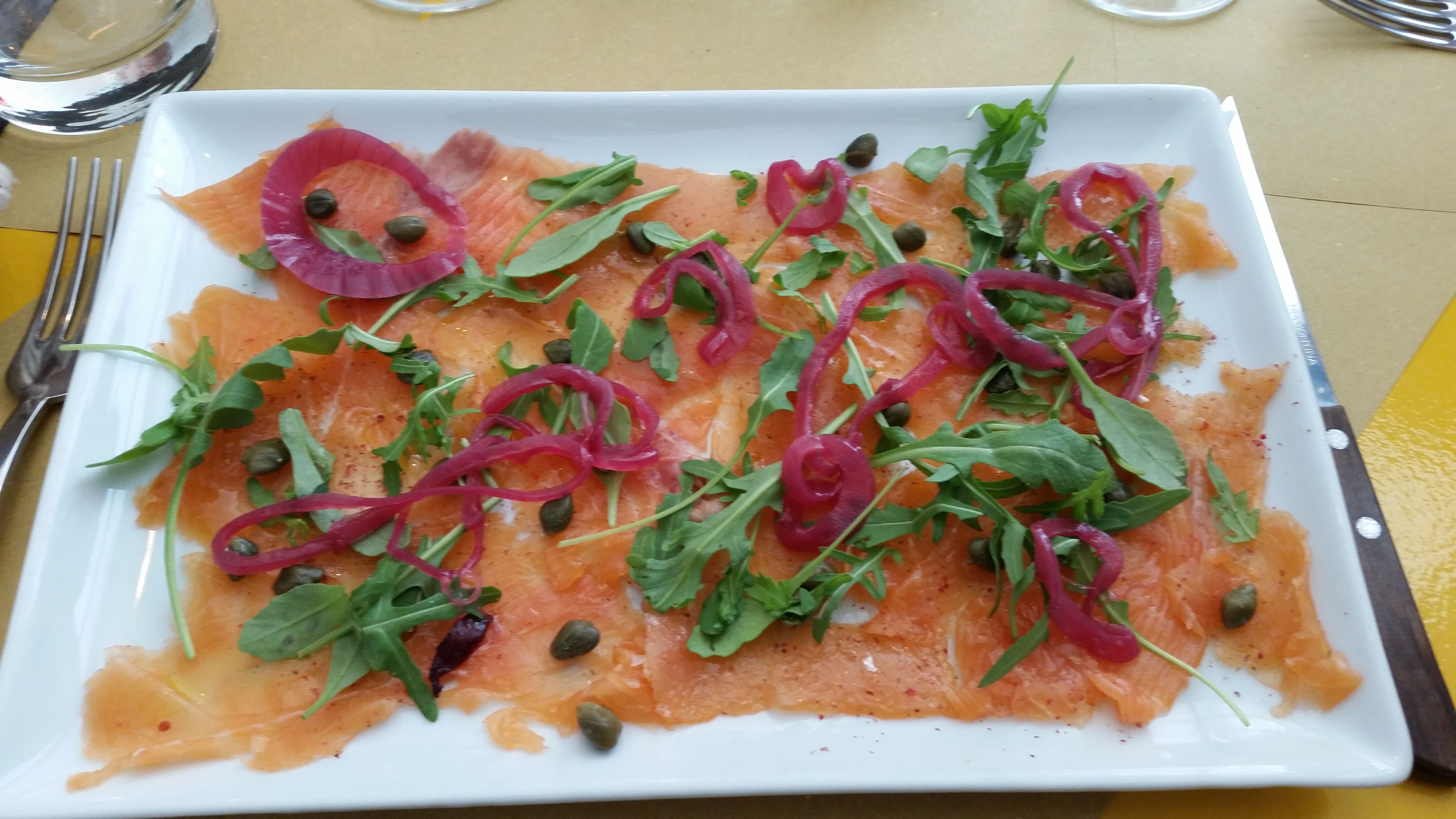 It was outstanding.  
The folks here take pride in their pizza, and an actual Italian told me that it was good, so I had to try it.  Mine looked like this: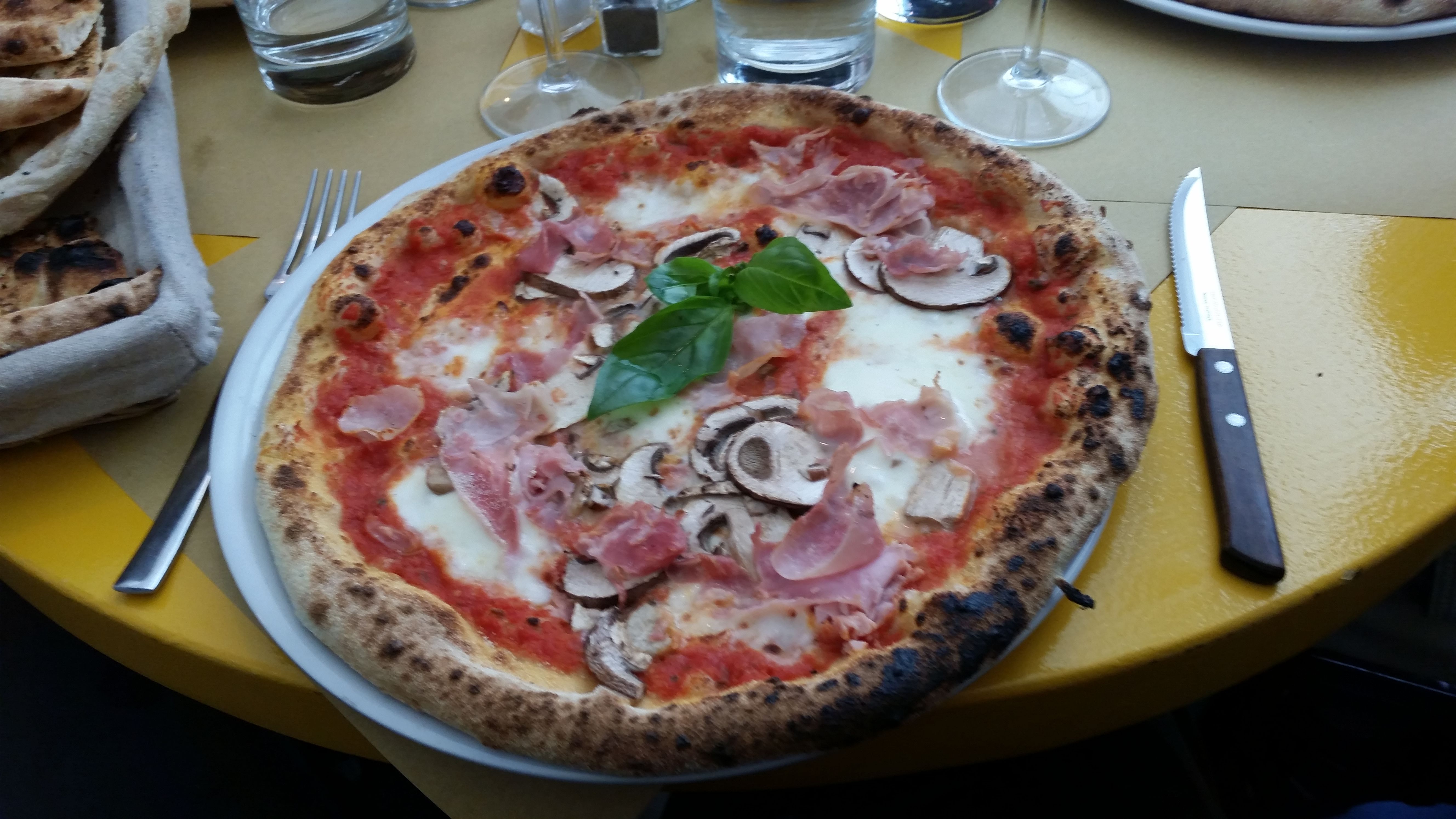 Now, I've read about Neapolitan style pizza, mostly due to pizza enthusiast Keith Law.  This was my first experience with the real thing.  I had always wondered what the taste and texture was like when he would describe the center as being "wet"... well, now I know.  Also, LOOK at that char on the crust.  This was the best pizza I have ever had.  Not close.  So yeah, apologies to the folks in the 15th, but I won't be visiting you for pizza anymore.  This is my new favorite Italian restaurant in Paris.
We were there well after closing time, and we saw the staff leave one-by-one.  Some of them might head back to the restaurant for the dinner service, some of them perhaps had other jobs.  I apologized on our behalf for keeping them there well past when they would normally have closed up shop, began cleaning, and taken their afternoon rest.  Upon mentioning that I am a musician, Gaitano and Antonio immediately found my album and started streaming it on the restaurant speakers.  That was a very cool life moment.
I listened to the staff talk to each other... yes, all in Italian.  Antonio told me that the only ingredient they have in the place that is French (local) is the water... which comes out of the tap.  All of their ingredients, they import from Italy.  I totally understand why my colleague Guido comes here.  If he is feeling homesick, this has to be the spot.
There is no shortage of Italian restaurants in Paris.  There are surely hundreds and hundreds of places you can get pizza.  I strongly doubt you'll find a better one than here.  Outstanding food, very friendly staff.  I can't wait to go back.