You ever listen to an album and immediately love it?  That's not something that happens all that often with me, I usually take a few listens to warm up to something.  Brevity is an exception.  I loved this one right away... the lyrics, the melodies, the nineties rock sound that reminded me of my youth.  Brevity is still in regular rotation for me, and that has been the case ever since it showed up in April.  The people responsible for this album are Punch The Sun, from New York.  The person responsible for writing the songs is fellow bass player and lead singer Shannon Söderlund, shown at the bottom right of this photo: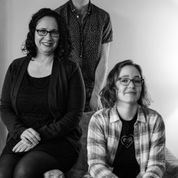 Shannon has songs.  So many songs.  Good ones.  Great ones.  She keeps making more.  Remember that songwriting challenge that I previously wrote about where you write five songs in five days?  Shannon is part of this same group of songwriters with me, and the songs that she writes for these are so good that I generally question what in the world I am doing.  
Ok, you've heard enough from me.  Let's amplify Shannon's voice.
***
1.  Let's hear the elevator pitch for your skill set and genre. 
My elevator pitch, eh? I grew up singing and playing in a family band, so music has always been - quite literally - my life. After us kids grew up and the family outfit wasn't playing as often, I tried out a bunch of different musical areas (Wind Ensemble, Jazz vocals) until I found my home among what I listened to in high school: Alt Rock. 
2.  You joined Wheatus for a European tour.  (For my readers who don't know that band, they are a New York rock band who had a hit single in 2000 that was on radio and in movies.)  How'd you get that gig?  Can you talk about your experience touring Europe and playing music? 
As happens so often in this industry, it was mostly a circumstantial thing. About 2 years ago, I shared a bill with an artist (Gabrielle Sterbenz) who was in need of a singing bassist. And she saw me playing bass and singing in my own band, right after her set! So we got together and I played with her band several times in the following months. Then last year, she needed someone to head out on tour with her, as she was supporting Wheatus. Obviously, I said yes. 
Touring Europe and Great Britain was really fantastic. I basically grew up touring with my family, so even though I hadn't done it in years it felt very much like hopping back on a bike, y'know? I love all the parts of a touring production: moving equipment, setting up, soundcheck, finding food in a new city, the show, sleeping in an unfamiliar place (though we had the bus to go back to, which was lovely), meeting new people every day, traveling with the same dozen people for weeks on end. It's one of my favorite things in the world. And I feel so blessed and honored that I got to do it with a truly special group of people. 
3.  What was the first album you can remember buying with your own money? 
Hmmm... either Norah Jones' Come Away With Me or Fiona Apple's Extraordinary Machine. I might've gotten them together? I listened to a LOT of my brother and sister's music in high school until they left to go to college and I had to fill my own silences. Those two albums, along with Hot Hot Heat's Elevator, where basically the soundtrack to my senior year in high school. 
4.  Tell me about the last concert you saw. 
If I'm honest I don't even remember the artist's name; it was a show my friends were excited about, so I tagged along. The music was fantastic - kind of experimental prog-jazz - and I remember there was a female bassist, whose left hand I was staring at literally all night. 
5.  What artists do you consider to be your biggest influences? 
Fiona Apple is a big one. Cake is another. Weezer, definitely. Most of all though, it probably was my parents and the Christian Rock we played (oh yes, it was a missionary family band). I definitely see that 90s-worship-music as defining a lot of the music I write. I think music is about connection and relationships. And in my mind, songs should be catchy and sing-along-able, which is almost certainly a holdover from worship music. I definitely sing more about existential dread these days instead of Jesus, but hey. 
6. At the moment, COVID-19 has you stuck in Liverpool.  I imagine there are worse places to be socially distant.  How are you managing being that far away from home for so long?  [Note from Mike:  This interview was done in May, Shannon is back on this side of the Atlantic now.]
In a weird way, Liverpool feels very much like home. I'm here with someone I love dearly and consider family. I think it would be much, much harder if that were not the case. But there's plenty about this town that feels familiar - all the flora here is like, exactly what my mom has in her garden in the PNW (that's Pacific Northwest, for those of you who are unfamiliar). And videochatting, both over Marco Polo (hi, Shiree and Danielle!) and in realtime has been life-saving. Being able to stay connected with friends and family has been huge. 
7, If you could change anything about the music industry, what would it be? 
This... I have complicated feelings about this. Many of the problems I have with this industry have to do with money, and the people on top who want too much of it. It's much the way I feel about our society. 
That being said, I think there are a lot of things that musicians (especially ones starting out) complain about that come from a basic misunderstanding of how businesses operate. Money is obviously a necessity for society to function and businesses to run. And there are a lot of ways in which the industry is surprisingly functional, especially when it comes to touring and live gigs. It's hard, but I understand why it's hard. And this has ALWAYS been a hard industry. So... *shrugs shoulders* 
8,  Brevity probably didn't get the big marketing push that it deserved, due to the pandemic.  Assuming the situation improves, will you all re-visit promotion for that album and perhaps tour?  Also, what's next for Punch the Sun and for you personally? 
I definitely want to tour on Brevity! Once the pandemic is over, that's a route (#tourpun) that we will certainly pursue. I can see us perhaps making some music videos down the road (omigosh ANOTHER #tourpun) to highlight some songs on the album. Ultimately, though, I'm really glad it's out in the world for people to listen to and think, "wow, that's what Punch The Sun sounds like!" 
Next up, though, is more music - of course. I'm already working with Campbell (our drummer) on some new songs. We're just in the demo stage, since we're on opposite sides of the Atlantic, but we're deep in the writing process again, which feels fantastic. Music forever!
***
I linked to both the website for Punch The Sun and to Brevity up in the first paragraph.  You can also find Punch The Sun on Facebook, Instagram, and Twitter.