Kyleen Downes is a true professional. She plays, she writes, she sings, she teaches... and radiates joy when making music.  Every time I go see Kyleen play a show, I end up less grumpy when the show is over than I was before it started.  The community of musicians in the greater Dayton area is better for having her be a part it. 
This is her official music page. I have everything here on compact disc, and I assure you, it's all good.  Why not get yourself a copy of her latest album, Come On Sit Down, on vinyl or CD?
How about we get to know Kyleen a little better?  After the photo, I amplify her voice.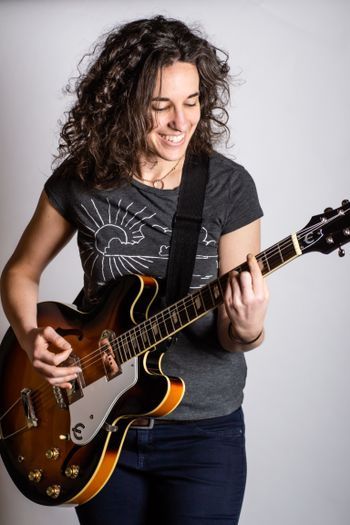 Photo by Jennifer Taylor
1.  Let's hear the elevator pitch for your skill set and genre. 
The best one I've come up with is my music sounds like if Tom Petty and Sheryl Crow were raised on TRL. 
2.  You have a Bachelor's degree in Music.  For musicians who are not formally educated in music, but wish to improve, what's a simple piece of advice you could give? 
While I was getting my degree I was inundated with so much information, I was discouraged that I wasn't retaining what I was learning. But as the years have gone by, many concepts have clicked. So my advice would be, don't feel like you need to know it all, incorporate what you do know (value it!) and more will come as you go. 
3.  What was the first album you can remember buying with your own money? 
I made two album purchases that day with my own money: The Men In Black soundtrack and Weird Al Yankovic Bad Hair Day.
4.  Tell me about the last concert you saw. 
I saw Cat Power, Garbage and Alanis Morissette at Riverbend in September. A friend invited me and had 3rd row seats, I've never been that close before! Cat Power's performance was gorgeous and humble. Then Garbage performed and they damn near killed me with the bass, but it was awesome. Shirley Manson now has a place on my badass women list. Halfway through one of her songs she called someone out in the audience and said "Hey Kelly" then proceeded to finish the song. Afterwards, she proclaimed how amazing the universe is that in a sea of people she saw their server from the night before, Kelly. She then told the audience that Kelly was in a band called Flying Underground and that she checked them out on the Instagram and said their stuff was great! SO fun! Finally Alanis Morissette came out with her stellar band and washed us all in her unbelievable voice and energy. The concert was incredibly uplifting and an experience that I got to have with two of my closest friends. 
5.  When did you start playing guitar?  Why did you choose guitar as your instrument? 
I started playing guitar when I was 12 years old after my parents gave me one for Christmas. I wish I knew why I chose guitar because it has become such a huge part of my life. As a kid I did love singing musical and Disney songs, and I also played clarinet, but I really don't know why I chose guitar. I asked my mom once why they got me a guitar for Christmas and she said, "I guess you must have asked for it." Makes sense Mom, haha! 
6.  You're a solo artist, even though you write full band compositions.  I can relate.  When you finish a song and are thinking about heading to the studio with it, how do you approach making choices for arrangement and instrumentation? 
The songs I take to the band, I work out structure and instruments parts with them. The songs I've worked out on my own will often take shape in the studio. I may have an idea of trying something on a particular instrument but won't know until I try it. I now have an interface and some GarageBand skills to try out more arranging beforehand, I'm excited to see how it works out! 
7. Can you name three influences on your songwriting and sound, along with some details on how you incorporate those influences? 
I'm influenced by whoever I am listening to or perhaps learning to play on guitar. I developed one song on guitar when I was pretending to be Jimi Hendrix in my basement. It sounds nothing like Jimi Hendrix but who does!? It was more how he moves his fingers on the neck that I was trying to imitate. That song I co-wrote with Emma Woodruff for her album Longing for Something I Ain't Got and it's called "Yellow Springs Thing". 
A song of mine, not yet released, called "Tell Me What I Want to Hear" was influenced by Prince. I was hearing something in my head that sounded sexy and staccato, so I developed the song with his aesthetic in mind. 
A local influence came out when I was writing my song "Big Top" and that's the duo Biscuits and Gravy. The acoustic punch of Harold Hensley and the sassiness of Cassandra Barker really drove the tone of that song. 
8.  So... when do we get more new music from Kyleen Downes? 
2022! No specific details but I've got new songs written and will be recording soon. They each have very distinct voices so I plan to release them as singles throughout the year.
***
The video for "Give Up the Ghost" is great, and you should watch it.  I've already linked to the official home of Kyleen Downes on the Internet, but here's her website again.  You can find her music there, as well as on all of your normal streaming services.  You can also find Kyleen on Facebook, Instagram, and Twitter.
I am absolutely thrilled that Kyleen is willing to play with me THIS WEEK, when I play live on WYSO.  Again, she is a true professional.  Rehearsals have been solid, and I warmly invite you all to tune in on WYSO dot org Wednesday 13th October at 8 PM Eastern, and you'll hear Kyleen's fine guitar work and harmony vocals.