If your restaurant is called Mofongos, it would be reasonable to expect a Puerto Rican restaurant with mofongo prominently featured among the culinary offerings. This spot in North Hollywood fulfilled and surpassed both of those expectations on my recent visit. I don't have a Puerto Rican restaurant near me, so when I saw Mofongos was within easy walking distance of my hotel during my recent trip to the Los Angeles area, I knew I had to drop by for a visit.  Mofongo, after all, is delicious.
The restaurant is small, and has the feel of a family-run establishment. The kitchen wasn't visible, so I don't know how many people were back there cooking, but when I arrived, one of the employees was heading out, and the remaining person seemed to be the only one responsible for the front of the house the rest of the evening.  If memory serves, his name is Ángel, and he kindly put up with my insistence on speaking in Spanish.  (It's a Puerto Rican restaurant, we should speak in Spanish, you know?) I knew better than to try out my imitation of a Puerto Rican accent... I'm not good enough to pull that off with a native speaker.
Let's start with the namesake dish. Have a look at this picture right here: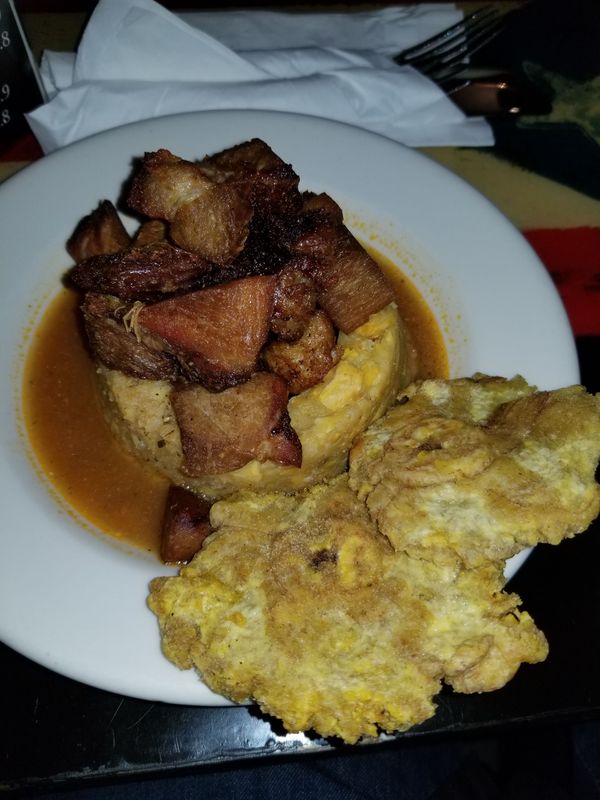 Isn't that a thing of beauty?  I opted for the Mofongo de Carne Frita, which means that those are delightfully crunchy morsels of fried pork on top. Tostones came on the side, because more platano is never a bad thing, right?  This was delicious.  The broth was perfect, the mofongo was perfect, the pork was perfect, the tostones were perfect.  Now, a sensible person wouldn't have gotten anything else to eat, but not only am I not remotely sensible, I have some nostalgia for arroz con gandules.
See, a very grandmotherly grandmother who I know in my area is Puerto Rican. In the before times, when there would be a gathering, she always brought arroz con gandules. She even personally taught me how to make it once. Of course, I have never at any point been able to make mine taste like hers, even though I am certain I followed her instructions perfectly... but yeah, I don't try anymore. It's been awhile since I ran into arroz con gandules, so I got some of that on the side.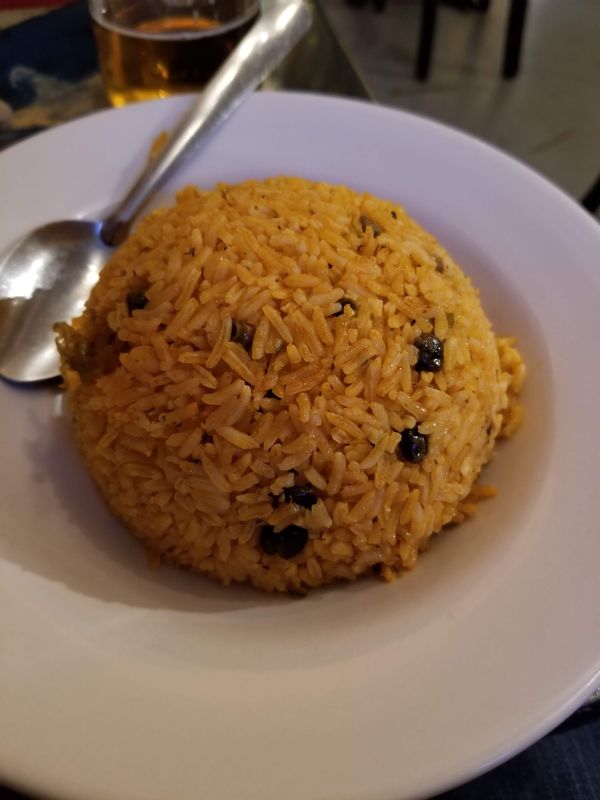 Did I finish this?  No, not close.  I did, however, eat enough of it to find the olive that was hiding in there.  (Just like Milta's!) The flavor was spot on.  This leads me to believe that Mofongos has a Puerto Rican grandmother in the kitchen doing the cooking.
As a history nerd, eating food like this always makes me think of where delicious things might come from. Does mofongo bear a resemblance to fufu?  Yes, yes it does. Now, the reasons for that are, of course, horrific. Same reason that you don't meet anyone who speaks Taíno anymore. That said and acknowledged, one small nice thing that comes out of cultural collision is delicious food.  Mofongo is one of those things. If you happen to have access to North Hollywood, I strongly recommend you swing by Mofongos and try theirs.