There are several "first" experiences in my life that happened on the beautiful island of Sri Lanka.  Most of these things are educational and positive experiences. It was the first place that I saw the sun set over the Indian Ocean. It was the first place I toured a tea plantation.  It was my first time feeding and riding an elephant.  (That last one scared me out of my mind.)  I had my first delicious encounter with Singapore Chili Crab, a dish that is popular where you might expect based on its name, but the crabs are imported from Sri Lanka.  I tried kankun for the first time. I saw a water monitor crossing the road. I smelled a cinnamon plant that was right next to the street, as common as any deciduous tree would be here. Several foods that were unfamiliar to me at the time found their way onto my personal list of favorite things to eat; barramundi, sprats, pol sambol, hoppers, string hoppers, lamprais... everything but sweets, essentially.  Arrack was also a nice discovery for me. I learned the Sinhalese greeting "ayubowan".
There were also, however, some "first" experiences that were not quite as happy or pleasant.  Colombo was the first city I have visited where the army was deployed to the streets around the city.  I had my first experiences with military checkpoints. It was my first time being completely and utterly lost in a country where I could not speak the language. 
The sum of my experiences - both positive and negative - are the backdrop for the song "A Morning Like Yours".  Before I get into the details of the song, I'd like to share some photos based on the memories I mention above.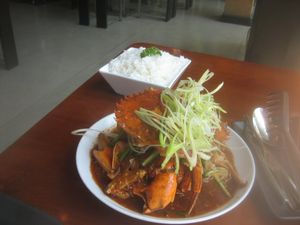 That right there is a Sri Lankan lagoon crab as the featured star of the Singapore Chili Crab dish.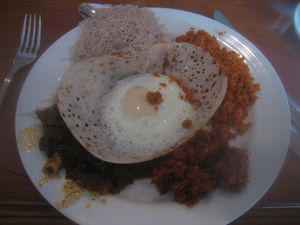 Here's a typical Sri Lankan breakfast for me: Egg hopper, red string hoppers, coconut sambol, another sambol that tasted like burning, mutton curry.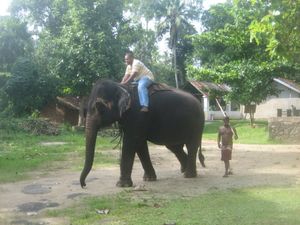 This will likely never happen again.  I am not a small human being, right?  I look downright tiny on top of this kind and gentle and somewhat elderly elephant. Yeah, interacting with creatures that are larger than me, it's not my thing.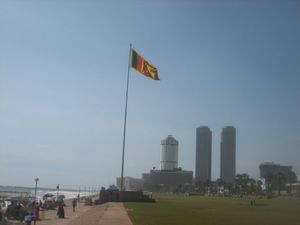 Oh, hello there Galle Face Green and World Trade Center.
The first time I set foot in Colombo was 2010. Unlike well-known traveler Anthony Bourdain, I didn't visit during the war.  In fact, while I was there the first time, the Sri Lankan government was planning a parade and a celebration to commemorate the one year anniversary of the war ending... there were roads blocked off, warships gathering off the West coast of the island, and the occasional tank... and then it poured rain for a couple of days, and the celebration didn't happen.  (A Google search tells me that the parade was held the following month.) The war was over, but the army was still in the streets. That was a somewhat frightening experience for me, as I had never been in a place with active military members on patrol. When I would walk around the neighborhood, I would see the soldiers - all of whom looked impossibly young - and hope that I wasn't going to give any of them reason to point those large weapons they carried in my general direction.
As I continued to visit over the years, the military presence diminished.  The checkpoints went away.  I felt safe, which is, of course, a mirage, as there isn't really any such thing as a place that is "safe".  
I stayed in four different hotels across my visits to Sri Lanka: Cinnamon Grand, Cinnamon Lakeside, and The Kingsbury in Columbo, and Mount Lavinia Hotel in Mount Lavinia.  These are all luxury hotels with varying degrees of opulence in the region, but due to exchange rates and the world economy, the cost per night is about the same as your average Marriott here in my home state of Ohio. No, it's definitely not fair, and it's one of those things I would try not to think too deeply about when I visited.  I was there to work, and it was rather nice that accommodations with that level of comfort were an acceptable price for my company to pay.  I would have breakfast in a hotel restaurant specifically open for that purpose every day, then head off to work...  after breakfast on the weekends, I might stroll around the neighborhood, go out on a touristy-type visit, spend time in the hotel gym, play tennis with the designated hotel staff member for that, walk around an air-conditioned mall... you know, that sort of thing.
I reference those normal activities with the lyrics of the opening verse to  "A Morning Like Yours".
Take my coffee by the window
Looking at your ocean 
Text my wife a little hello 
Put the day in motion 
Get a smile from the hopper station with my dal and sambol 
Just a morning like yours 
Just a morning like yours
The time zone difference between Sri Lanka and the United States is such that my mornings corresponded to late evening over here. Sometimes Misty was awake, sometimes she was not... at any rate, my mornings were never the time for conversation outside of a brief text or two.  The lyric about the hopper station... well, I certainly don't know how to make egg hoppers, so the hotels would all have a staff member assigned to handle that during breakfast. These people were at work, so maybe they weren't really feeling cheerful, but they always smiled and said "good morning" when I would ask them to please cook me an egg hopper.
Take a walk around Colombo
Looking at your ocean 
Heavy traffic from the get-go 
Bustle and commotion 
Get a smile from the hopper station with my dal and sambol 
Just a morning like yours 
Just a morning like yours
Colombo is a densely populated city with common large city afflictions.  There are a lot of cars.  There are traffic jams.  There are people everywhere.  That said, from three of the four hotels I have had the pleasure to stay in whilst on the island, the ocean is a short stroll away. Depending on which side of the building your room is located, you can even see the ocean from the windows at The Kingsbury and Mount Lavinia Hotel.  Here in Ohio, I don't have an ocean to look at, so this was a nice treat for me.
A terrible thing happened on April 21, 2019.
Be honest.  Do you even remember this happening?  I'm not sure if it is the case in your particular city, state, or country, dear reader, but where I live, most people tend to be poorly informed of world events, of different cultures, and even of horrible evil like the bomb attacks on 21st April 2019.  I would like to think that this is something that would make me angry and sad no matter where it happened, however, I am certainly more deeply emotionally affected by this event because I've spent time in Colombo. There are folks who I was proud to call colleagues in Sri Lanka. I've had rewarding conversations with regular every day people in Sri Lanka. These are people who had to deal with a lengthy civil war in the not-too-distant past, and after that ended, surely it felt as if things were headed in a positive direction... and then this.  There isn't any such thing as a place that is "safe".
Two of the locations that were bombed are restaurants where I would sit for breakfast every day... the one at The Kingsbury on the third floor (I do not remember what it is called), and Taprobane at Cinnamon Grand, down on the lower level. On this particular Sunday, these restaurants were filled with regular people going about their lives; families on vacation, business travelers who were on multi-week trips, local folks who felt like having a special breakfast.  These restaurants, of course, were also filled with hard-working employees and fellow citizens of the people who carried out the attacks. Lives ended or permanently changed by being in the wrong place at the wrong time. On another day, that could have been me. These thoughts inspired the last part of the song.
Take your tea by the same window 
Looking at your ocean 
Just an ordinary Sunday 
Until the explosion 
Get a smile from the hopper station when the shrapnel hit you 
Just a morning like mine 
Just a morning like mine 
Wrong place and wrong time 
Just a morning like mine
I don't think this song is good enough to take to a recording studio.  Maybe I'll change my mind about that someday, but right now, that's where it stands.  That said, it accurately sums up how I feel, which is kind of the point of songwriting.  As a wise man once said, "time and chance happen to all".
If you'd like to hear the song, my home demo is attached to this blog entry.