Dad's Album of the Week is back.  This is the series where I briefly review my late father's vinyl.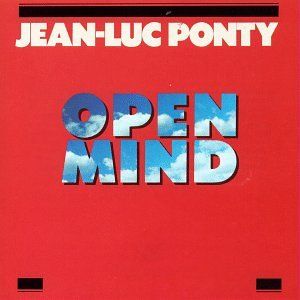 Jean-Luc Ponty - Open Mind
If I were to hear this without any context, I would say this is a product of the 80s.  It sounds so very 80s.  Heavy synth, computerized percussion... well, that's not too terribly different than modern pop and electronic music now, is it... heavy synth, computerized EVERYTHING these days... but this sounds like exactly when it came from... 1984.
Jean-Luc Ponty (who I had to Google) is a classically trained jazz violinist, and his discography is very very long.  Open Mind shows up kind of in the middle of it.  This isn't my genre of choice at all, so this album name is fitting, as it required that I have an open mind to get through all six tracks.  (Can't really call them "songs", as there isn't any singing.)  The instrument that takes most of the solos here is violin, but it doesn't often SOUND like a violin.  This is probably because they are all electric instruments on this recording, and also because of Ponty's approach, filling the space in the compositions that trumpet, trombone, or saxophone would normally occupy.  This is especially the case in "Modern Times Blues", where I would swear that there is a saxophone in there, but no, it's a zeta violin bringing saxophone tones.
"THIS ALBUM HAS BEEN MIXED ON A TWO TRACK DIGITAL MACHINE" is clearly stated in the liner notes.  That seems like a lot of work.
I find myself wondering what these compositions would sound like with more traditional jazz accompaniment, but keeping the violin in place as the lead instrument.  That's probably something I'd pay money to see.  If you are into jazz or the sounds of 1980s synth, you'll probably dig this album.