This show was a long time ago.  How long ago?  This long ago: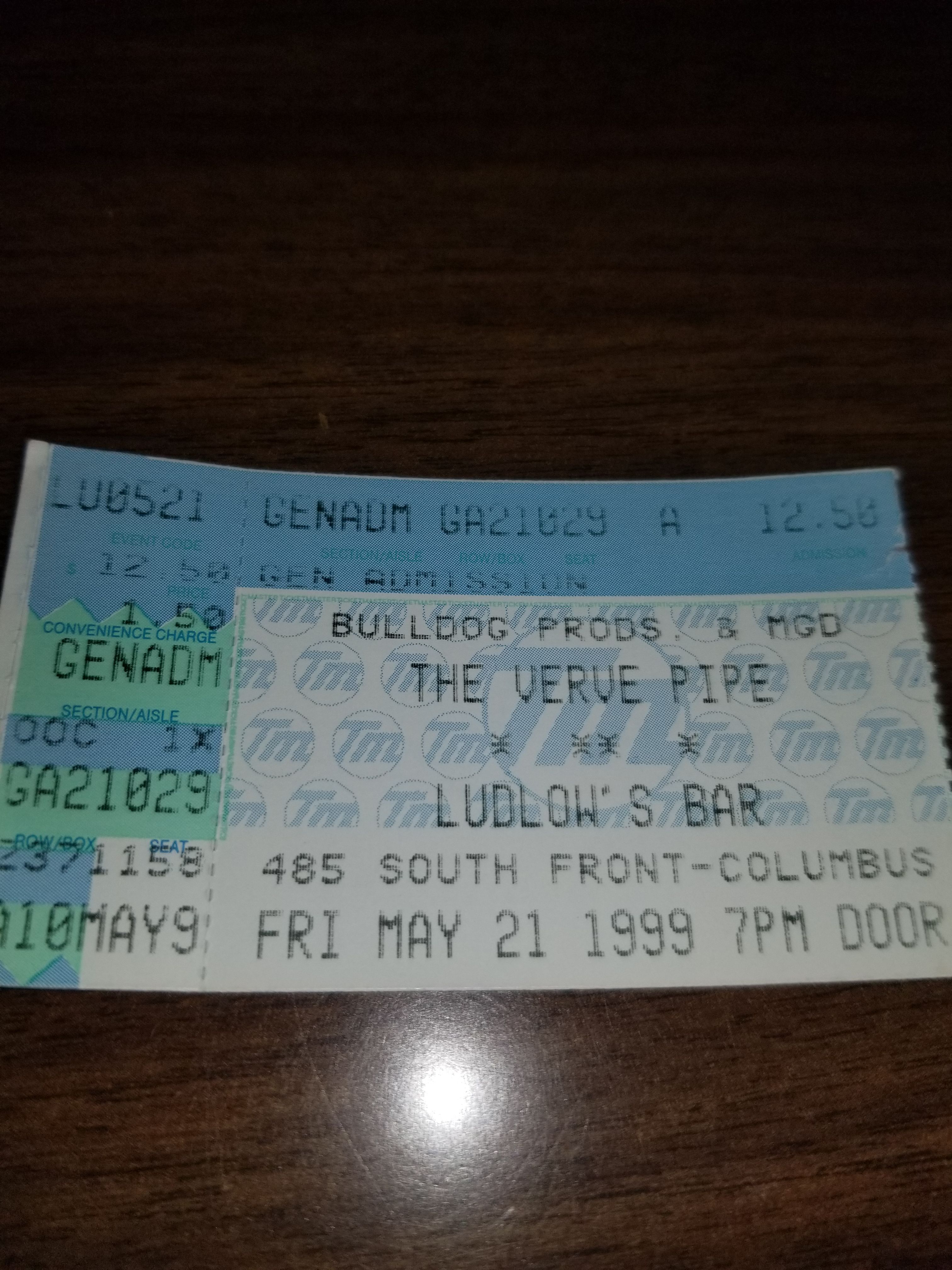 $12.50 for two bands on a national tour! I kind of miss the prices from back then. 
The capitol of Ohio, Columbus, has changed quite a bit since 1999.  The part of town where this establishment was located is the Brewery District.  It used to be a very frequented part of town with bars and restaurants and such... then Columbus got a hockey team with a fancy new arena, and a new entertainment district  sprouted forth around it.  This spelled doom for many businesses in the Brewery District, and Ludlow's was one of these.  Alas, it is no more.  I remember it as a cozy place to see a show. Ugh, I miss cozy shows.
This particular night, both bands on the bill were from the state to the north.  At some point in the evening, I struck up a conversation at the bar with a gentleman who turned out to be the bass player from Papa Vegas.  Many of you have surely never heard of that band.  They were excellent.  As I write this blog post, I've revisited the album that they were touring to support at the time, called Hello Vertigo.  I still have it on CD.  The songs are still catchy, I still remember the words even though I haven't listened to these songs in at least a decade (!), and the album holds up. 
The band whose name is on the ticket is The Verve Pipe.  At the time, perhaps slightly to their chagrin, they had a massive radio/MTV hit single.  I owned and loved their album Villians.  For some reason, I don't have my copy of that CD anymore, which is a shame, because the version of the aforementioned massive hit song on my copy of the album is very different than the version that went to radio and MTV.  I remember picking up that album pretty much immediately after hearing "Photograph".  We did not know it at the time, but The Verve Pipe had another album on the way (The Verve Pipe), and they played a bunch of songs from it that were, of course, new to us.  The ones that jumped out and grabbed me at this show were "Hero" and "La La"... "La La" remains my favorite song on the album.  I will admit that I should have paid more attention to this album, which was their third... like Radiohead before them, they have a song on this album that is a reaction to their big radio hit.
Both bands were sufficiently entertaining that I was sure to catch them later that summer on the same tour.  I saw a ton of shows around this time of my life, and not all of them were all that great in retrospect... but this one... I still have fond memories of this one.