The calendar has turned to June.  That means this is a great time to tell you about Sarah Rudy, who is a songwriter, guitarist, and singer.  Her band is called Hello June. They hail from the State where I was born, West Virginia.  Those of you from Dayton might already know about Sarah and her band, as the folks over at WUDR play their music.  Sarah might not be all that great at elevator pitches (unless the building is very tall), but is pretty great at writing songs, at playing guitar, and generally being awesome.  
Interview below the picture: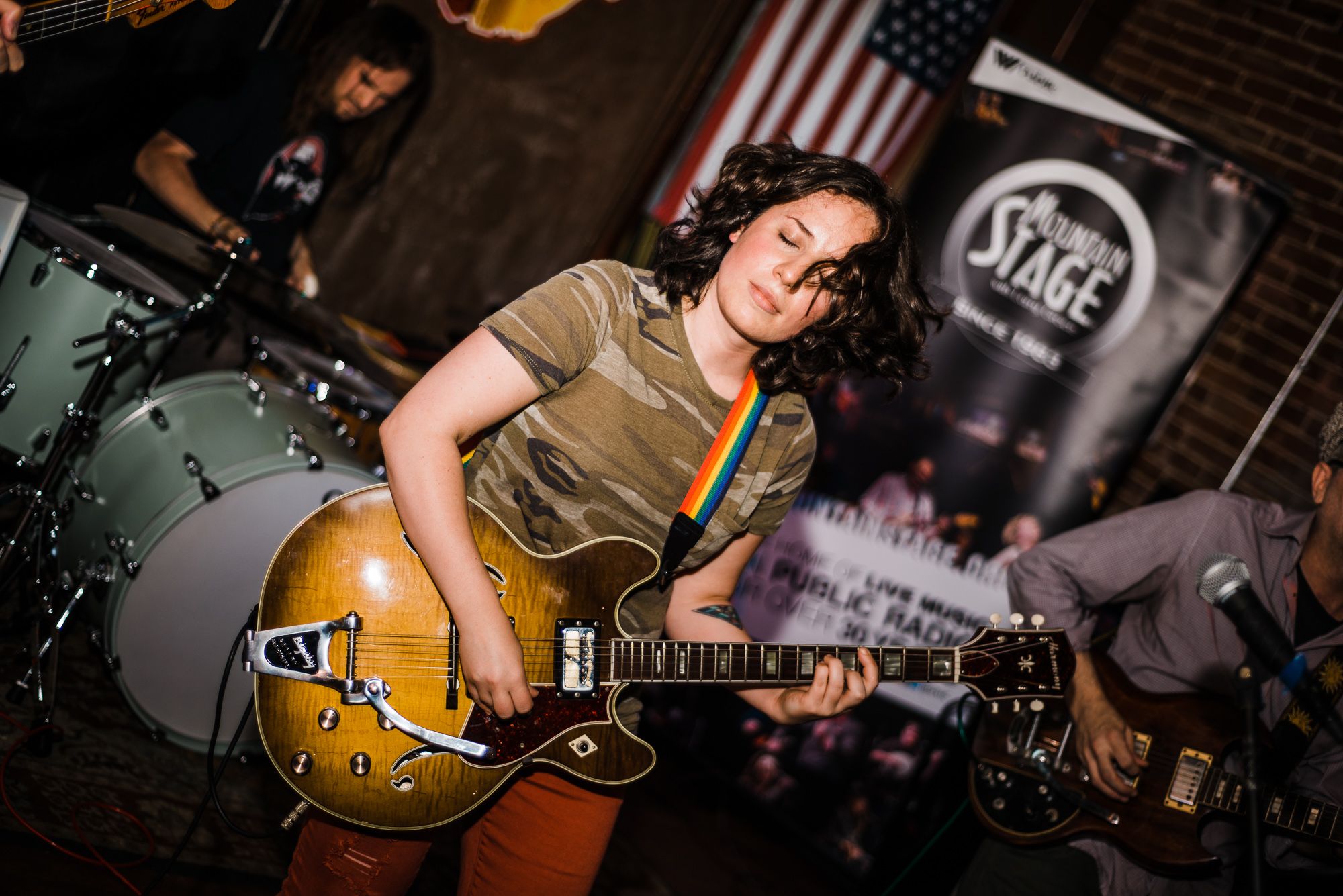 photo by Josh Saul
1.  Let's hear the elevator pitch for your skill set and genre. 
We've been called, "indie rock," but I honestly don't even know what that term means. We're not hard rock, but we're not soft rock either. We're not fast and dance-y, but our shows are full of energy. I/we create every aspect of the music, the videos, the designs, the marketing - if that is what they mean by "indie," we are that (haha).I'm an artist who is drawn to writing and creating songs that mean something to me and that others can relate to. The one thing I can say wholeheartedly is that we are genuine - the music that you hear comes from experiences and stories and real life events that mean a lot to me. My hope is that I gather people around me who relate to the music, regardless of the "genre" it happens to be called at the time. I'm sorry that this was possibly the worst elevator pitch to ever hit anyone's ears. 
2.  During the time of social distancing in March and April, which albums or artists did you listen to the most?  (Note from Mike... I thought some semblance of normality might resume by the time I published this interview, but yeah, not quite.)
I have listened a whole whole lot to TK Blockstar's self-titled album - the way that she conveys emotion in her message is exceptional and even though the genre is completely different from whatever we would be considered, I've found her presentation of emotion very inspiring. On top of that, shes from the great state of West Virginia - her album's have been giving me strength during a tough time. I've also listened a whole lot to The Band's "Music from Big Pink" a good bit and I'm always circulating back around to Big Thief - their music is so genuine and beautiful. 
3.  What was the first album you can remember buying with your own money?
As soon as I caught wind of Alanis Morissette, I felt deeply empowered in a way that I did not even understand. I bought the "Jagged Little Pill" album and played it a million times. Up to that point, I was just playing stuff that an older cousin of mine had given me. 
4.  Tell me about the last concert you saw.
We saw Big Thief in Columbus - the last show of that tour. Although I've watched live performances online, I hadn't gotten to see them in person and that was something that I was really wanting to do. I have such a visceral reaction to her songwriting - she has such a genuine realness that you don't see very often. The experience was surreal and beautiful and thinking of it makes me miss the magic of live music. 
5.  Imagine you have a gig tonight.  How do you decide what goes on the setlist? 
When I'm creating the list, I consider who's going to be on stage with me that night (some songs just translate better full band), the venue (do I anticipate poor sound quality or will I hear every breath I take?), the likelihood of an attentive crowd, and now, with livestreams, I'll tailor my setlist to what some sweet fans have asked me to play. I've been known to cut a set or song short when the crowd is being rude - so sometimes the decisions about setlist are made right there on stage. 
6. If you could change anything about the music industry, what would it be? 
This is a hard question because the system is so broken. I've thought about this so many times, but I usually end up running in circles. I wish there wasn't a need for a record label - I wish that independent musicians had a platform that they could use to reach their fans AND find fans that would enjoy their music. Facebook doesn't like to show posts unless they are paid; Spotify, Apple Music, etc gives artists a couple cents for what people are buying, but yet, these are reliably and interestingly enough, our best tools? I also have seen that the problem with a few people having the power leads to the abuse of this power - there is a lot of gate-keeping by powerful people who could "make a career," and so many ways to fall into bad/unsafe conditions due to this. We have a long way to go in a lot of ways. 
7.  What is your biggest challenge when it comes to making music? 
My biggest challenge has been finding good "fits" for our band in terms of long term band-mates. Whit Alexander has been around since day one and together we've played with a revolving cast of characters for years. We actually really love playing with different people and learn from doing this, but sometimes there are challenges to what we have done for most of our time as a band. We've played many shows where the only practice that we'll have with the band would be an acoustic run-thru in the hotel or even no practice at all. Our current lineup is an interesting one - we've brought Travis Evans back to play drums. He originally helped me back in 2013 when I moved back to WV from Baltimore - we didn't even have a band name back then and I was just developing the songs (Whit was around and playing bass at that time). Whit is once again on bass and the way that he plays is so melodic and full that it allows me to play much more lead guitar than I've been able to do in the past. When you're moving your line-up around, one frustrating but efficient move is to keep things relatively simple so that everyone in the band knows where they are in the song, etc. This three piece line up is as freeing as I've ever been able to experience and it's much more true to the songs, I think. 
8.  How do you intend to keep growing as a musician and songwriter? 
My goal is to be able to more fluidly create songs that more accurately depict what is in my head/what is the intent for the song. In order to do this, I intend to keep listening to those who do this well and working on my craft. There is so much good music to consider - the bar is high. I've also got some collaborations coming up - for me, there is always a learning curve to that and I'm always pushed by other people.
***
Sarah and her band have gotten some very positive press for their self-titled debut full-length.  You should listen to it, and if you dig, maybe by a copy to support them?  You can also connect with Hello June on Twitter, Instagram, and Facebook.