Once upon a time, in a far away and mysterious land called The Nineties, there was a band called Failure.  The much younger version of me discovered them somehow, via their single "Stuck on You".  That song came with a very cool music video that was clearly inspired by the opening montage from a James Bond movie. That song came from the album Fantastic Planet, which I did not hesitate to procure, and that was my first experience with a concept album.  Alas, Failure broke up before I could see them live.  I bought their other two albums (Comfort and Magnified), I bought everything Ken Andrews released with his solo project On, I listened to the Greg Edwards project Autolux... and time passed.
After much time passed, the gentlemen of Failure - Ken Andrews, Greg Edwards, and Kelli Scott - literally got the band back together.  They discovered that people out there still loved Fantastic Planet very much.  They went on the road to play music.  This was my chance to see them... and see them I did, almost exactly six years ago.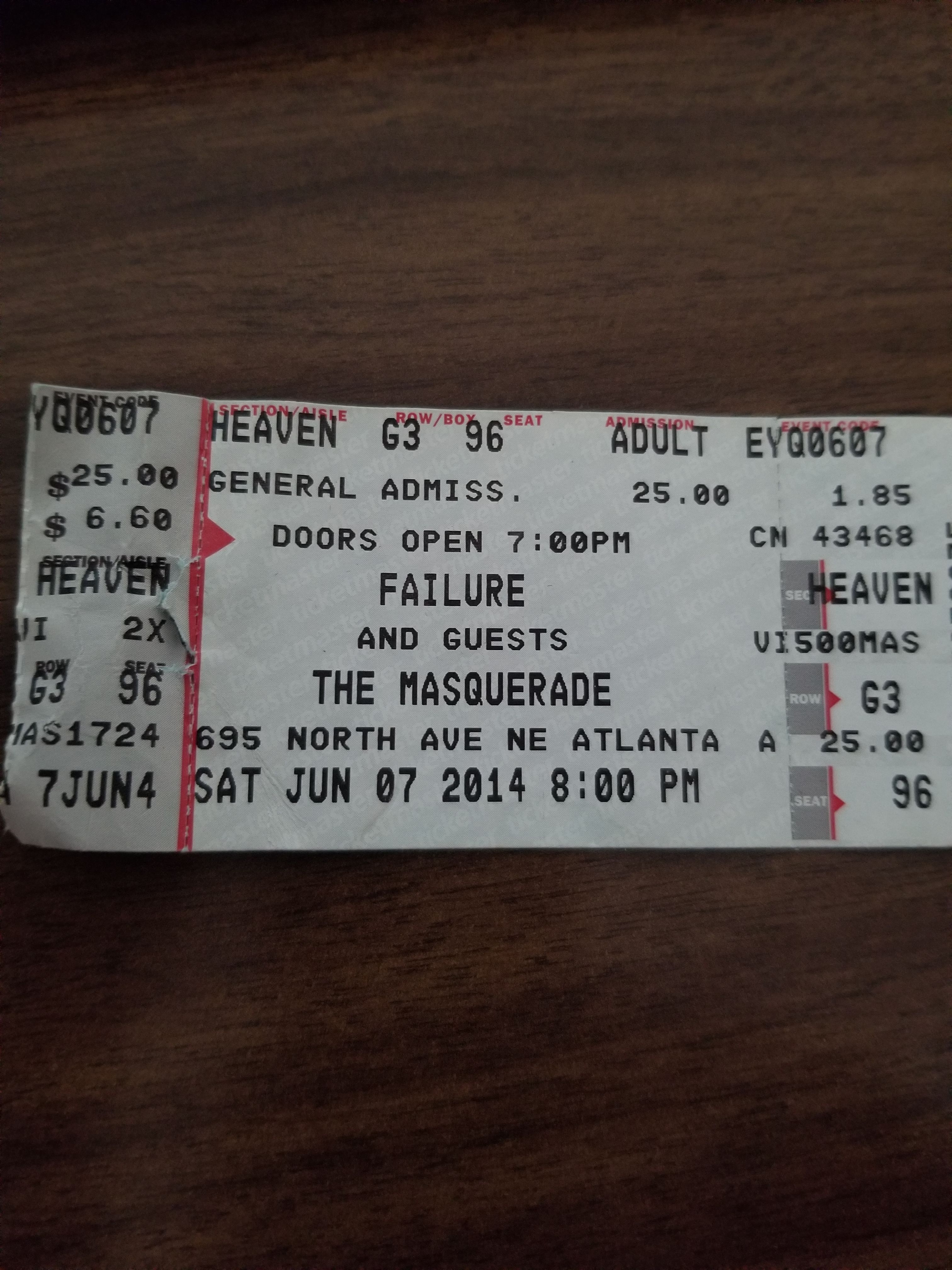 I flew to Atlanta to see them at The Masquerade.  As is my custom, I got to the venue very early, well before the doors opened.  I was expecting most of the concert attendees to be my age or older... after all, this band had vanished for seventeen years.  I was surprised to see some young folks in line waiting for the show.  Then I remembered, that there are some younger artists who dig Failure, and other well-known bands who aren't so young who dig Failure, and maybe that's how a different generation came to discover them.
They couldn't have picked a more appropriate song to open the show.  I mean, it was the TREE OF STARS tour, they had to play this one:
Notice how perfect and pristine their sound is?  You're probably thinking that they sound this way because this is a controlled studio environment in the video.  Yes, this is... but this is EXACTLY what they sound like in a less-controlled concert environment.  This band... they are obsessive about their sound.  Due to their lengthy career and changing gear, in order to replicate all of the sounds on their albums, they use fractal technology.  I am not an expert, so I can't explain all that well how it works, but if you really want to know, Ken Andrews can tell you.  What I do know is that Failure concerts are the best-sounding shows I have ever attended.  (Side note:  Even if you don't want to watch the entire last video I posted with Ken talking about fractal audio, at least watch the beginning.  He films himself rehearsing after ten months of not having done any singing.  He sounds great.  He essentially used his engineering experience to mix the vocals and the guitar out of the recorded song, and is playing guitar and singing along to the rhythm tracks.)
When I was young, there was a great deal of jumping around and jostling at a loud rock show.  I'm too old for that now of course, and was just a tiny bit apprehensive once Failure got into the groove onstage.  They have plenty of songs that aren't as laid back and restrained as "Another Space Song".  Well, there was no jumping around at this show.  No jostling.  No shoving.  There was some singing along, but barely even anyone nodding their head.  I looked around at the audience, and I immediately understood.  Most of these people were about my age, and none of us ever thought we would see this band play live.  We were all just in too much shock at what we were seeing. I kept watching in awe, trying to figure out how to play songs that had come out of my CD players over and over again by watching Ken's hands. I was also rather transfixed by watching Kelli Scott's drumming in person, especially on their song about Virginia Woolf, "Wet Gravity".  
They didn't disappoint.  They played something from all of their first three albums.  I mean, this setlist, wow.  When they played "Dirty Blue Balloons", it made all the sense in the world hearing the audience sing "I've waited so long without you/ I've waited too long for you"...  Indeed, indeed we had.