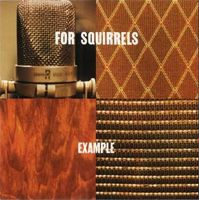 For Squirrels - Example
This album came out while I was in high school.  I loved the lead single, and remember watching its video quite a bit on MTV, but by the time I got my hands on the album and listened to the entire thing, there were six or seven songs I liked even more.  Front to back, this is an album I always loved.  
Tragically, a van accident killed the lead singer and bass player shortly before this album was released, so this band remains rather obscure.  I remember in my early twenties always being surprised when I would meet someone who also had this album.  Usually, if someone had it, they were just about as enthusiastic about it as I was.
Example reminds me of my youth, gone many years ago.  It reminds me of longtime friends,  many of whom are gone in different ways.  It reminds me of driving down 35 or 270 or 33 to go hang out.  It makes me wish I could write a song that makes someone feel the way that "Disenchanted" still makes me feel all these years later.  It makes me wish I could write something with the brilliant simplicity of "Eskimo Sandune".
Also, these lyrics from "Under Smithville" have taken on different meaning for me than they did back in the day:
"And I've been feeling so old / Tell me now who you think I am"