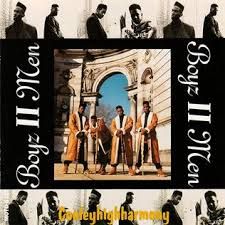 Boyz II Men - Cooleyhighharmony
This album came out in 1991.  I was in junior high school.  I remember that you couldn't get away from the two hit singles on this record.  The more upbeat of them, "Motownphilly", had a video that was on MTV all of the time... you know, back when MTV played videos.  Four young black men, well-dressed, and singing some tight harmonies over a hip hop beat.  I don't remember having heard anything like it.  The other ubiquitous single, "It's So Hard to Say Goodbye to Yesterday", was sung a cappella in four part harmony, with finger snaps being the only percussion.  I didn't know at the time that this was a cover.  What a fantastic choice to do a rendition of this song like this and put it on the album.  Maybe the album doesn't go nine times platinum without this song.
To do my due diligence for this blog post, I went back and listened to this album again.  It sounds very much of the time period from where it came, but it still sounds good.  
Those of you who remember this album might think that I have forgotten to mention "End of the Road", which was another single that you couldn't escape from hearing.  Well, it wasn't originally on this album.  It was a single produced for a movie soundtrack, and it did so well, that the label put it on the re-issue of Cooleyhighharmony that came out in 1993.  (The re-issue contains a fantastic a cappella rendition of "In the Still of the Night", and I remember wishing I could sing like that.  I mean, check out the glory of the nineties in this video.)
Listening these songs again takes me back to wandering the halls of Central Junior High.  I am also reminded of my younger brother, who loved this group and this album.