I have a vegan sister-in-law.  As a present to her, I made reservations at Le Potager de Charlotte when we went to Paris in the spring.  Note that I am definitely NOT vegan... but this place is fantastic, and even if you are an omnivore, if you happen to be in Paris, I recommend you stop by.
First, it's a family run restaurant.  There are two of them... one is in the 17th arrondisement, and the other is in the 9th.  One of the co-owners greeted us at the door and was also our server.  I like to support small businesses, especially the kind where the folks who own the place put so much work and energy into their restaurant.
Second, the food is outstanding.  Here, have a look at the menu. Note that some things on the menu change, based on what kind of vegetation happens to be fresh and in season. 
I started with the chickpea and rice crêpes.  (A side note to the folks at Le Potager de Charlotte... I'm an anglophone, and personally, I think it sounds strange to call these "pancakes".  Sure, they're thicker than your normal French crêpes, but I feel that your English-speaking customers know what a crêpe is without needing to translate it.  Just my opinion.)  You can see a picture of this starter on their website.  That cashew cream filling... wow.  It tasted fatty and cheesy, and the espelette powder on it added just a small background spiciness.  This was outstanding.  As you can see in the picture, it was served on some mixed salad.  No complaints about this course.  For my second course, I had another entrée, the avocado.  This is where I wish I had taken a picture.  It was basically a riff on a hard-boiled egg... but this is a vegan place, so the avocado was standing in for the solidified egg white.  The substance that made up the "yolk" was a deep yellow color, no doubt due to turmeric... and also a creamy and fatty mouth feel... see, this is the challenge with vegan food to me... how to make up for the taste and texture requirements where animal-based fats traditionally exist in a recipe.  These folks were super successful doing so.
I had small tastes of what my wife and her sister had ordered.  One of them got soup.  It was good, but could have used more salt. I forget what the other one got... suffice it to say that every bite I had was delicious.  Again, let me repeat... I am NOT vegan.
As for dessert... well, the description doesn't do it justice.  The picture doesn't either, but here it is anyway: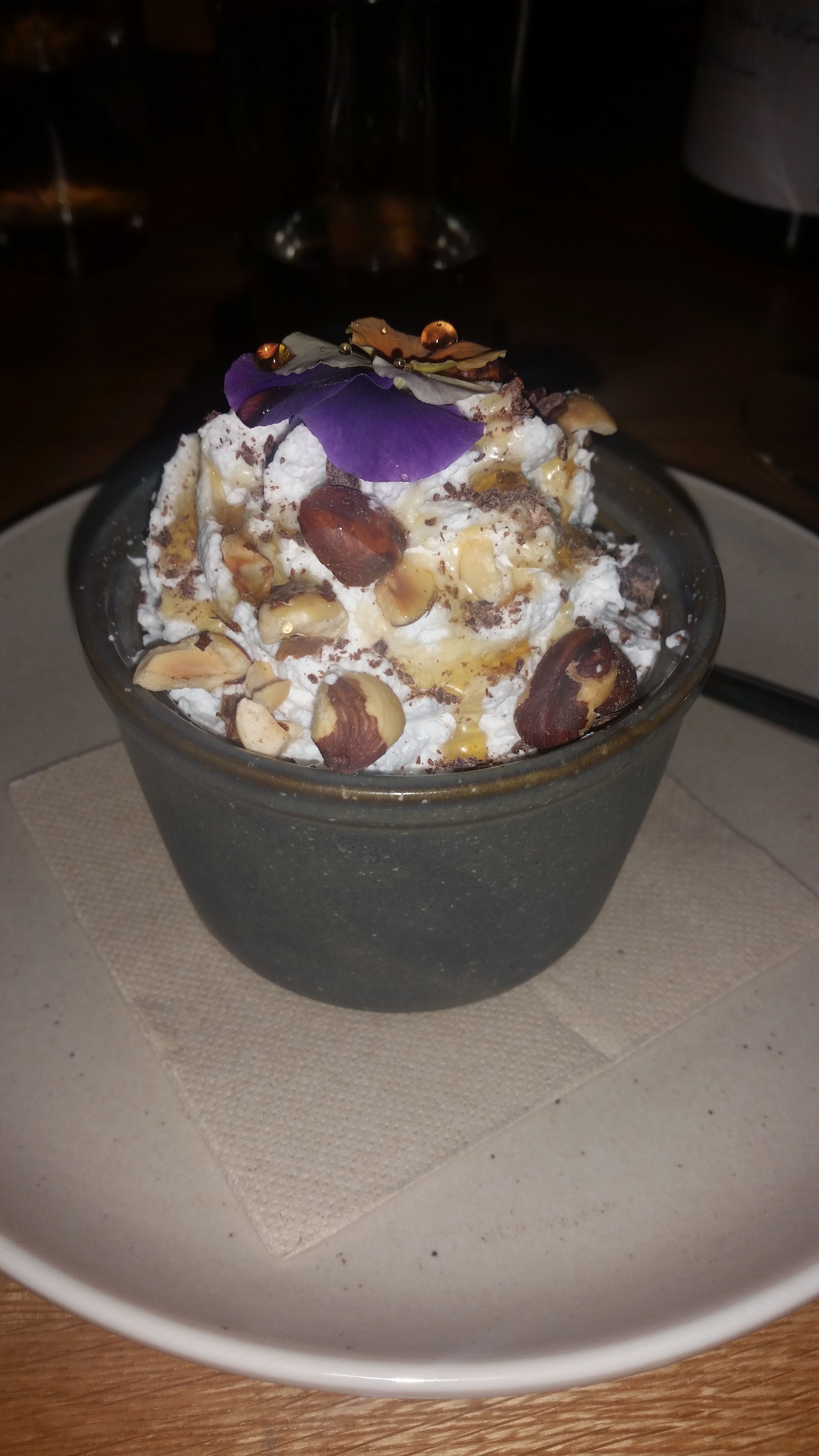 Coconut whipped cream... and the texture was fantastic.  Roasted hazelnuts.  Beautiful flowers (yes, I ate them).  Chocolate powder.  Under all of that stuff was this substance that strongly resembled chocolate mousse... turns out they make that with avocado... they need the fat for the right texture... but you couldn't taste avocado, it tasted like chocolate mousse.  This dessert was delicate and flavorful, and I would eat it again any day.
Wonderful food aside, let me tell a brief story about our arrival experience in order to show just how great the folks were here.  The day we had this reservation was our first day in the country, and I made the reservation at a normal French dinner time (read: very late for your average American) in order to force us all to be awake and active all day so we could sleep well that first night and beat the jet lag.  Well, through no fault of my own, we were running quite late to dinner.  No worries, I called the restaurant and told them that we would be late.  See, the restaurants are small, so if someone misses a reservation, that costs them money... they combat this by charging your credit card if you don't show up.  Well, when I called from the phone of the apartment we had rented, I managed to call the wrong location.  They are a small enough business that they could handle this... the very nice lady who I talked to said she would pass the message along.
Fast forward.  We are late, and we take Métro line 12 to Notre-Dame-de-Lorette.  Now, I've been to Paris many times, and know my way around some parts of town very very well... well enough that on more than one occasion, I have been able to give directions to actual French people.  This part of town is not one of the ones I know.  I had never been to this Métro station, nor had I been to this part of the 9th.  When we exit the Métro... chaos.  It's one of those odd French intersections where multiple roads converge in a less-than-logical fashion.  On top of that, there is construction.  On top of that, the street signage leaves much to be desired.  We get lost.  I am not often lost in Paris, so this was frustrating.  We wander one way, and when that clearly is wrong, we wander another way... and then I decide to wander into a local hotel to ask for directions.  The folks in the hotel are not familiar with this restaurant, and are also not familiar with the street it is on... but I was able to point out to them on one of their hotel tourist maps where I thought it was, and they were able to tell us how to walk in that direction.  Ok, finally headed the right way... and from that point, it's only about 15 minutes to get to the place.  We get there, and we are so late... very much later than we had possibly foreseen.  We're so late that they have locked the front door, as they're not letting any more folks into the restaurant.. However, upon seeing us, they open the door and ask if I am Mike.  I say that I am and explain that we got terribly lost getting there on foot, and profusely apologize in the most respectful French I could summon.  The very kind co-owner gentleman who I mentioned before lets a sigh of relief and immediately shows us to the table that had been reserved for us.  We received a fantastically warm welcome.
To sum up... food outstanding, service outstanding, experience unforgettable, you should go here if ever you are in Paris.