With the caveat that I've never been to Japan, please be aware that the best sushi I have ever had can be found in Toledo, Ohio... at Kengo. 
This is a small restaurant in downtown Toledo, run by Kengo Kato.  When I say small, I mean small.  There are only 23 seats here.  Only 5 of those seats are available for reservations (more details on that later).  If you stop by and it is full - and it often is - you write your name and party size on a green chalkboard and you wait in a line off to the side.  While you wait, you can enjoy some excellent cocktails, beer, wine, sake, or other beverage of your choice.  Once you get seated, the fun truly begins.
Kengo told me on one visit that he and the kitchen staff arrive each day at noon.  The restaurant opens at 5:00.  What are they doing with that time?  All kinds of prep... breaking down fish, meat, vegetables... preparing sauces and accompaniments... planning the menu... see, the menu changes daily, based on what ingredients are fresh and based on what Chef Kengo feels like serving.
Let's say you want to be assured of a seat.  In that case, you should make an omakase reservation.  The Internet tells me that "omakase" means "I'll leave it up to you" in Japanese.  If you make this reservation, you get to sit at one of the 5 seats at the sushi bar, right in front of Kengo's work space.  You'll be eating the specific menu that he has planned for you, in a specific order.  I recently had this experience.  Let me show you what my visit was like.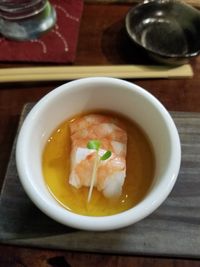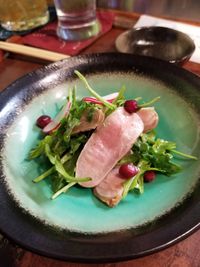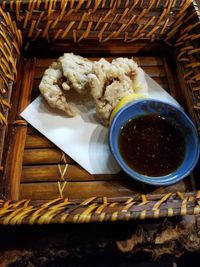 The first course was described as "cold dashi egg tofu".  It was essentially a custard -and may have been made out of either egg or silken tofu, based on the texture - covered in dashi.  That's a shrimp sitting on top there.  Course two was a salad.  Arugula, radish, and pomegranate arils, tossed in a pretty classic vinaigrette, topped with smoked Muscovy Duck breast.  I asked, they smoke the breast themselves.  That third course is fried soft-shell crab, and it was every bit as fantastic as you think it was.
After these appetizer-type courses, it was time for the yakitori portion of our meal.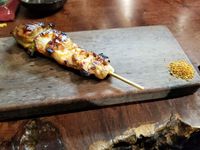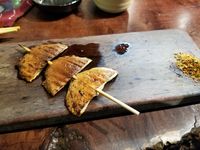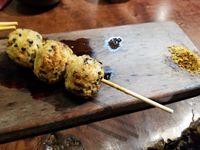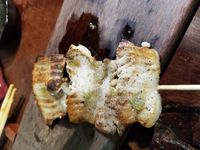 These were assorted delicious things cooked over fire, speared with a stick, then placed on a nice wood board.  Chicken thigh, shiitake mushroom, chicken meatballs, pork belly... togarashi on the side of the board.  These were all delicious.  It seems like it would be easy for a chicken meatball to be dry... but these were not.
After this, sushi.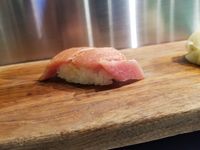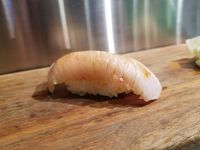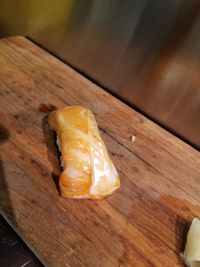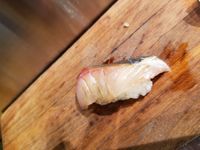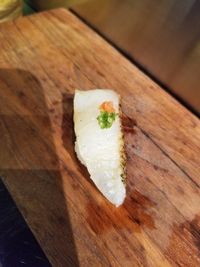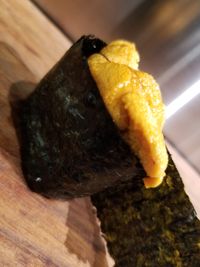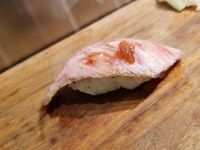 Bluefin Otoro.  Hamachi.  Salmon.  Skipjack.  Madai, with some pickled daikon and chili on top.  Uni wrapped in some seaweed.  WAGYU.
Kengo seasoned all of these before presenting them to us with the correct amount of their house made soy sauce.  After taking a picture, I picked up each piece with the best tools I own - my fingers - and popped them into my mouth.  
One more course.  A roll.  Tuna, pickled daikon, green onion.  Simple, delicious.  This was it: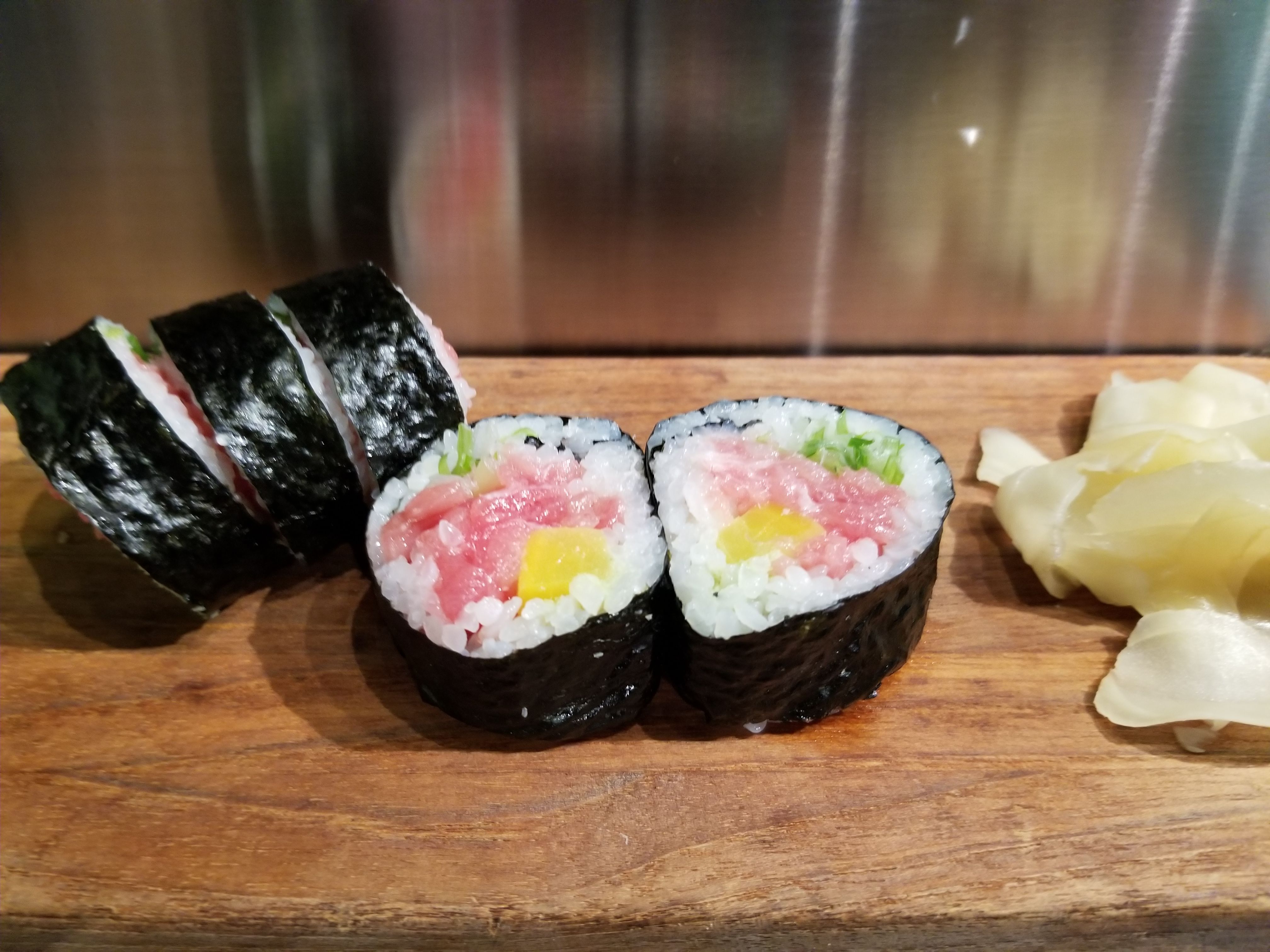 Understandably, this is a very popular restaurant in Toledo.  Every time I have visited, the place has been full.  On my first couple of visits, I ended up waiting in that line I mentioned earlier... from now on, I think I'll go with the omakase option.  You get right up close to Kengo and his sous chefs as they work, and you get to have some nice conversation with them.  Also, every time I have visited, they run out of something... yes, they get enough traffic that they sell out of a few of their menu options during the course of the day.  If you decide to visit, and you opt to not try the omakase, I recommend you get there as close to their 5:00 opening time as possible.
If perchance you wish for a second opinion, here's a newspaper article from the Toledo Blade.
Summary:  Kengo and all of his staff members are warm and friendly.  They work very hard.  They clearly take pride in their craft, using high quality ingredients, and then executing well.  They cheerfully shout a Japanese greeting whenever someone walks into the restaurant, and shout a Japanese farewell when they exit.  I always look forward to my next visit, and strongly recommend Kengo to anyone who even remotely likes sushi.