Johnnyswim is the husband/wife team of Abner Ramirez and Amanda Sudano.  I first discovered their music when they appeared on the Tiny Desk show on NPR.  Shortly after, I bought their album, Diamonds.  At the moment they are on tour in support of Moonlight, their newest album that came out this year.  I love their sound, and loved the energy they showed in the aforementioned Tiny Desk show, so really wanted to catch them on this tour.  Usually when I go see a show, I am familiar with the artist's entire catalog... in this case, I only knew one of their albums and I've heard a couple of singles from the latest one, so there was a great deal for me to discover.  
I was surprised at how long the line was for entry to the show.  Now, I am just about completely disconnected from the current musical zeitgeist ; other than the name of the occasional pop artist or rapper, I have no idea what is popular at the moment.  In my circle of musicians, friends, acquaintances, and family, Johnnyswim is rather unknown, so I was unprepared for the size of the crowd.  This is good, it reminds me that we need to step outside of our bubble every now and then... and also, these are musicians and songwriters who I respect, so it was nice to see that they are well supported.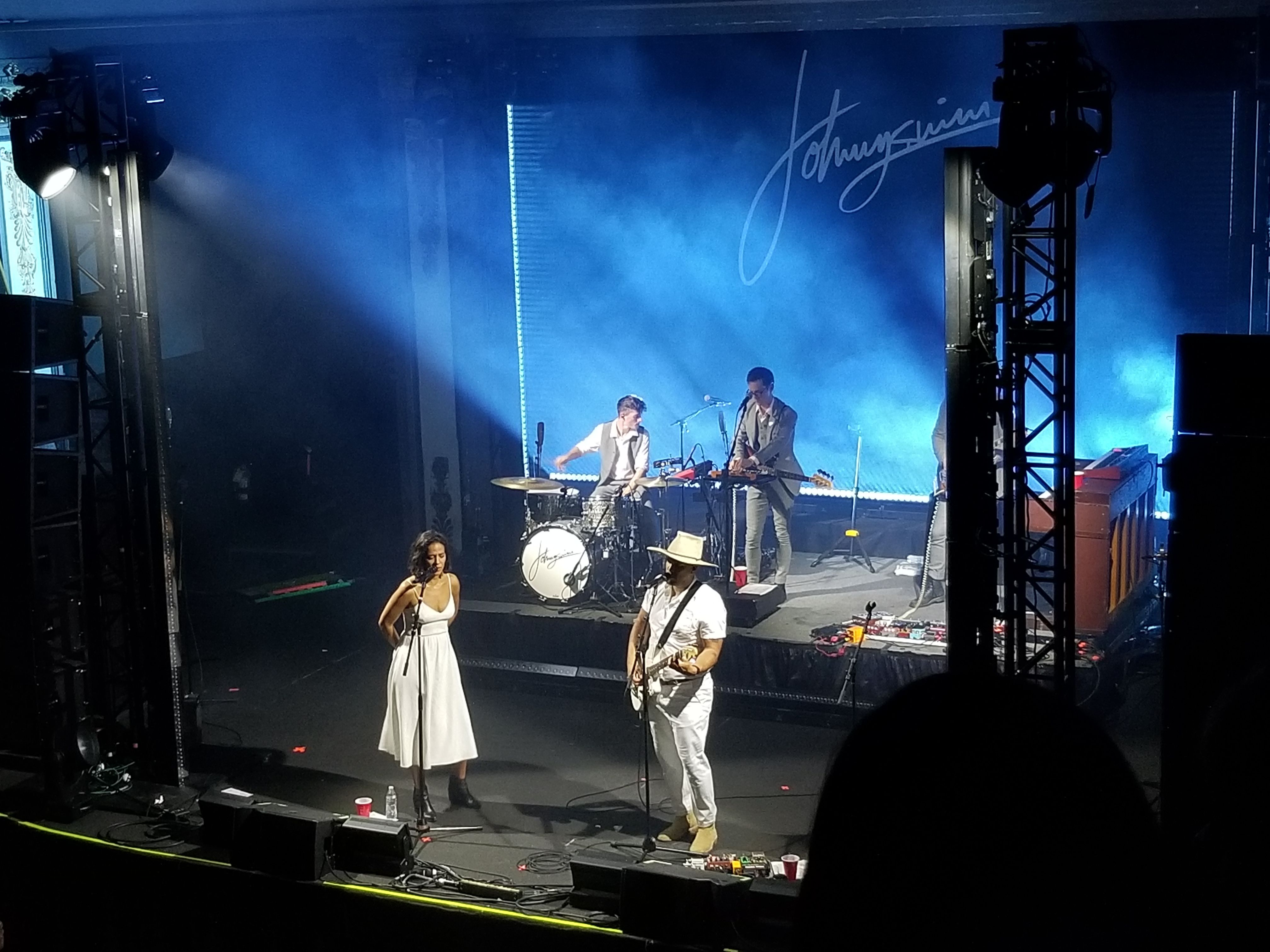 Before I get into the music, let me discuss the visual aspect of the show.  I don't know much of anything about fashion, but this group of musicians took the stage with a look that seemed to be a mix of old and new.  See, the drummer, bassist/keyboardist/noise-maker, and guitarist who travel with Abner and Amanda were dressed in sharp three piece gray suits... white shirts, gray vest that buttoned up quite high.  (Of course, the drummer dispensed with his jacket and vest and rolled his shirt sleeves up about three songs into the set.)  This reminded me of pictures and video I had seen of Motown artists, where the band dressed in matching suits.  As for Abner and Amanda, they were both striking dressed in white... Amanda in a simple and elegant shin-length dress with spaghetti straps, Abner in bright white pants (that looked like a fantastic target for wing sauce) and white shirt, topped off with a wide-brimmed hat.  It seemed to me that white and gray were the colors they had chosen for their brand on this tour... and of course, I am not following them around the country, so I don't know if they are all dressed this way each night, but it wouldn't surprise me if that were the case.
To the songs.  I really enjoy the songwriting from Abner and Amanda.  Now, I must admit that I am not always a fan of their lyrics - although I think they are getting better at that - but I quite enjoy the music.  It is a mix of influences from multiple genres... folk, soul, rock, blues, latin sounds.  It features a great deal of male/female vocal harmony. You know the old adage that "you write what you know"?  Johnnyswim are a textbook case, as the vast majority of their songs are about their love for each other or their relationship. (There was even a song where Abner serenaded his wife alone onstage, appropriately called "Amanda".)  Abner spent most of the night playing acoustic guitar, while one of the gentleman in the back who tours with them filled in atmosphere or little lead licks with an electric guitar.  There were a couple of occasions where Abner played what looked like a hollow body Gibson with one of those Bigsby whammy bars, getting a reverb heavy surf-rock sound.  He tagged the intro to one song with the beginning to "Besame Mucho", and that one was played with an older-looking acoustic guitar that was not plugged into any amplification... they put a mic right in front of the guitar to pick it up... also, for that bit, the vocal microphone was a vintage-looking one of the style where the microphone is suspended inside a ring.  As I am not a microphone expert, I don't have the name or model number, but I think this is one of those ribbon microphones they used to use on AM radio back in the day... indeed, whether due to the mic or the effect that their mixing folks added, an old AM radio sound is what his voice came out sounding like.  I thought this was very cool, a bit more on this later.
Abner and Amanda have undeniably great chemistry, and this was on display often during the show, as they would share a microphone, forcing them to stand very close to each other.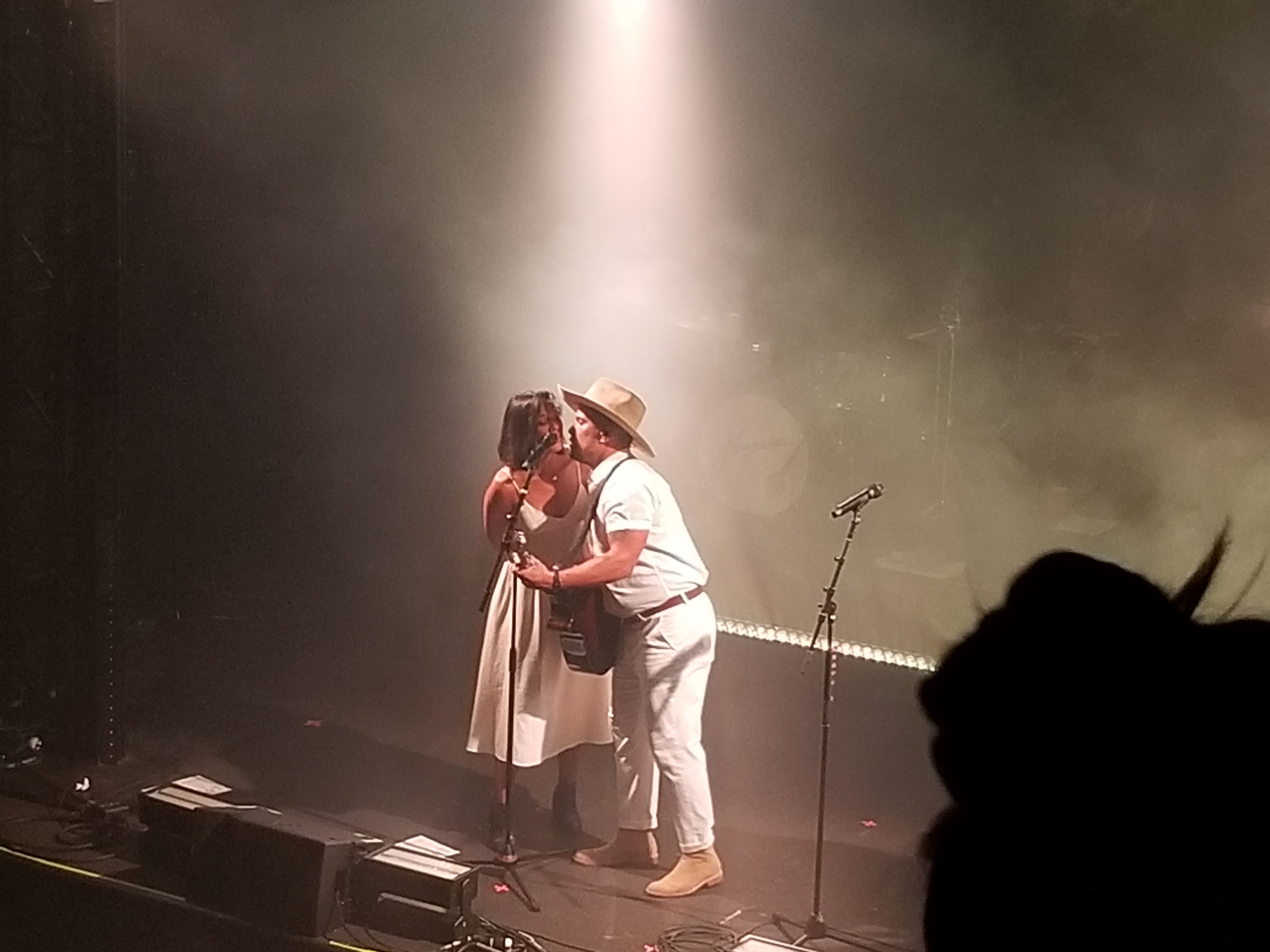 This is clearly an experienced and savvy touring band.  After the first two songs of the night, Abner whooped "O-H!" into the microphone... there is probably no easier way to ingratiate oneself with an audience in Columbus than to start that particular cheer.  I counted at least three different styles of vocal microphones used during this show, possibly for different desired sounds on the songs.. also, Abner and Amanda were not static on stage, switching locations between stage left and stage right a few times, showing some fantastic stage presence, and not forgetting to acknowledge the folks up on the balcony.  They had been to Ohio before, and Abner remarked on two different occasions how there were "only 26" people there to see them the first time they had come here, and how they certainly didn't take this big crowd for granted.  In what is surely a memorable moment for many of the folks on the floor, after mentioning that they missed the intimacy of their previous visit and they wanted to get closer to the crowd, Abner and Amanda made their way to the center of the venue, accompanied by a couple of members of their crew, bringing the microphone along.  Abner sang from here, at one point accepting a beer he was offered by someone in the crowd and taking some deep gulps, while Amanda gladly accepted mobile phones handed to her by audience members in order to take selfies or quick videos.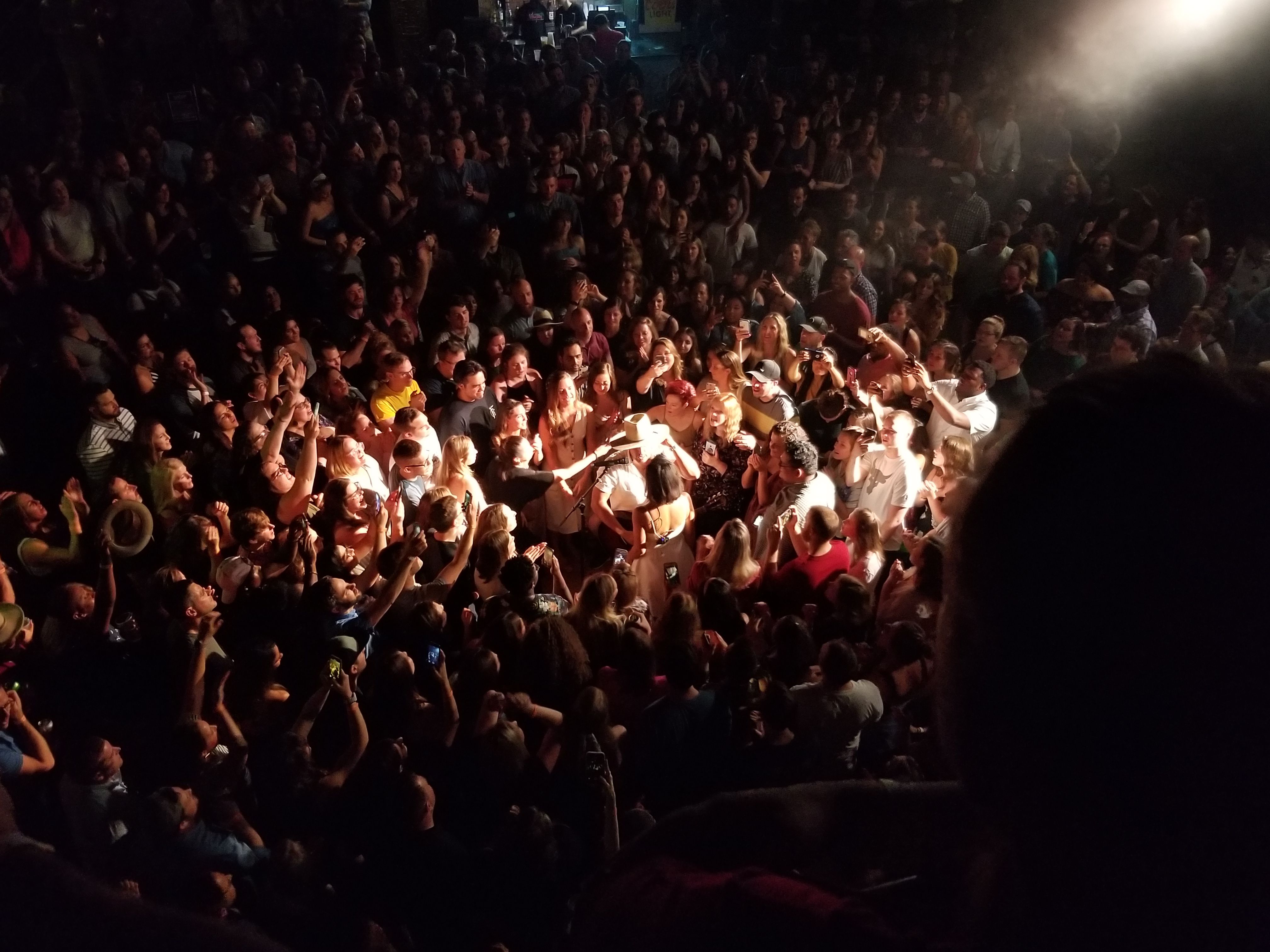 The crowd was enthusiastic, gleefully singing along to just about every song.  Sadly, I could not participate in most of this shared experience, because as I mentioned earlier, I am only familiar with one album's worth of their songs.  Johnnyswim were expecting a sing-along on some of their hooks, and even encouraged it at various points... on a couple of occasions, they seemed genuinely surprised that their lyrics were being sung back to them.  (A brief aside: as a musician, I find it hard to even imagine how great it would feel to have a thousand people singing along to one of my songs.  This no doubt makes the hard work of touring quite worth it.)  Although the crowd was enthusiastic and supportive for the most part, there were a couple of moments that left me shaking my head.  During some of the more quiet parts of the show, a great deal of random conversation could be heard.  Most unfortunately, all of that conversation drowned out the "Besame Mucho" tag, at least the guitar part of it...  to their credit, several folks in the crowd made an attempt to hush everyone up, but it was to no avail.  Are you people not paying attention?  Do you not see that this guitar is not amplified, and he's playing it directly into a microphone, and he's playing it quietly?  This annoying moment made me miss the much better (albeit smaller) crowds we have at Yellow Cab in Dayton.
Two song encore,  the first of which was "Take the World" from the Diamonds album, one of a number of pretty songs about their relationship.  ("They don't make fairy tales sweeter than ours" is one of the lyrics.)  On the album, this song has some subtle drums with brushes and some strings... for this performance, it was just Abner and Amanda and a guitar.  After that, the gentlemen who back them up on tour came on down front for the last song.  I didn't know this one, and the setlist hasn't been posted anywhere online yet... but it was clear that everyone was enjoying themselves.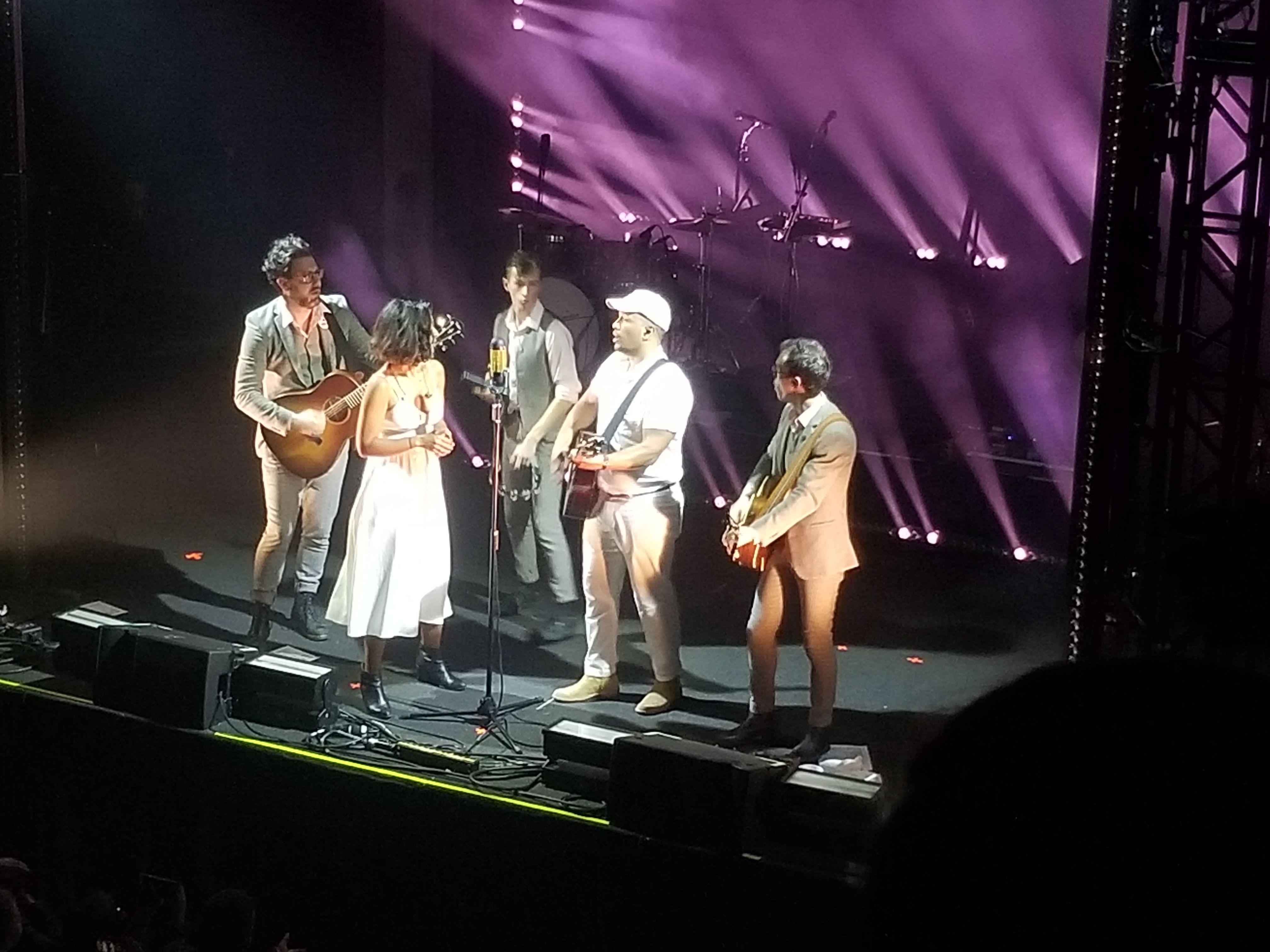 If Johnnyswim visits your area, go see them.  They know how to write a hook.  Their songs are bigger and punchier live, trading some of the studio prettiness for a bigger sound to stand up to the size of the venues they are playing.  (I noticed this most in the rhythm section.)  Abner and Amanda are both beautiful singers and energetic performers.  I recommend familiarizing yourself with the songs on Moonlight if you catch them this year, as they are playing most of the songs from that album on tour.