Let's start by making sure we all pronounce Jenee's name correctly... it rhymes with the French name Renée.  Ok, there you go.  Jenee Halstead is a songwriter that comes to us from Massachusetts, and her new album Disposable Love will be released THIS WEEK, on Friday the 22nd.  I very much dig it, and I think you will, too... when you listen to these songs, you can tell that she feels every word she sings.  After the photo, an interview with Jenee Halstead.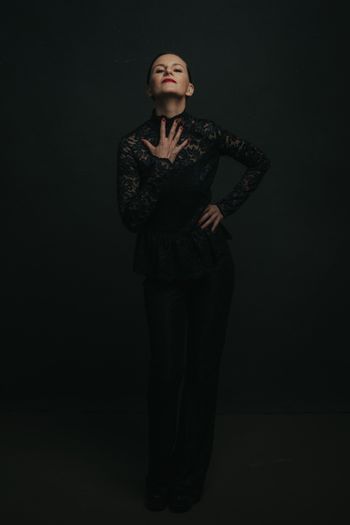 1.  Let's hear the elevator pitch for your skill set and genre. 
Skill set - I have no way or reason to give a skill set. Not sure how to even answer this question. I guess I would call myself an artist. Not considering a skill or ability. I play guitar, I sing my own songs, I seem to get better with each album. It's all about expression. I try to be pure in my expression. Not sure how that relates to my abilities. That is for others to judge I guess. 
As far a genre goes I guess I am just a singer-songwriter. I am not glossy enough to be pop, not americana.  You could call it indie pop or indie soul. The album is really all over the map. So I think singer-songwriter is the best answer.
2.  You've travelled with a choir that performed Gregorian chant music.  (I know this because I read your bio.)  Are there parts of that experience that filter into your songwriting and performing today?  How so? 
I guess the Gregorian choir just seeps in as far as purity and sacredness of music. I always want to hear a purity of intention and intentionality if you will in all music. It doesn't matter the genre. If it feels like it is sacred to the person: expressed, meaningful, passionate. Then for me that counts as pure intention. I think there is just a level of sacredness and appreciation in music that I like to hear and experience and witness from whomever I am listening to. If that is not there, it will in no way interest me.
3.  What was the first album you can remember buying with your own money? 
Maybe Eazy E. I think it was the Eazy E cassette Eazy-Duz-It.. I was a huge hip hop, rap and R&B fan and still am. Oh boy I knew every word to that cassette. Can you imagine a skinny, awkward 12 year old girl from Spokane spitting Easy E on the way to junior high school? Yep. I loved it.
4.  Tell me about the last concert you saw. 
The last concert I saw: live or online? 
I can't even remember. Maybe Lucinda Williams at The Paradise in Boston for the 20th Anniversary of Car Wheels on a Gravel Road. It was great. She was funny. Telling stories of what inspired the songs in between playing. Her stories were mostly about a failed love affair during tour and living on the road. So good. I had accidentally seen her twice that year within a three month span. I think friends offered a ticket each time. So good. She is just amazing when she is sober. I think she has been sober for a while.  Three months prior I saw her outdoors at the Blue Pavilion (I think that is the name) in Boston and a fricken fireworks show went off over the water during one of her songs. Amazing.
5.  What artists do you consider to be your biggest influences? 
My biggest influences?  I am going to say Kate Bush. Although my music sounds nothing like hers. It's just her. She is a Master of the highest degree. A sorceress. Her music, expression, songwriting, vocal range, vocal color, vocal ability, all of it is just crazy. I think what I love the most about her is she is working with the elements and mastering the sonic space and alchemizing the planet with her voice, with her lyrics. I can't explain it. Just listen to "Love and Anger" off The Sensual World.  I guess she just inspires me in her purity, her intentionality and her ability to heal the world with her music, with the mastery in which she turns a phrase with her voice. 
Watch the video here:
Second would be Joni Mitchell. For all the same reasons. The ability to speak and sing of her emotions in a way this is still unrivaled. Her poetry, her insane and gorgeous musical compositions. 
Third would be Nick Cave. He is like my soul. He sings and expresses my soul in masculine form.
6.  How has the ongoing pandemic affected your music career?
The ongoing pandemic has changed things a lot. It pushed the album release back 8 months. I hadn't really booked a lot of live shows for the release, so that wasn't an issue. I guess for me it was just hard to make the transition online. I didn't want to play online at first. I was focusing on getting singles out from the album, so I didn't have to worry too much about being in the studio or anything. I am finally getting around to playing online and doing a Variety Show through Stream Yard. I just love the live show with people in the room. I work with the energy in the room from people. It felt so strange at first when I was trying to play online in early March. You don't get that energetic interaction. I guess I should have viewed it early on more like a service. Service to others. That may have helped me get over the fear of online playing. I guess it's also devastating seeing some of my favorite stages shutting down. I don't know what to think about a lot of it right now. There is just now way to know how things will be when all of this is said and done.
7. You sound just a little bit different on each release, and it's interesting to me to notice an artist's progress like that.  On Disposable Love you seem to have embraced some surprising changes of feel and instrumentation within the same song ("I'll Be Your Man"), showing off influences from blues and gospel at times ("In the Seams"), and even a song that feels like it's a country song except for the really interesting bass line ("Solitary People").  When you started putting this album together, did you plan to cover that much different musical ground, or did it just kind of happen? 
When we started this album I don't think we planned on covering this much ground. I have always dappled in several "genres" as a writer. In previous albums I have married folk with Americana, a little bit of Country or Alt-Country, electronic beats and having the album musicians run roots instrumentation through pedals and amps.  This was my work with producer Evan Brubaker on my first two full length albums. I knew on this album I wanted to cover more soul and pop sounds. I was clear on that.  I was writing songs that sounded more pop influenced and my co-writes with Berklee Songwriting professor Susan Cattaneo (who is a good friend) were each much more soul and pop driven. We co-wrote "In the Seams," "Mother" and "Disposable Love."  She also co-wrote the lyrics on "Skin," which to me is truly pop all the way.  I think Dave Brophy, my producer, is comfortable bridging all these worlds and in such a unique and masterful way. That was why I was excited to work with him. On any given day he will be working on a Jewish Klezmer album, a soul album, a straight up country Americana album and a high level jazz album.  He is a jack of all trades, multi-instrumentalist and he is comfortable swimming in many ponds. We both love Spaghetti Western and noir sounding music and I think that informed and was a thread through a lot of the music...but it also has a fresher pop approach to it.
8. The COVID-19 vaccine is slowly trickling out, which means that maybe - just maybe - touring could be back this year.  If we get live shows back, do you plan to go on the road with the album?  If we don't get live shows back, what are your next steps?
I honestly am not sure and haven't given this much thought yet. The continual on and off lock downs and insecurity around this whole thing has me table everything for now. If venues start to open in the next six months I may decide to book some shows.  I am hoping to at least do one big celebratory show in Boston sometime in the next year (fingers crossed). I just don't think we are going to know for a while how all of this will ramp down (unfortunately) and it's better for my mental health to look at the long game and not get my hopes up too high.
***
Trust me on this, you want to listen to Jenee's new album, Disposable Love, and I'd like to remind you that you can do so this Friday.  I linked her official website above, but just in case you missed it, click here to visit Jenee Halstead on the Internet.  You can also find Jenee on Facebook, Instagram, and Twitter.