I mispronounced Treneti Brown's first name until I was corrected.  Here's how you pronounce it: Tre NET i, with the stress on the second syllable.  Everyone got that?  Good.  
Treneti plays bass, and those who know me well know that I have lots of love for fellow purveyors of the bottom end.  She released an album called Psalms of Saturn earlier this year.  It is soulful and moving and soothing, with some jazz influences.  You can find it on all of your standard streaming services, but since Bandcamp Friday is happening this week on September 4th, why not visit Treneti's Bandcamp page?
Interview after the photo: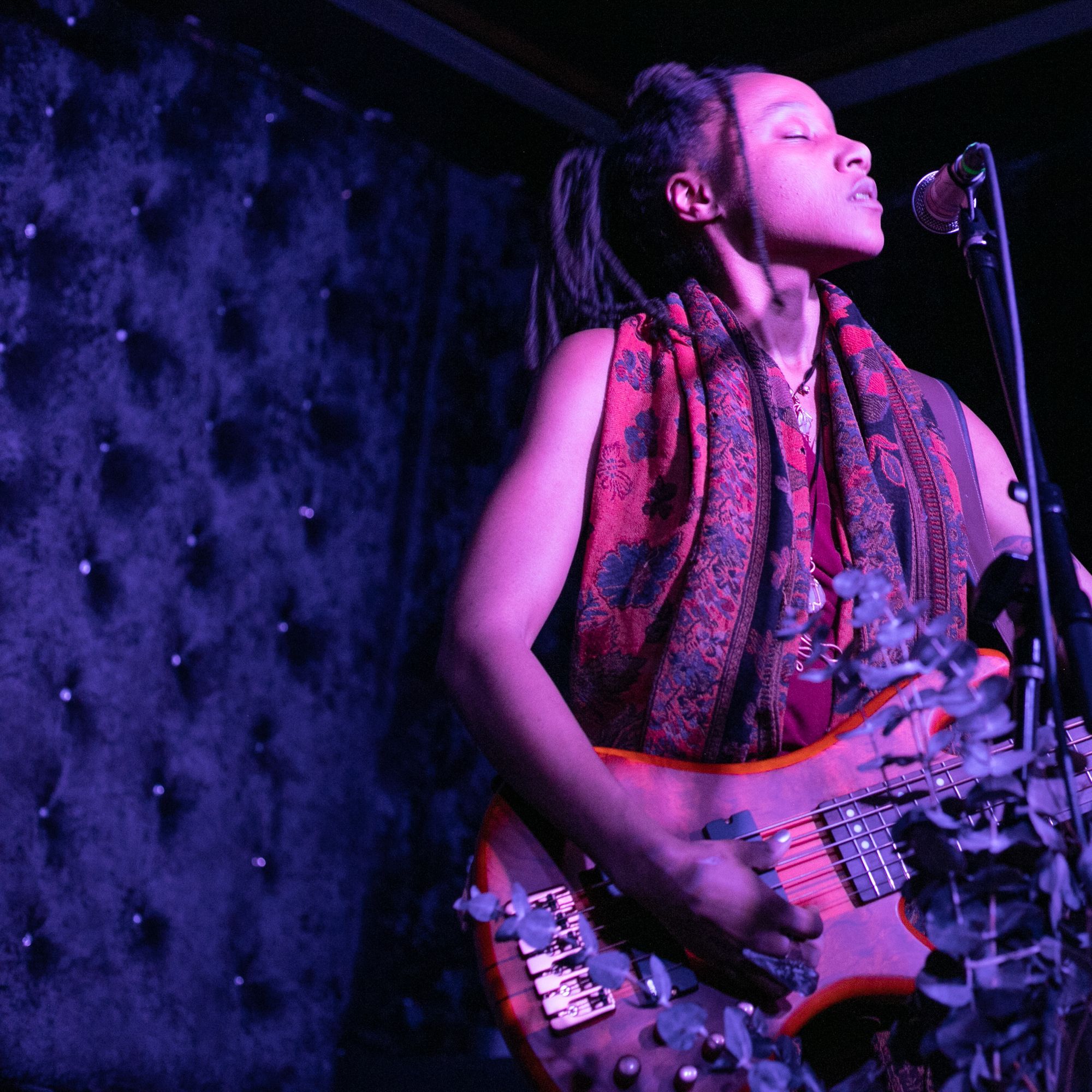 1.  Let's hear the elevator pitch for your skill set and genre 
I am a vocalist, bassist, songwriter and producer. My music sits in the space between genres, it has felt best for me calling it Avant Garde Soul. 
2.  It's always nice to talk to a fellow bass player.  Can you tell me about the instrument you most use for performing and recording?
Yes! I love that you play bass too. For performance I use a 6-string Schecter with flat wound gold strings. The flat wound strings are the key to my sound. It allows me space to play with the frets and bend notes without it sounding tingy or rough. For the recording of the album I use 3 different bass guitars, My OG acoustic electric bass, I call her Caress, was played on Sway, Bamboo and RA. This was very sentimental since I wrote those songs on that bass. 
3.  What was the first album you can remember buying with your own money? 
Wowzer that's a tuff one, I think it was a cassette actually and it was Aayliah. 
4.  Tell me about the last concert you saw. 
The last memorable show I saw was Lauren Hill. 
5.  What artists do you consider to be your biggest influences? 
Bjork, Low Leaf for sure seeing Low Leaf live really helped me see there was space for my voice and my message in the music industry. I also am very inspired by Radiohead and Bob Marley. 
6. If you could change one thing about the music industry, what would it be? 
I'd destroy the record labels and CEO's who have investments in the prison system and are creating artists to be puppets, preaching and glorifying diminishing behavioral patterns to our brown and black youth, causing them to make decisions that land them in prison cells. Which is allow these insidious companies to make money on both ends of the deal. Its evil, mental and physical enslavement. I'd like to destroy them. Like literally dematerialize them and everything they have ever created. 
7.  You started as a professional dancer.  (I read your bio.)  I can kind of understand the appeal of bass with that background, given that its main function is in the rhythm section.  When did you start learning how to play, and when did you start writing your own songs? 
I really quantum shifted into music. You are absolutely correct, I grew a very strong love for bass as a dancer, to me the bass is the secret sauce controlling the whole mood and groove of the entire song. (Mike adds: Yes.  Yes, it is.) I loved the instrument so much as a dancer that I got the bass clef tattooed on my arm. I have always surrounded myself with high level musicians but I never saw myself as one. When I was 27 I started feeling a deep urge to create music. It became undeniable, I talk about this journey in the Book Psalms of Saturn that accompanies this debut album. A friend of mine who is a bassist saw my tattoo one day when we were at this jam I used to host in LA called Cosmic Soup, it was a place for musicians and dancers to come together and improvise while sipping yummy kava kava root. He asked me if I played kind of assuming I did since I had the tattoo. When I told him no and that I didn't know what my instrument was yet he looked surprised. Soon after, he invited me to his house to try playing his bass. It was love at first thump. I played for hours and then I went and got my own as soon as possible. I started receiving lyrics and simple melodies when I was 24 but I didn't actually start writing songs until I got my bass. The songs came through me intuitively and taught me how to play the instrument as they came through. Spending time in the woods was also a great teacher. I mimicked the patterns in the plants to create bass lines and listened to the plants in meditative states to learn how to sing. Everything happened really fast for me. It's like deep down inside I was already a musician and I just needed to say yes, remember some things and step into it for my career to activate. 
8.  What is your songwriting process like these days? 
These days I have been leaning more into my sound through adding some electronic music production to my palette, creating my own beat labyrinths is giving me even more freedom with my voice than I could have imagined. Having access to adjusting the textures of each tone in my compositions is allowing me space to pull in more of the cosmic melodies I hear in my head. I am enjoying really sinking into exploration right now and seeing where these new sounds take me. Lyrically, I keep my voice memo app handy I receive more lyrics than I can use. They come through all the time. I bath everyday and turn my phone on airplane mode and record with the app while I sing the lyrics I receive in the tub. I call it bath church! lol
***
This is Treneti's official website.  That's a good place to start to learn more about her.  You can also find Treneti on Facebook and Instagram.