An interview with a musician in back-to-back weeks!  What's with this craziness?  Glad you asked.  The song that TINO and I collaborated on is available tomorrow, Tuesday 14th July, on all streaming services. I figured this would be a good time for all of us to get to know him better.  First, and you might have already guessed this, but "TINO" is a nickname and stage name.  His "government name" is Valentino Halton.  (I need to remind myself of this, as I misprinted his last name as "Hamilton" in the liner notes for the compact disc version of Anxious Inventions & Fictions.  He's chill though, so he has forgiven me.)
TINO recently released an EP called Past Due.  It's solid, you should definitely check it out.  You'll probably enjoy the groove on the track "95 Tribe", which is about the baseball club in TINO's hometown of Cleveland.  (He's a Dayton fella now, but is originally from Cleveland.)  I happen to personally enjoy this track very much, partially because of the excellent groove and lyrics, but also because I remember the World Series that year quite fondly, it being my senior year in high school, and my favorite team being involved.  My favorite team is the National League club, by the way.  Just to remind everyone, the World Series lasted six games that year.  In Game Six, there was only one run scored.  This was it.   Do you remember how that game ended?  I do, but let's refresh everyone's memory.  This is the last out.  TINO managed not to mention Carlos Baerga in "95 Tribe", but it's ok.  My personal favorite from the EP is "Gov't", which also has a fantastic groove.  
Strangely enough, all of the previous interview subjects in this series are women, so I'm breaking new ground with this one.  Interview with this gifted gentleman after the photo.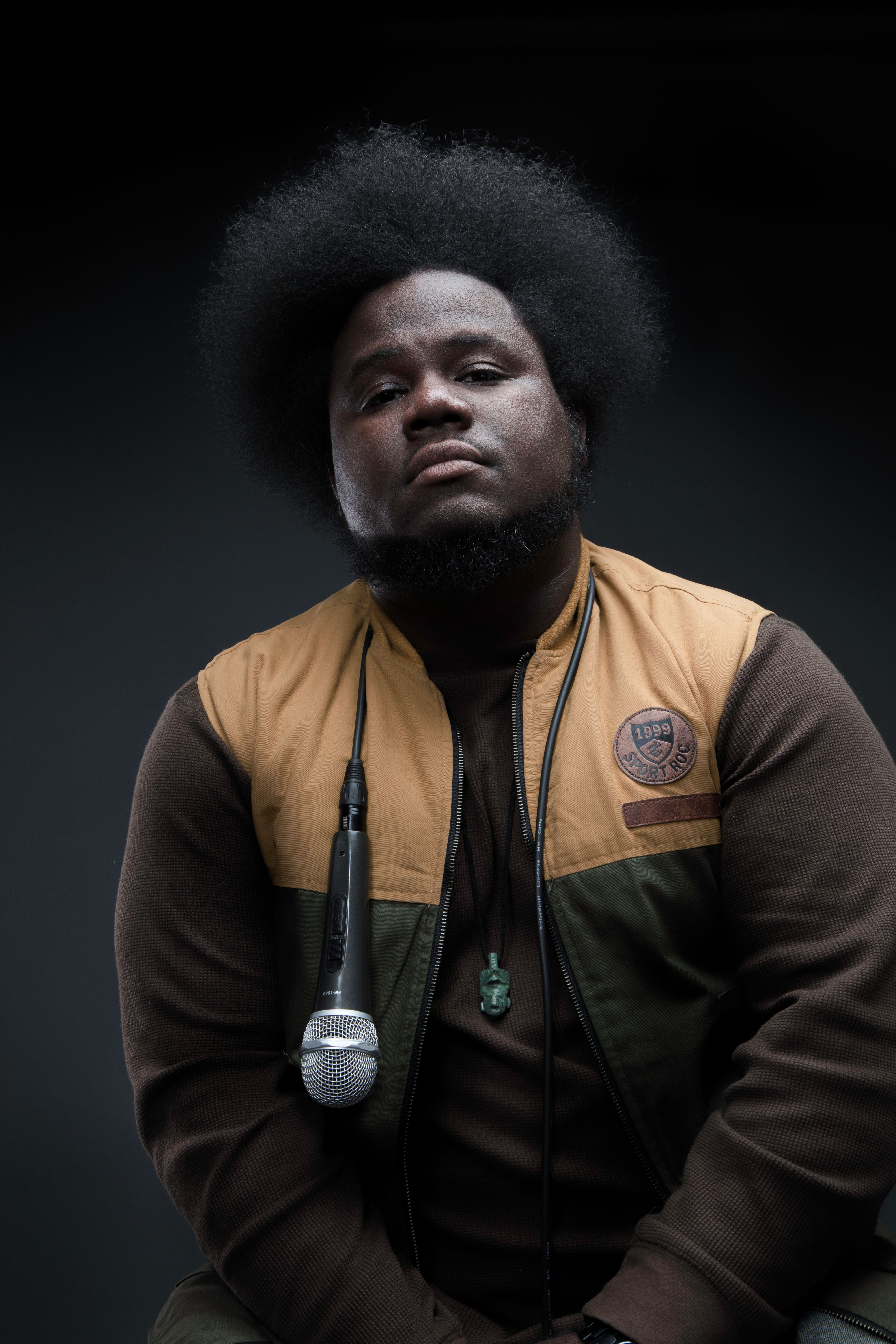 1.  Let's hear the elevator pitch for your skill set and genre.

I'm a high energy performer who is at home over uptempo production. My music ranges from deeply personal to ubiquitous in theme. There's something for everyone, but not in a generic and vague way. 
2.  I remember meeting you because first, I saw you perform with Sidekick Complex, and second, I would see you at the indie rock shows, and that's my genre.  Then I checked out a couple of your solo sets.  At some point if/when we can all go to shows again, I imagine there are folks who go to the rock shows who also enjoy hip hop, but don't know much about that music community in our town.  Maybe it works the other way as well.  How do you think we can cross-promote so the music community has fewer silos?

I think it's as easy as "Hey, I like your music. Want to play this show with me?" That's how I got my first shows and I construct a lot of bills I put together in a similar fashion. I try to attract fans that enjoy a wide spectrum of music and not just one genre so variety is welcome. 
3.  What was the first album you can remember buying with your own money?

Mobb Deep, Infamy. I bought it to score a movie I made in high school 
4.  What is your creative process like?

For me it always starts with a beat. I hear something, fall in love, and I start writing. It could be production someone sends me, a song I heard on the radio, or even a moment during another artists live performance. I don't use everything I write. 50% of what I do will never see the light of day or I'm not good enough yet to flush the idea out. 
5.  What artists do you consider to be your biggest influences?

Michael Jackson for his showmanship, Prince for his musicianship, Lauryn Hill for her spirit, Amy Winehouse for her ability to channel her pain, Kanye/OutKast for re-popularizing music that wasn't gangster rap, and Drake for his ability to sum up a lot of these qualities in one hip hop artist. 
6.  If you could change anything about the music industry, what would it be?

I would hope a focus would be placed back on full bodies of work instead of collections of singles. I miss the cohesive journey music used to be about. 
7,  How do you intend to keep growing as an artist?

As long as I'm willing to admit there is still room for improvement in my art and I don't get content with where I'm at I don't believe I can stop growing as an artist. 
8,  I know you've done a ton of studio work over the last couple of years.  If you don't want to give too much away here, that's fine, but what can we expect from TINO in the near future?

The pandemic has afforded me the opportunity to tweak and refine my next work as well as slate some releases before it. I will say my next full length will be the best version of my work to date.
***
Personally, I strongly believe in the album as an art form, and am disappointed at the general listening habits of folks today.  I agree with TINO on this 100%.  Having TINO in the studio for "Anecdote" was a very educational experience for me, as he has a skill set that I do not have, and I was able to learn from his preparation and his approach.  The man is serious about his craft, and it shows in his results.  I linked to his website above, but you can also find TINO on Facebook, Instagram, and Twitter.  Please check out "Anecdote" tomorrow on Spotify, YouTube, iTunes, Deezer, or wherever you stream music, and also please check out TINO's work on these platforms.