Our interview subject this week recently released her first EP, called Sense of Self.   Listen to it here.   She does her own arranging, engineering, mixing, and production.  She is based in Boston.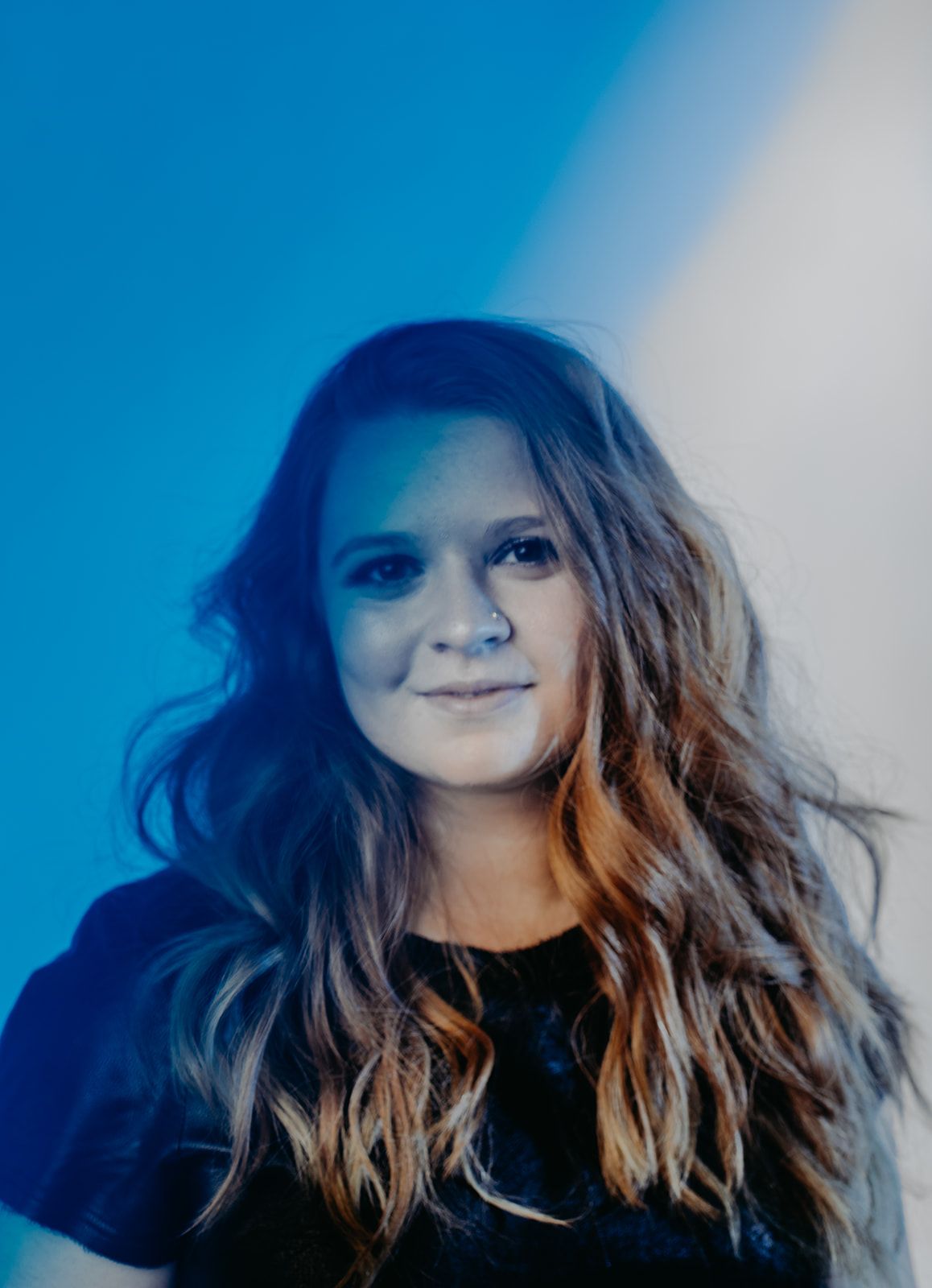 1.  Let's hear the elevator pitch for your skill set and genre. 
I'm an a cappella looper artist. I perform solo vocal arrangements of covers and originals using a loop pedal. 
2.  Your song "Sense of Self" shows some vulnerability.  How long did it take before you were comfortable singing out those feelings in public? 
Honestly, I try not to think about it. When singing in front of an audience, I treat it like any cover I would sing. The song already exists, and my job is to perform it to the best of my ability. It's not about me, anyway. Each person projects their own feelings onto a song, or at least that's my goal - to have a song resonate with them personally. 
3.  What was the first album you can remember buying with your own money? 
Believe it or not, it was the soundtrack to the Broadway musical Next to Normal. It's my favorite musical. The sound is all in the rock genre, and it's about a family dealing with mental illness and loss. 
4.  Tell me about the last concert you saw. 
My most recent concert was Ingrid Michelson at the House of Blues in Boston. I think my favorite moment was when she forgot the words to one of her songs. She just started laughing, and started the song over with the band, but then the whole place, band included, got the giggles so badly at that point, that they weren't even able to finish the song. She was like "Who forgets the lyrics to their own song??" But we've all been there. I love those moments of imperfection at a show. 
5.  What artists do you consider to be your biggest influences? 
As far as a cappella looping goes, I draw most of my inspiration from a jazz singer named Cyrille Aimée. I bought my looper because of her. The first song I learned on the looper was hers - "Nuit Blanche". My new album is more in the vein of singer-songwriters like Sarah Bareilles, Ingrid Michelson, and John Mayer. I have lots of experience in jazz, musical theater, classical, and popular music, so my influences are vast, but that's where I'm living musically at the moment. 
6. Based on your background, when you write songs, I imagine your process is very different than most other songwriters.  Would you be so kind as to describe how you approach songwriting? 
I've been writing poetry since I was very young, about 10 or 11 years old, so the lyrics almost always come first. I recently learned that most people have an "inner monologue" of thoughts. I actually don't. It's more of a sensation than complete sentences in my head. Writing, talking, singing, and sketching come naturally when I'm simply trying to organize my thoughts. Then, use those ideas to write the lyrics in a more structured format. I edit so that the accents fall in the right place, and I break out a rhyming dictionary. Sometimes, I'll just write down a group of words that rhyme that I feel resonate with the emotion or mood, and I'll write an entire verse around those words. When I'm happy with that, I'll write it in musical notation so I don't forget it. From there, I can analyze the implied chord structure of the song and add those to make a lead sheet for myself. Sometimes I'll borrow chord substitutions from other songs that I like at the time. 
7, You have some experience on the engineering side of the business as well.  Can you tell me about how you got in to that, and about what you try to get done in the studio for your clients? 
Before considering myself an engineer, I'm an arranger. I create arrangements of songs for live performance using sheet music. I was able to break down the different elements of a song to create memorable moments within a song. Recording and producing is just another way that I can do that. 
I primarily work in a cappella, so I focus on vocal arrangement and production. Typically, the song is already arranged by the group, so my job with a musician in the studio is to get the best performance possible out of them. Notes and rhythms are second to the emotive energy you need behind a vocal. As a vocalist myself, I also have the pedagogical skills to coach singers on getting a stronger sound, or a completely different vocal technique. Everything I do after that is to honor that performance. 
8,  What is your biggest challenge when it comes to making music? 
Creating the music isn't really challenging at all. I think the challenging part of being a musician is taking the thing that you created and sharing it with the world in a way that they're going to love. People don't realize how many grueling hours and meticulous planning go into an hour-long show or an album release. I love the marketing and management side of music, but it's very hard to do it for yourself. It feels very weird to put yourself out there and promote yourself. I wish there were two of me!
***
Did you notice that Nina actually writes in musical notation?  I find that most impressive, and also very much enjoy the way she builds songs with only her voice.  Why not visit her official website?  You can also connect with Nina on Instagram or on her Facebook page.