For three reasons, the subject of this Ohio Spotlight would probably surprise people that know me.  First, much of the music is country or country-adjacent, and that's not a genre I particularly enjoy.  (More on this later.)  Second, Lydia no longer lives in Ohio, having left us for North Carolina, and unlike Orville and Wilbur, her relationship with North Carolina does not appear to be solely for dunes and wind.  Third, she is famous.  Well, maybe not the kind of famous that means she can't leave her home for fear of paparazzi, but famous enough to have been the subject of a documentary, and successful enough of a musician to have been on Tiny Desk. If these are thoughts you might have had, I assure you that I get it... but when I first discovered the music of Lydia Loveless, she still lived in Ohio,... also, my blog, my rules, yes?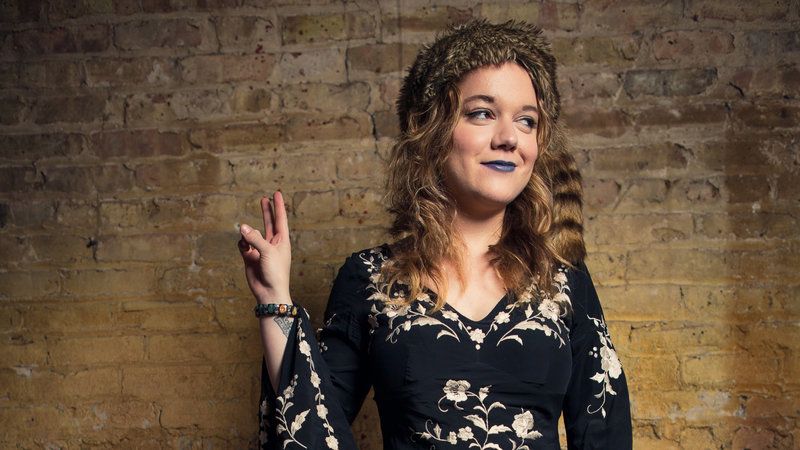 The first Lydia Loveless song I heard was "Same to You". Doctor Jipson played it on his Tuesday show on WUDR.  I think everyone can probably guess what I noticed first... yes, the bass.  Before the vocal starts, in the instrumental vamp intro, that bass line moves around and the groove had me right away.  Then the loud/quiet dynamics of the verse and chorus... the big voice... the harmony vocals in the chorus... the interesting panning of the electric guitars.  One listen, and this song blew me away.  I remember not having any idea who this was... but thanks to Dr. J's habit of tweeting about the songs he is playing, I quickly found out.  (Keep that up Dr. J!)  "Same to You" was the lead single from the 2016 album Real.  I loved this song so much, listened to it nearly on repeat for a few days... also enjoyed the rest of the album.  I never got a chance to see the band live, but you know, there are plenty of good examples on YouTube.  Here's one. How great is that performance?  
Does that sound like a country song to you?  Me neither.  This song was very much right up my alley... so much so, that I started digging into Lydia's earlier albums... and yep, there's a lot of country there, and it was surprising to me.  I did end up listening to her entire catalog, but Real ended up being my favorite collection of songs.  That said, genre aside, there is some great songwriting on all of her albums.  (Also, how many country artists write love songs using 19th century French poets as a point of reference?)
Back to "Same to You" briefly... and we'll use this as an example of why I feel like I have a great deal to learn from Lydia Loveless, and also why I feel like we have a great deal in common as songwriters.  Check out this solo performance. The verse is only two chords.  For the full band version, that gets kind of obscured in all the cool stuff going on... but this... with just an acoustic guitar and that powerful voice... this is how the song was probably born.  Simple song, but outstanding lyrics, the bridge is in a perfect spot and does a perfect thing, and the melody is brilliant.  Now, I don't play guitar, and I don't have that voice of course, but I write on a piano with the end goal in mind of having full-band renditions of my songs, so there are many things I can learn from Lydia's approach.  Craft your lyrics. Craft your melody.  Simple is ok.  Pay attention to arrangement. Write from the heart. (Another thing we have in common is we both love Chris Cornell's Euphoria Mourning album, which was the subject of an earlier blog entry.)
Go listen to this songwriter's music.  If you enjoy country music, maybe start with The Only Man or Indestructible Machine and work your way forward through her catalog. If not, start with Real, which is where I started.