I am nearly 100% certain that I first heard this band in 1997, driving home to Xenia from my call center job in Kettering.  On Sunday nights, one of the local radio stations had a local music program.  I recently wrote about another local band I first heard on this program.  Today, I write about Shrug.  One of the songs in rotation just about every week on the program was "Diary".  I didn't know it at the time, but that's the lead track to Shrug's second album, Everything Blowing Up Roses.
I found out that Shrug was going to play at show at Canal Street Tavern.  I liked what I had heard from them on the radio, so I went to see them play.  This was my first experience with live local music.  I don't remember all that much from the show... I can't tell you who else was on the bill.  I don't remember how much it cost, though if I were to guess, I'd say five dollars.  I don't even remember which songs they played... maybe I heard "Diary" that night, maybe I didn't.  What I do remember was meeting the three members of the band... Tod Weidner, Dan Stahl, Adam Edwards.  They were nice to me.  I wandered into a music venue alone, without knowing anyone, feeling slightly out of place, and was well received.  Between that and enjoying the music, I decided to see Shrug again.  And again.  And again.  Eventually, as is the case in a tight-knit music community when you see the same face a few times, the guys in the band remembered my name.
Fast forward to now.  On 6th July, Shrug will release their sixth studio album, Easy is the New Hard. This is the first time they are releasing music on vinyl, and this one will be a double album in that medium.  If you want to pre-order it, you could do that here.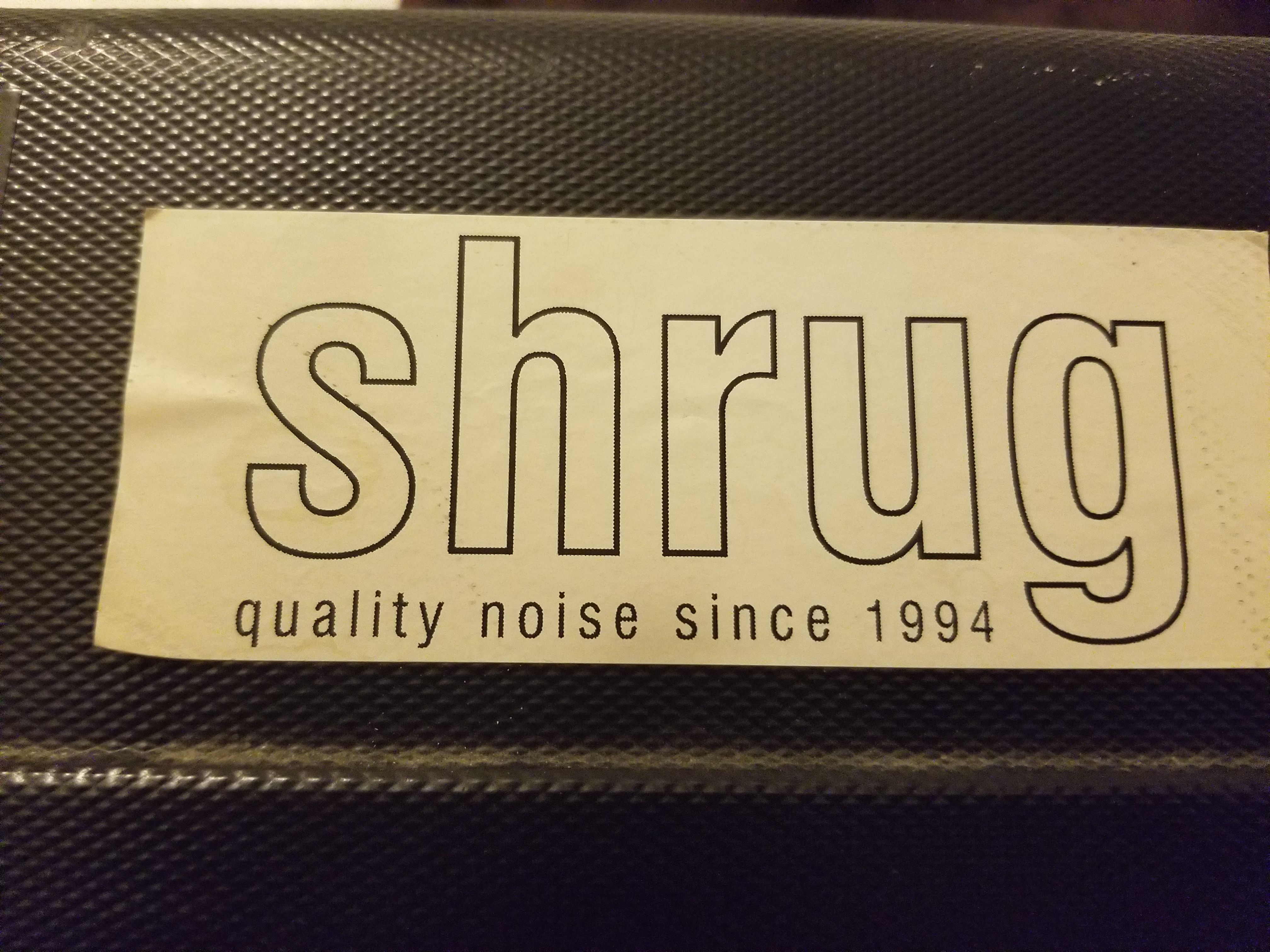 Like the sticker says, Shrug has been a band since 1994.  There aren't many rock bands in these parts who have been around that long.  They have had their lineup changes, their instrumentation changes (at one point they didn't harm any electric guitars on stage), and of course we are all much older... but they still play like they mean it, and they're still nice to everyone.
Personally speaking, this band has had two major influences on my life in general.  First, I have been introduced to a great deal of music through Shrug shows that I otherwise might not have listened to.  They used to do a fantastic cover of "Dancing Barefoot" (please bring that one back), and that's how I discovered Patti Smith.  They would cover a few Elvis Costello songs, and this moved me to check out a few of his albums.  Their blistering version of "The Seeker" made me pick up The Who's greatest hits album.  Second, I might not have ever gotten around to recording my own music were it not for Shrug.  I clearly remember Tod saying this brief phrase at some point about folks who are timid about sharing their music: "if it sounds good, it is good".  I threw away so many songs over the years, but sometimes I would write something, and think to myself "that sounds pretty good"...  eventually, I gathered the courage to share my art with others.
Of course, since I consider the gentlemen in Shrug to be friends, it's hard for me to be objective about their music.  That said, sometimes they make artistic decisions that I don't necessarily like.  A few that come to mind are the Wilco-ization of "Age Nowhere" (does anyone else remember the original version of that song?), the disappearance of any of their original songs written before 2000 from their live shows, and the fact that I don't own a recording of "Cling", "Media Blackout", "Frozen Gasoline", or "Cosmonaut".  It's ok.  I still love them just the way they are.
Do you like your music to feature intelligent, carefully chosen lyrics?  How about a serious approach to songcraft?  What is your feeling about a sing-along chorus that gets stuck in your head?  If you like these things, go find Shrug's music.  You won't be disappointed.