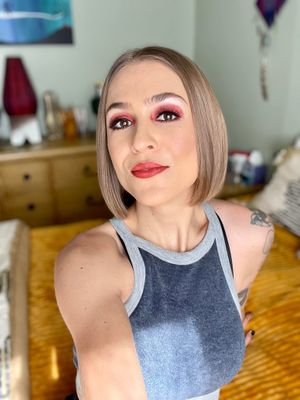 Let me tell you a tale of blunder, confusion, and woe. I procrastinated when it came to editing my conversation with Brenda Carsey, but it was going to get done in the early afternoon, and everything was ok.  I'd have this episode up and out, ready to tell folks to go listen to Brenda's new album Cognizance on January 9th anywhere you stream music. I'm in my DAW, working on the file, and I clicked the wrong thing... I couldn't see exactly what it was, but strange things were happening, so I tried to cancel out of it.  The waveform still looked ok.  I go to record the vocal intro, then start the playback I had just edited and... all of the audio was in reverse.  That's right, I had managed to reverse the conversation.  This is something that works fine with a cymbal and a piano (like right at the beginning of this song), but it's no good when it comes to human speech.  
You're probably thinking that I could just reverse it again to fix it.  I tried that.  Now, all of the audio was understandable.  However, between those two actions, it was all out of order.  See, I had edited out the occasional expletive, and a bunch of "um" and "uh" word whiskers from the conversation. This meant I had all of these pieces, and that's no big deal when they are in the right order.  When they are in the WRONG order, and also glued together - which is something I did before I realized they were backwards - well, you're in for a bad time.  I have made an effort to break the pieces up again and re-assemble, but I don't think I got it all 100% perfect, so if something sounds a bit out of place in this conversation, it is MY fault and not Brenda's.
Brenda Carsey is an awesome singer-songwriter and multi-instrumentalist from Los Angeles. She's a DIY musician who works hard at her craft and at building community. I hope you find her to be as inspiring as I do.  What's her songwriting process like?  How did she get started along the path toward making music?  Why is Cognizance getting a double vinyl release?  How does she define "pop" music?  You'll get these answers and more from our conversation.
LINKS