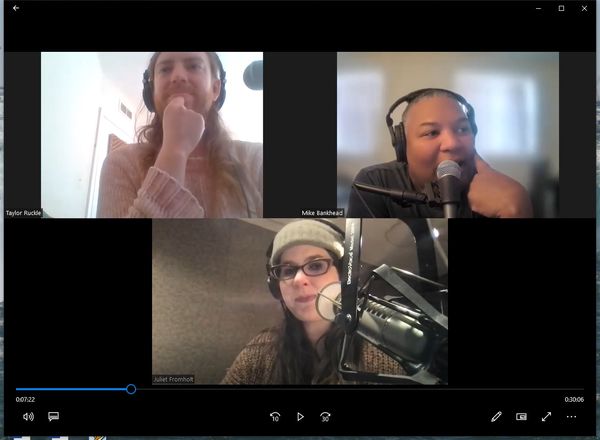 Exactly one year ago, on 30th December 2021, Juliet Fromholt joined me for a chat about our favorite albums of 2021.  I released that conversation the next day, 31st December, and it was Episode ½ of this podcast.  It was so much fun, I just HAD to have her back this year. Taylor Ruckle joins us for this conversation.  You might remember him from Episode 27 and Episode 43, where we talked about our favorite albums of the first and second quarters of 2022 respectively. 
All three of us are completely crazy about music.  You'll be able to tell how much passion we all share for music that moves us, music that confuses us, and music discovery. When we hear something that strikes the right chords - pun intended - it affects us and moves us in ways that might seem somewhat extreme to the average person. If you love music, this conversation is for you.  If you didn't get a chance to listen to all that many things that came out in 2022, this conversation is for you. If you have your own list of favorite 2022 albums, this conversation is for you. If you're not sure that good music is being made these days, this conversation is VERY MUCH for you. 
I didn't do all that much editing to this conversation, so you'll hear us say a lot of "uh" and "um", and maybe some awkward silences while we Google things, and some laughter.  I hope that you feel like you're among friends while you listen to us. Most of all, I hope you find something here that is new to you, and that you end up loving it.
LINKS
Juliet is the Music Director at WYSO
Taylor's review of Home Grown for Post Trash
Taylor's interview with Open Mike Eagle for Flood Magazine
Mike's favorite albums of 2022
Juliet's top ten albums of 2022
10. Heather Redman - Heather Redman & The Reputation
  9. Amanda Shires - Take it Like a Man
  8. Danger Mouse & Black Thought - Cheat Codes
  7. Björk - Fossora
  6. Nilüfer Yanya - Painless
  5. Dawn Richard & Spencer Zahn - Pigments
  4. Alvvays - Blue Rev
  3. Sylvana Estrada - Marchita
  2. Sudan Archives - Natural Brown Prom Queen
  1. Ibeyi - Spell 31
Taylor's top ten albums of 2022
10. The Mountain Goats - Bleed Out
  9. Ty Sorrell - HomeGrown
  8. Open Mike Eagle - a tape called component system with the auto reverse
  7. Enumclaw - Save the Baby
  6. Booter - 10/10
  5. Moor Mother - Jazz Codes
  4. Bartees Strange - Farm to Table
  3. The Beths - Expert in a Dying Field
  2. Cheekface - Too Much To Ask
  1. King Gizzard & The Lizard Wizard - Changes
Video Suggestions
Amanda Shires - "Hawk for the Dove" (Official Live Session)
Amanda Shires - "Lonely at Night" (Official Live Session) featuring Brittany Spencer
The Linda Lindas: Tiny Desk (Home)
Mobley's YouTube page|