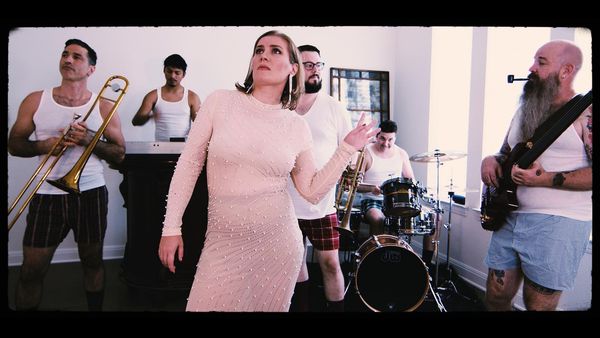 Cara Van Thorn is an Austin, Texas based new swing jazz fusion sort of nineties alternative band that just plays whatever we like to hear...
I'm sure you're wondering why this lovely lady is in a room in this nice dress whilst being surrounded by musicians in their underwear.  Well, there's a lot to wonder about Cara Van Thorn, this eclectic band from Austin. This band was founded by active musicians in the metal and punk scenes, and they came together to create a style of music that has more in common with big band than big riffs. You'll learn that story from our conversation.  You'll also learn where the title of their latest album The Way I Hear It In My Head came from, what Carrie & Adam's childhoods smelled like, and how to make a delicious treat called breakfast candy. 
Definitely follow the links below to learn more about Cara Van Thorn.  I would also like to remind you that I have a mailing list, and you'd make my day if you'd join it.  Would you be willing to join my mailing list?
LINKS
Video for "When I Take My Eyelashes Off (You Forget That I'm Pretty)"