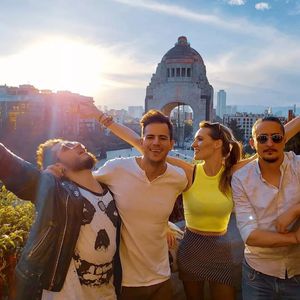 We have the rule of no rules
This past Friday, I shared my conversation with Icho Van in Spanish.  Icho also speaks English, so here is the second part of our chat. That's him in the above picture taken in Mexico City, the handsome gentleman second from the left.  What are some of Icho's favorite foods from being on tour? What was his experience playing Tiny Desk like?  What would Icho like to teach Americans about September 15th?  (Pronounced "quince de septiembre" in this conversation.)  What did his childhood smell like?  You'll learn the answers to these questions, and get to know this charming and talented musician when you listen to this episode.
Si acaso habla español, favor de escuchar el episodio previa, el número 51.  Icho y yo hablamos en español.
LINKS
Jenny and the Mexicats - Official Website