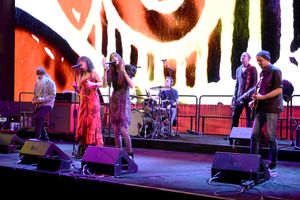 Image courtesy of Tony Drovretto for Museum of Pop Culture
Music journalist Taylor Ruckle makes his triumphant return to the podcast, and we talk about our favorite albums released in the second quarter of 2022. Just like our previous conversation we break down the albums in varying degrees of detail and go full-on music nerd for your listening pleasure. The albums we selected are as follows:
Taylor
Florence & the Machine - Dance Fever
Jasmyn Burke - In the Wild
Joyce Manor - 40 ounces to Fresno
Billy Woods - Aethiopes
Horse Girl - Versions of Longer Performance
Mike
Louise Post - But I Love You Without Mascara (Demos '97-'98)
William Duvall - 11.12.21 Live-in-Studio Nashville
3rd Secret - 3rd Secret
The Smile - A Light For Attracting Attention
Calexico - El Mirador
Special mention to the new Oceanator album, Nothing's Ever Fine.
LINKS
Taylor's interview with Billy Woods in Post Trash
Taylor's interview with Camp Trash in Vinyl Me Please
Taylor's interview with Elise Okusami from Oceanator in Post Trash
Oceanator's video for "Bad Brain Daze"